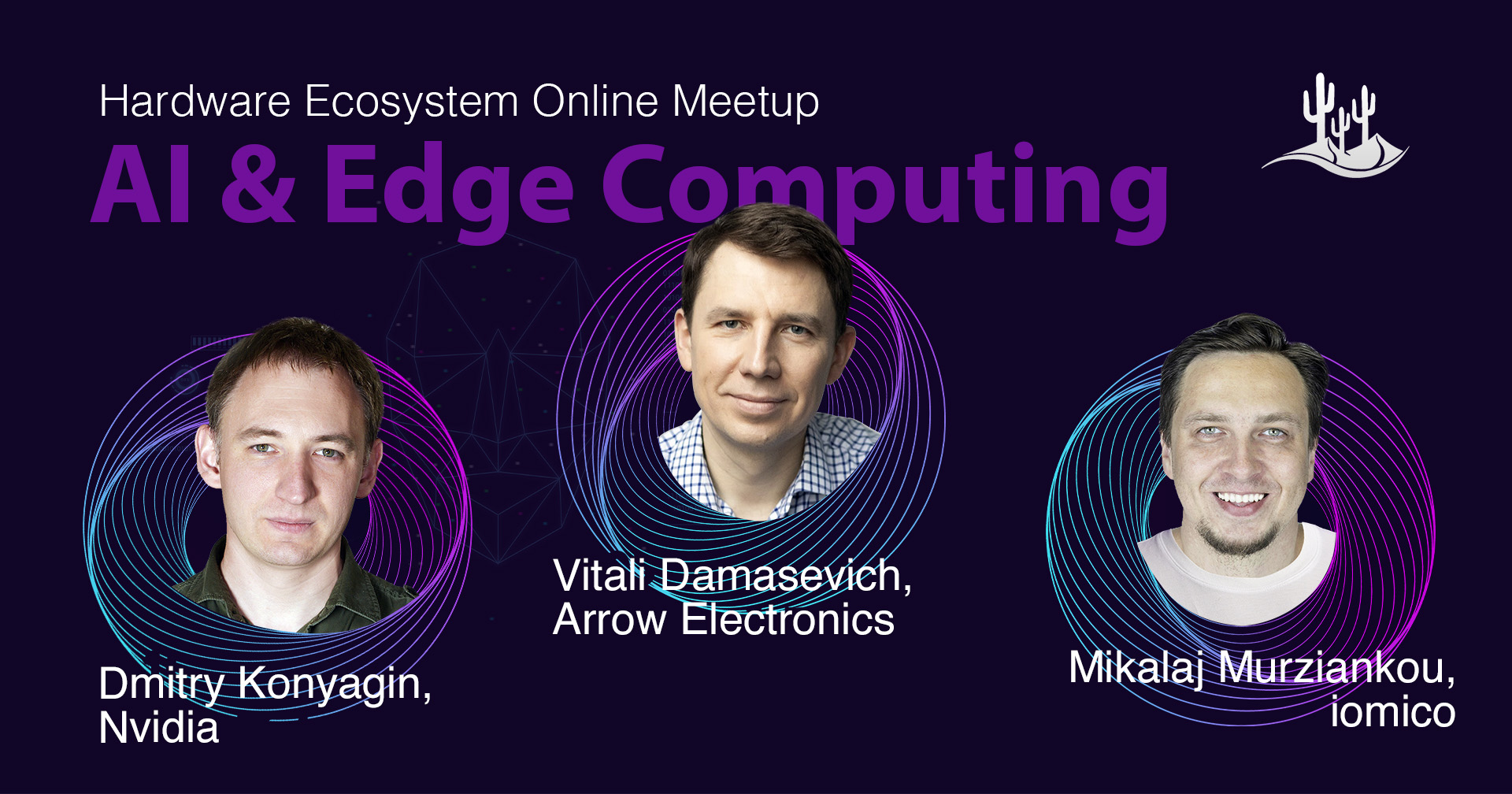 The results of our AI + Edge Computing Meetup with Nvidia and Arrow Electronics
In March, together with Bridgio Tech Accelerator, we hosted an online meetup AI + Edge Computing with speakers from Nvidia and Arrow Electronics, global leaders in developing and applying AI technologies. Also, experts from iomico, AIHunters, Indata Labs and Wargaming joined us.
The meetup was held within the open Hardware Ecosystem community for engineers, managers and entrepreneurs in the electronics industry. We had over 300 registrations, 184 people connected to our live streaming event. At the request of participants who could not join us on the D-day, on the 11th of March, we are publishing the video recordings of our meeting (in the Russian language).
Roman Pakholkov, the founder of our company and initiator of the Hardware Ecosystem Community, opened our online meeting and invited the first speaker — Dmitry Konyagin, Enterprise Business Team Leader at NVIDIA. Dmitry talked about Edge AI solutions based on Nvidia Jetson. He presented the platform's technical features, compared it with other machine learning solutions, and gave examples of its application in video recorders, industrial IoT, home robots, agriculture, etc. The second speaker was Vitali Damasevich, Engineering Director EEM at Arrow Electronics, with a business case of Edge AI application.
The third speaker, Mikalaj Murziankou, the founder and CEO of Iomico, prepared an excellent presentation called "Why and how to move from hardware to Edge AI. Insights, fuckups and first clients". He told about the transition from hardware design to the first Edge AI projects: explained why he started working with edge computing, considered the life cycle of Edge AI projects, clarified the choice of hardware and ecosystems. Mikalaj also shared stories about his first customers and the mighty MLOps — the practice of collaboration between entrepreneurs, scientists and machine learning (ML) specialists to create AI systems. In the end, the audience got lots of business ideas based on AI and Edge AI applications in various industries ranging from smart refrigerators to smart agriculture.
We also had the "Open Microphone" session, where everyone could talk about their AI + EdgeComputing projects. Among those who joined us were developers of robots with Edge AI onboard, an engineering team with a voice assistant based on computer vision, and a project leader in the field of smart farming.
At the end of our meeting, we had a panel discussion focused on the question, "Where are the Edge AI application boundaries today, and where can we push these boundaries in the near future based on current business cases?" We invited data scientists, mathematicians, algorithms, engineers, and entrepreneurs from Iomico, InData Labs, Wargaming, and AIHunters.
The most active participants of the meetup were awarded Jetson Nano modules.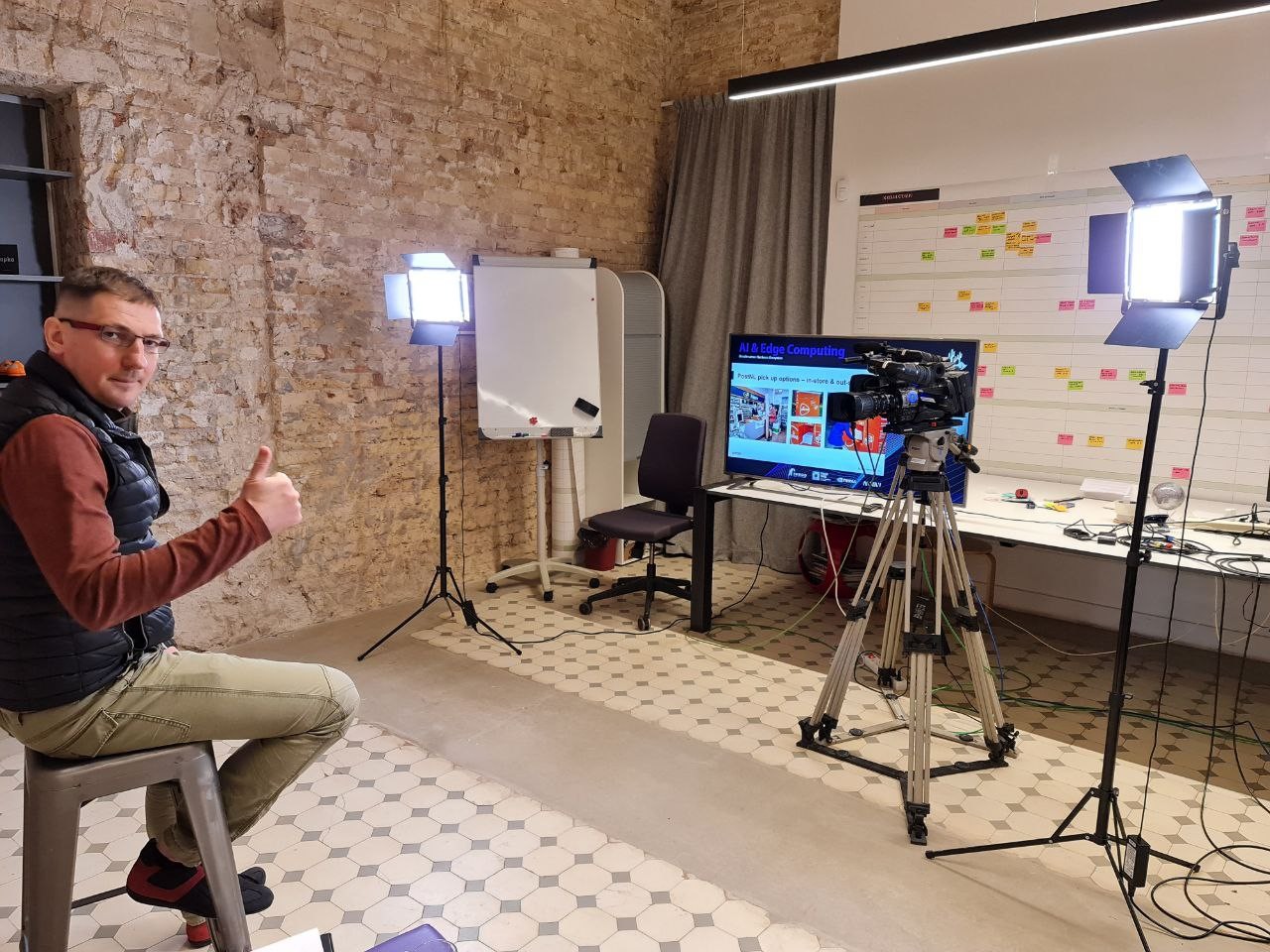 Photo: Roman Pakholkov is communicating with the participants of our meeting from the Promwad office in Vilnius.
The next Hardware Ecosystem meetup will be devoted to the Internet of Things, cybersecurity, and transforming these technologies into business. We will gather on the 13th of May, 2021 at the conference venue in Kyiv and online. You can leave your email address at hardwareecosystem.org (in Russian) to be notified of the registration launch. Speakers and participants of our open microphone session can apply now by sending us a few words about them and their projects via hardwareecosystem@gmail.com.