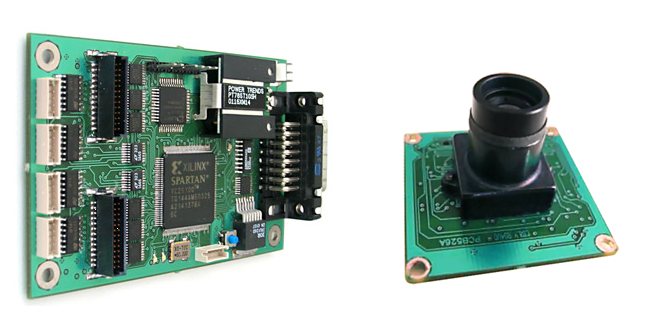 Customer
European manufacturer of optical systems.
Objective
The objective was to develop a hardware and software platform for a system of two controlled high-resolution video cameras and controlled light sources. Video data are further submitted to the user PC where the images are analyzed depending on the parameters of light sources.
Solution
A video system was developed: video camera board with a digital SXGA CMOS sensor, light sources and video cameras switch board, image capture, storage and transfer (via the ISA bus to the operator's PC) board. Data transfer from the switch board to the video capture board was implemented through a high-speed protocol LVDS (80 Mbps). Image capture and recording are performed in real time at the speed of 12 frames per second.
For an FPGA chip, a set of IP cores was prepared:
ISA bus controller
DMA channel controller
SRAM controller
CMOS sensor controller
An ISA device driver under Windows 2000 was developed to transfer data to a PC. System setup, image display, control of video cameras and light sources parameters is done via an especially implemented client application.
Benefits and features
High-resolution video capture (1280x1024)
Simultaneous capture of up to 6 frames within 1/2 second at most
Control of 16 programmable light sources
ISA interface