Roman Pakholkov, Promwad - CEO
Formation and growth of Russian outsourcing market of embedded hardware development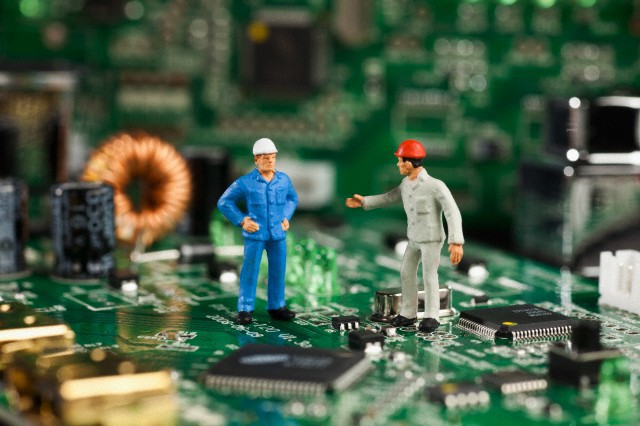 In early 1990s, companies that provide services of custom electronics and embedded systems - from PCB and system software design to creating finished turnkey electronic products - formed in the global market. Those companies had different titles: contract developers (OED, original equipment design); electronics design houses (EDS, electronics design services or IDH, independent design house).
In the early 2000's, when systems on chip became available in price, a demand for embedded microchip modules emerged, and the topic of chip modules began to develop. In Russia, there were timid attempts to make business  on this, but, oddly enough, the SOC-based modules were not in demand in the domestic market, and deliveries were in small batches.
It is important to understand that in Russia and in other former Soviet countries, business models in the field of electronics development and production began to form 10 years later than in the Western world. The reason is that because the IT industry itself with its possibilities to integrate into the international business appeared only after the collapse of the Soviet Union, in the early 1990s and with private business appearance. Nowadays SW development is one of the key services that Russian IT companies offer to the global market of embedded systems outsourcing. Electronics development companies also have good prospects of growth, but it is a more conservative industry, and the processes in it go slower.
The first courageous steps in the field of electronics contract development in the CIS countries were made only in 2000. In 2005, the first notable players appeared in the market, and by 2010, some of them grew to large companies with significant customer portfolio.
Also, in recent years complex CPUs have become popular. Competition appeared, but we cannot say yet that the marked had been formed. At the present time, we have limited information about the situation in the industry: the volumes of development work of private companies, the geography of design houses and other parameters of the market map are not well studied yet. Thus, in our evaluation, we can rely solely on the opinions of various experts, customers and executives in the market of electronics development services.
How to cut and make cheaper the product development cycle
There are several ways to reduce the terms and costs of electronics development. One of them is a platform development, i.e. it is the platform based development and reference designs. The second option is to place the order to develop a part of the device or the entire device or a device in the system at a contact developer or in a design-house which is specialized in the necessary field. In this direction, Russia is also about 10 years behind the global market trends.
It is important to understand that only a mature, from the internal issues point of view, company   can value the effect of this methods and also value transferring a project to an outsourced design-house. Why? In order to make an objective evaluation of the development, it takes skills to make estimations internally in the company, and that requires dedication of internal resources for that task, take into account the work of engineers and administrative staff, direct costs for purchasing components and overhead expenses related to the development, and, the most important: indirect costs such as training of the staff, studying the subject and other actions related to the preparation to the project. They are not obvious, and often, they are not highlighted). If you have an ability to estimate all that, then you can highly value the importance to address with those issues to an outsourced developer, otherwise it will extremely difficult to compare.
In which case you should contact a contract developer and when to leave the project for its implementation within your company? Typically, independent developers teams who work in small companies with a staff of 15-20 engineers have the specific technical specialization. You can address to them to do specified tasks, and their services may be cheaper than the work of your own engineers. Usually such companies can create  a prototype but they do not prepare the development for batch production. A customer gets a good development service, and then he has to deal with manufacturing issues.
Larger engineering companies such as contract developers and design-houses can have sectoral profiles. It is beneficial to address to them when you need a device ready for batch production. These companies lay in the draft of the project pre-production stages, integration testing and preparation for certification (if necessary). In cases when customer's own engineers do not have enough experience, in this case, he gets qualified management and supervision of his project. That is why it is useful to pass to outsourcing the entire system which consists of various electronic devices.
It is important to take into account that some warranty obligations are taken by contract developer or design house, but support and device upgrade is done by the customer himself, and he has to think in advance about the zones of influence for his team and for the contractor. At the same time, it is important to keep key competencies (business logics) within the company, as it requires efficient changes and it is one of the protection frames.
Here is an example from the field of industrial automation: at the present time, we see the next cycle of electronic equipment upgrades: more performance is required, systems on chip are actively applied which were not used in the 2000s. The developers of product companies cannot catch up the trends, and that is obvious because they are engaged in support of previously made products. That is why, in most cases, specialized design houses of electronics will have more experience than the developers within the staff of the customer company. Usually small contract developers are not capable of handling business logics or not ready to deal with getting into the topic of automation.   And mature design houses have to cross the industrial thresholds in order to take entire projects from customers.
An example from the field of gauge instruments: a client company accumulates expertise in the field of precision measurement. Of course, a design house will not be able to overcome this gap in knowledge and experience, but a good specialized external team is capable of helping to create a measuring platform: to work through electronics, low-level software, and GUI - a large amount of work associated with the development of the device, its strength modeling, and materials selection. All that can be passed to outsourcing and will allow saving time and money of the customer. At the same time, the customer has to keep the knowhow in the algorithms of measurements, and that is one of the ways of protection.
Thus, the experts of applied fields in the design house will be in a better position compared to domestic developers of the customer, but it is doubtful that they will have a deep knowledge of the specifics unless they have previously carried out a similar project.
How to protect your investments and know-how: a review of methods and tools
We have already mentioned that the main algorithms and business logics of devices and systems are the key competencies of the customer, and they have to be kept inside its company.
Method 1: documents and contracts
The main protection means is the work on correct execution and signing of contracts and agreements. The basic document you want to work out, discuss and sign with any counterparty is a non-disclosure agreement, an NDA. from one hand we should not overestimate its possibilities because information leak  in the modern world can happen even in market leading western companies. Watching the news, we can see that it even happens in countries with well-developed legislation. Anyway, you have to be very careful with the NDA. Even you can see that by your contractor's attitude towards an NDA, and you will already see how carefully or not it works with information and how it cares after customer's interests. In the NDA, you give the definition of the game rules and provide a part of your protection.
In spite of NDA presence in a particular contract with your customer, it has to be written who has the property rights for this or another designed module, whether your counterparty can publish information on the development of the media, how the documentation will be transferred, what rules should be observed during transmission and data protection, and what sanctions will be applied in case of violation of these agreements.
The most proper contract for a manufacturer of a final product in terms of protection of his interests shall mean the transfer of the exclusive property rights of the results of development. Although this type of contract is the most reliable in terms of protection, it is not always the most profitable. Individual approaches have to be made here. Perhaps part of the rights can be left for the subcontractor. For example property rights for a certain library which means its development without further customer's requirements. It may be a software module which the developer designs and maintains from its own funds or some development element which are not a key property for the client.
Also, it is worth to know is that in different regions of the world there are different approaches to a contract for development, and it is good to know about them and take it into account. European design houses will try not to pass their rights and deliverables to a customer in order to compensate for lost profit in further manufacture of the product. In this case, you will be dependent on your manufacturing contractors.
In order to use subcontractors from South-East Asia where ODM business models and platform design are widely spread out, we mentioned earlier about that, it is necessary to understand the peculiarities of their market. In most cases it will be extremely difficult to trace the reuse of design and to prove the violation of your intellectual property.
Due to the immature market of CIS contractors there one advantage we have: exclusive rights can be bought for reasonable money. As the market grows, it will be either more difficult or expensive.
Method 2: know-how and patents
Of course, one of the most effective ways of protection is to keep the know-how inside the company. Unlike a patent, which has to be published, a know-how is not publicized. Example: a specific operation algorithm based on years of experience in a particular industry that you have not published nor patented.
A potential risk related to valuable commercial information is its disclosure. As for a know-how, only a limited number of people has information about it, usually, they are key specialists of the company. Russia is an imperfect legislative field which is not always able to provide protection of your intellectual property. A key employee can come to your competitor together with his team  and take all your groundwork. That is why it is better to share information inside the company and as for part of the know-how, it is even better to pass it to an outsourced team, and thus you will protect yourself from risks.
It is good when a company has patents. That increases its value and gives a possibility to protect its interests particularly within international law. But it is always worth to weigh the consequences of choosing between the know-how and patents, and perhaps, use an additional method of protection. In some cases, one has to make a product first, and only after that start the process of patenting. Often you can see that start-ups do vice versa: they patent its development, and then they spend several years to make and sell their product to an investor together with a patent without understanding how to materialize their ideas. At the same time, they will lose the value of the patent as it will be implemented by others on the basis of similar ideas and new technologies.
Method 3: to be ahead of competitors, to develop its services
The proper way of protection is to be ahead of the competitors, to be the first to enter the market with a product that has unique features and understand earlier that others what will be the next model of the product, what kind of functionality will be implemented in the next version of software etc.
At the present time, it popular not just make money on the product but make income on related services that come with the product. It is a global trend. There are large amounts of information in the present world that we use, and this information is not stored on local devices, it is stored on the world wide web, on cloud servers and in business logics executed with server CPU capacity. So for the customer, the value is transferred from the device to additional services. And that is the very component is good to be invested in.  Thus, theft of the documents of the electronic device will be useless because it will not give any possibility to your competitors to overtake you.
The same is in automation, maintenance services during the operation term of the system may take a significant part of even exceed the entire budget of the project. That's why the main value is not in the development itself but is in a possibility to implement it in the market, upgrade it and provide maintenance service.
Method 4: distribution of production competencies and sales
This method can be implemented in different ways depending on specifics of work and internal resources of the company. There are some trivial ways of commercial information protection. For example, you can have several contractors who will be responsible for different tasks: manufacture, sales, promotion. Dividing tasks and information between them you can minimize your risks.
You should  not concentrate within the boundaries of one company because that does not protect you nor makes you competitive, and with the development of IT business, it is easier and easier to steal secrets.   It is better to take some competencies outside the company: make various parts of the product in different places, and assemble them in the most trusted place or under your personal supervision. For example, the best enclosure products are made in Southeast Asia, as for the PCB you can select a company depending location of the components and technology suppliers, screwdriver assembly can be done in free economics zones or in the customs area of the distribution market. All that gives an economic effect and provides protection.
Method 5: a systems engineering approach
The most complex method of investments and know-how protection is a systems engineering approach to design and develop new products. Such concept of the business process says a lot about the maturity of the customer's company. In this case, a technical problem is viewed as a system divided into individual components. Then the selection of contractors with relevant competencies is done, and as for the system assembly, it has to be implemented on the customer site.
Unlike Method 4, where functional process division is applied, a system engineering approach is applied with component division and that significantly increases protection.
Advantages of this kind of approach:
High degree of protection provided by hiding principles of the systems' work in general from the subcontractor;
The customer has a great flexibility in subcontractors selection with relevant technical competencies. That allows softening the risks when executing tasks (when duplicating of work in crucial projects) and selecting a subcontractor with higher execution qualities and relevant technical competencies in the market for development services.
The disadvantage of this approach is that high-level professionals have to work on the customer's: system architects (systems engineers).
Thus, the customer's company may outsource some tasks or the entire project using the competencies of the third-party contractors, reducing costs and product development time while reducing risks through a variety of methods to protect the investments and know-how.
How to make the product competitive in the market
In general, a product is created by a manufacturer; and product requirements are the area of responsibilities of the manufacturer, but on the other hand, in order to make a product successful, the requirements have to come from the customer.
Initial requirements may be exaggerated. Anyway, they have to be higher than your competitor has. The key to a successful product is the correct distribution of the  tasks between executors and subcontractor companies which are motivated to work for achieving success. Then requirements have to be analyzed and checked, and after having advice with experts, the requirement can even be increased. At the next stage, a scope of work and requirements specification for device components come. Integration work has to be done either by the main developer or by manufacturing company itself.
Our experience shows that system integrators are close to their customers. They are familiar with the specifics of their work, which is not always clear even to the manufacturer of the product. Therefore, for more effective cooperation, a manufacturer has to operate in conjunction with an integrator. As a result, projects can form effective alliances of industrial enterprises, system integrators in the field of automation, contract developers and manufacturers, who will be able to develop competitive products with desired characteristics, adhering to the schedule and cost.
Each player will build synergies with other players in the market, and focus on their competencies: system integrators will focus on implementation, products owners will focus on sales and marketing, and developers will focus on speed and quality. And as a result, it will bring a positive effect. Vertically integrated companies will not always win; they will obviously yield to alliances with strong competence in their fields in the speed of the equipment upgrade and in tracking the latest technologies.
In Russia, corporatized companies have a habit of doing everything by themselves. They have to spend some time to a search of their own key competence and exclude ineffective departments, pass the rest of their tasks to other market players, redistribute responsibilities among them and engage themselves in product development or manufacture and marketing. It will increase labor efficiency, and competitiveness of Russian products will be rapidly approaching the world level. Thus, we can surely say that nowadays services of contract development and platform design have become popular, and they will develop as the market grow in maturity.