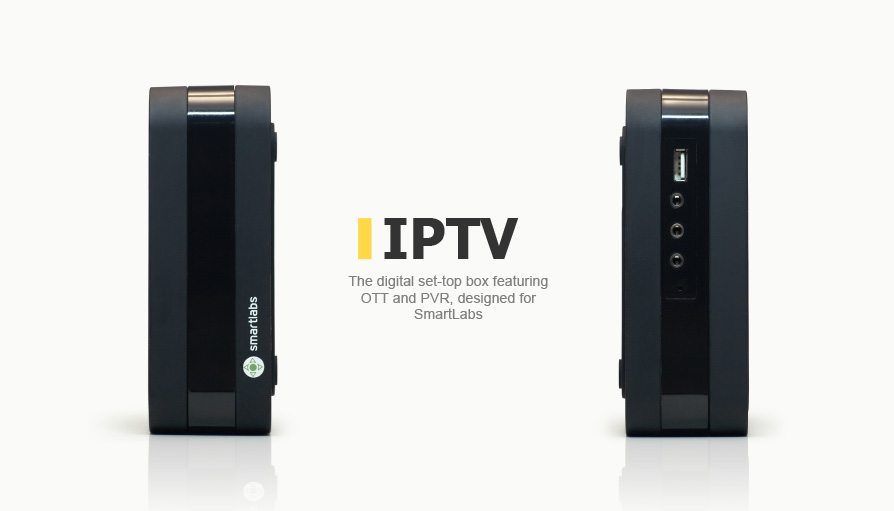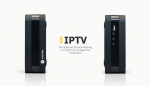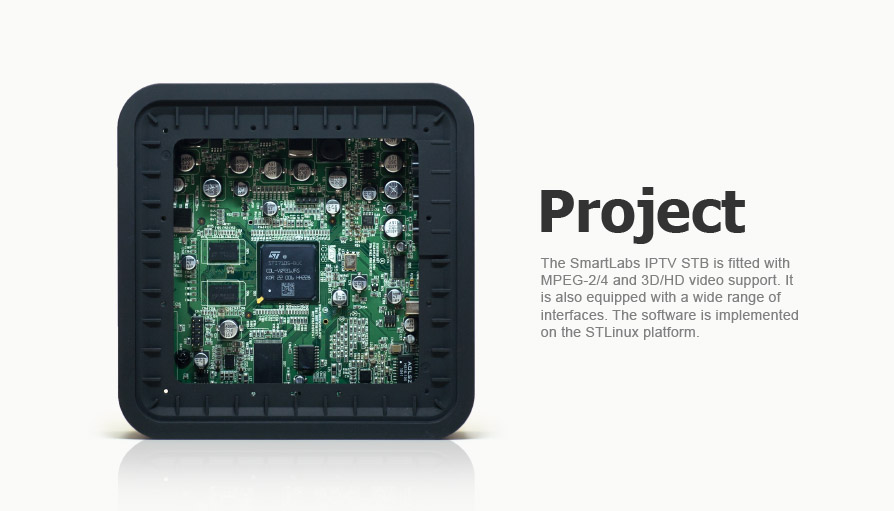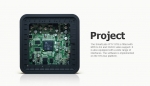 Digital subscription IPTV STB
At the order of SmartLabs based in Russia, we have developed the SML-282 Base, a digital IPTV set-top box featuring OTT and PVR. It is also fitted with MPEG-2/4 and 3D/HD video support. Promwad experts have developed the product's hardware platform, as well as created the enclosure design and structure. The STB software is implemented on the STLinux platform.
The IPTV STB is equipped with a wide range of interfaces: USB for flash drives, video cameras, Wi-Fi, etc. Operators can implement popular digital TV services including video on demand, network video recorder and TV Pause.
Rostelecom, the largest telecom operator, has selected this STB to provide a unified IPTV service throughout Russia. Also, this device has been selected by MTS for its service Domestic TV MTS.
IPTV STB datasheet
Hardware
Input signal
MPEG-1, MPEG-2MP @ HL, H.264HP @ L4.1
Audio input
MP4 (AAC), PCM Playback, MPEG1 уровни I/II, MP3, AAC-LC, AAC+, DTS, Dolby (AC-3 Stereo downmix)
Video resolution
HDTV 1080p60
Microprocessor
STi7105
Memory
ОЗУ 256 MB, NAND Flash 128 MB
Interfaces
Video output
CVBS 1 x RCA composite, YPbPr 3 x RCA component
Audio output
2 x RCA stereo, S/PDIF optic
USB
2 x USB 2.0
Ethernet
10/100 Mbit Base T
HDMI
1.3a with HDCP
Microphone input
2 pcs.
IR receiver input
1 pc.
Software
Operating system
STLinux
Firmware
STAPI
General features
Power
12V, 2A
Size
150 х 150 х 55 mm
Weight
470 g
Operating temperature
0 °C … 50 °C
Project summary
The digital subscription IPTV STB has been developed on a turn-key basis. Promwad experts have performed the following tasks:
— Hardware development
— Software development and testing
— Enclosure design and structure development
— Prototype manufacturing and debugging