Custom GPS Tracking Solutions
GPS Tracking Device market is expected to grow at $2.53 Billion by 2023. There are many off-shelf GPS tracker providers, working well in default scenarios. However, we often face issues in special use-cases during the integration and customization phase.
Promwad's customizable GPS Tracking solution allows us to monitor and manage valuable assets, along with a high degree of customization towards the needs of your business.
Radio Frequency (RF), Bluetooth Low Energy (BLE), Mesh Network
---

O
ver-the-air (OTA) updates
Wi-Fi
---
On-board diagnostics (OBD)
---
temperature, humidity,
light, etc.
Geo position tracking
Real-time GPS tracking
Speed tracking
Mileage tracking
Track history
Overspeed and harsh events alerts
Geofencing
Get data from CAN bus
Monitor fuel level and consumption
Fuel usage reporting
Driving style accidents
Driver profile
Realtime diagnostics
Tamper
NFC Tag
Power scenarios
Proximity ID tag
We offer hardware development for electronics and embedded systems, including devices with ultra-low power consumption and a high integration of wireless interfaces.
We can create mobile applications for run tracking running both for iOS and Android. This provides boundless opportunities for projects using smartphones.
Our team is experienced in IoT cloud platforms from Amazon Web Services (AWS) and Azure. We also develop or integrate solutions on custom servers (on request).
We have expertise in firmware development: integrate wireless communication modules, optimize power consumption, implement quality control and automated testing.
We develop software in compliance with the AUTOSAR, MISRA, and ASPICE industry standards. Using special software testing methodologies, we create extremely reliable systems.

A vehicle tracking system's easiest option is to implement a tracker that connects to the cloud through a smartphone. Despite such a system's low cost, it has disadvantages like inadequate security, weak hosting, a limited number of signals, and a fast battery drain. Therefore, many companies rely on more reliable systems.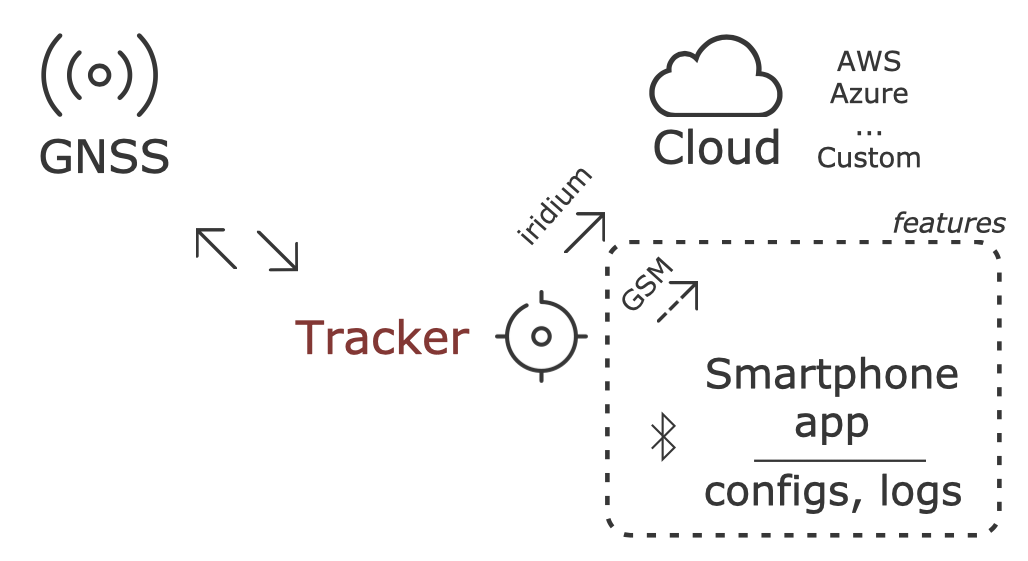 The main parts of the trackers are MCU/CPU that read information from on-board equipment and sensors and GNSS and GSM modems, which determines the coordinates, and transmits the collected data via GSM/Iridium communication channels to servers.
Most often, the end-user receives the server's data through mobile or web app. The main advantage of Iridium is providing network coverage worldwide.
Our clients turn to us for trackers development for various purposes, from GPS-control of vehicles movement and parameters of their operation to control of temperature and other parameters in containers during cargo transportation.
The use of GPS-trackers has several advantages, including reduction of 5-15% of vehicle mileage, an increase of efficiency and elimination of personal use of business transport, improvement of customer service quality, reduction of fuel consumption by 20-30%, tracking valuable luggage or cargo, and others.
We offer the latest GPS technology platforms, developed using high-grade proven components from worldwide GPS and GSM module vendors: Telit, SierraWireless, Quectel. Using the best MCUs from such leading suppliers as STMicroelectronics, Nordic, Ambarella, and Qualcomm allows us to provide cost-effective and energy-efficient solutions for our clients.
Our portfolio for automotive market
Get in touch to learn more about our custom GPS tracking offering!
Drop us a line about your project! We will contact you today or the next business day. All submitted information will be kept confidential.