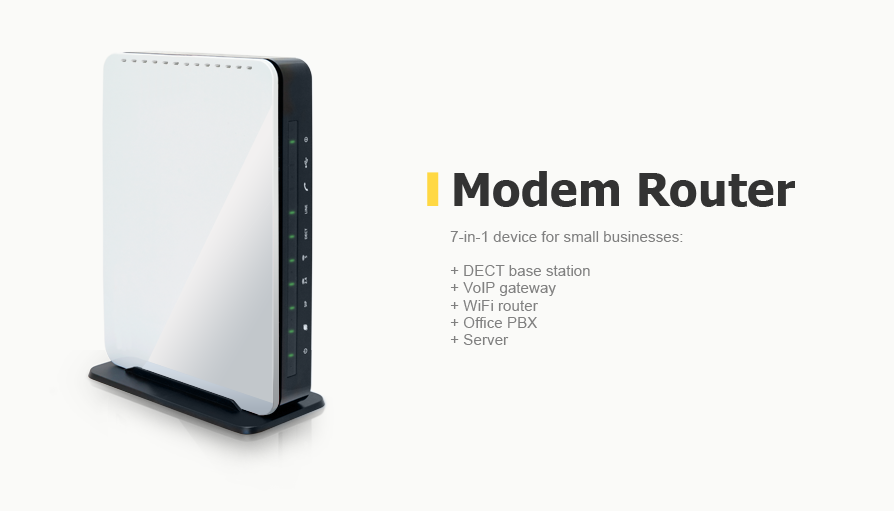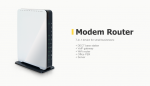 7-in-1 modem router design with ​​VoIP, PBX & DECT
Client

A company focused on software development for VoIP and digital PBX.

Challenge

Our client decided to enter the market with the new B2B product for small office/home office (SOHO).

They already had a software product for VoIP services but it behaved differently with different hardware. They needed to design their own device so not to depend on vendor-supplied chips and libraries.

Having no experience in hardware design, they chose Promwad as a technology partner with expertise and a trustworthy portfolio with telecom projects.

Solution

We have designed and prepared for mass production an advanced VoIP modem router that provides all types of office communications.

Our engineers designed an enclosure, hardware, low-level software, and Linux-based middleware, as well as stands for functional testing at the production site.

The new product included the functionality of seven devices in one:

telephony with DECT base station, Asterisk-based VoIP gateway, and office PBX;
Internet and local network via Ethernet, xDSL, WiFi, 3G, WiMax;
connection with peripheral devices and operation of network storage (NAS).

Business Value

Our client received not only the 7-in-1 device but also one of the first modem routers with DECT base station on the market. It supported up to 6 handsets.

Another competitive advantage is the integration of a ready-made VoIP software of our client with his own hardware solution. As a result, he guaranteed his subscribers a stable operation of the equipment.

Thanks to the use of software components with open source code and Linux distribution, there are wide options for adapting and developing firmware for the device in the future.

The production volume of this B2B product has reached 20,000 units.




Project summary

During the project's implementation, Promwad specialists performed the following tasks:

— Enclosure design and mechanical engineering
— Development of hardware and part of the software
— Manufacturing of prototypes
— Creation of test stands for functional testing
— Preparation for mass production

Our design notes

1. Software and hardware features of the designed modem router

Connecting individual users or a local network to the Internet using the following technologies:
Connection to a public telephone network, provision of IP telephony services (SIP-proxy, RTP-proxy), firewalling, L2 / L3 switch functions, VoIP gateway.

Using the device as a network storage (NAS), FTP-server and Torrent-client. For data storage, the drives connected to USB ports are used.

Configuring the device via the web interface or the command line (CLI) using the SSH and Telnet protocols.

Updating the software from FTP / HTTP-servers or USB-drives.

Phone calls using the hardware of the device:

FXO port for connection to a public telephone network
Two FXS ports for connecting analog telephones sets
Integrated DECT base station with support for up to 6 handsets


QoS support for setting the priority of service for various types of traffic.

Proxy requests to the provider to connect to streaming video multicast (IGMP) from the local network.

Support for IGMP-snooping on the built-in switch, which prevents multicast from entering other Ethernet ports.




2. Enclosure design and mechanical engineering

The enclosure (case) of the device was designed to meet the following customer's requirements:

The material: plastic
LED indication of the operation of interfaces and connected devices
Antennas for wireless interfaces are hidden inside the case
Dimensions: 200х150х35 mm (±10%). Weight: 300 grams (±10%)
Ventilation holes on the casing (without forced cooling)
2 programmable buttons with a light display
Two options for device placement: desktop and overhead

All solutions of our industrial designers and mechanical engineers were tested on the models that we created with 3D printing. Painting, imitation of color and textures have been realized manually. The graphics on the buttons and the indicators were printed in full.

After agreeing upon the design, 3D models of body parts were designed taking into consideration manufacturing technology – plastic injection under pressure. Casting inclinations, allowances, etc. were taken into account.

We have developed a set of design documentation for the production of molds the parts of the device enclosure. For the production of the front panel, we used the IMD technology (in-mold decoration): a method of surface decoration of plastic products with special film carriers.




Advantages

One modem router solves all networking tasks of a small office (7-in-one device)
The low cost of mass production and simple assembly of the device
Use of ready-made software components with open source code
Wide options for adapting and developing the firmware due to the Linux distribution
Expanded VoIP settings based on Asterisk: prerecorded voice messages (IVR), setting of complex rules for managing calls, etc.