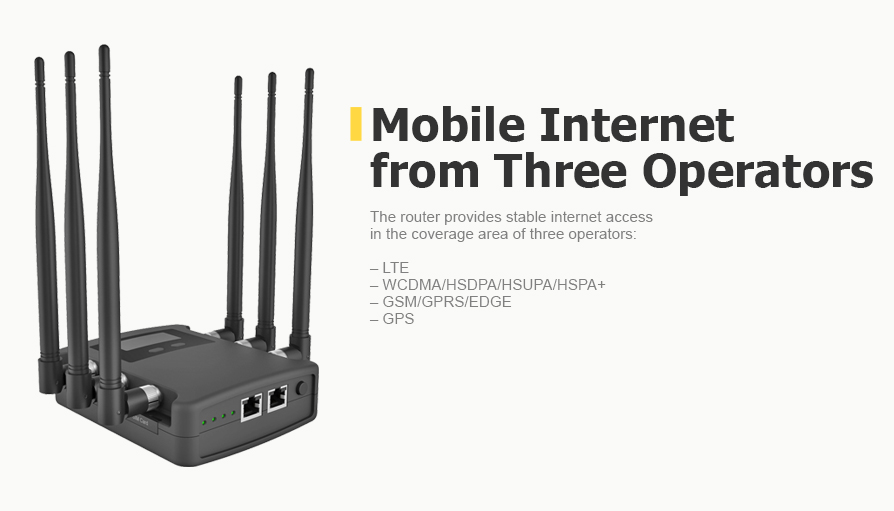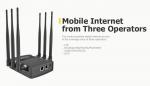 Design of Portable Router with 3 LTE/3G Modems
Client
A European telecom company.
Challenge
We received a task to develop a portable mobile router with Internet access via LTE or 3G from three mobile operators simultaneously. The device must support WiFi 802.11ac and Ethernet and be as compact as possible.
Solution
We have designed a turnkey device, including a hardware platform, software, industrial and mechanical design.  
The main features of the device:
Multi-channel LTE aggregation up to 300 Mbit/sec downlink and 75 uplinks.
Possibility to use a VPN to encrypt the connection.
3 data streams via 3 independent LTE or 3G modems.
Mini PCI Express card form factor is easy to use and has a wide selection of available modules.
Internal or external (SMA connector) antenna selection.
Built-in LiPo battery.
Size: 135 х 44 х 109 mm.
Weight: 750 g.
 
LTE Modems pre-installed:
Size

51 mm × 30,4 mm × 3,35 mm (standard SIM card)

Mode

LTE: FDD bands 1, 2, 3, 5, 7, 8, 20 

WCDMA/HSDPA/HSUPA/HSPA+: bands 1, 2, 5, 8 

GSM/GPRS/EDGE: 850/900/1800/1900 MHz 

GPS 

Power

DC 3,0–3,6 V (typical — 3,3 В)   
1. Hardware Design
To achieve the maximum compactness of the device, we have used two PCBs and designed a compact layout of three miniPCIe modules with SIM card slots. The hardware platform has the following features:
ARM Cortex-A9 SoC, 1GHz.
DDR3 2GByte.
Flash memory eMMC 16GB (expansion up to 64GB).
Built-in WiFi.
Dual Ethernet for WAN and LAN connectivity, 100/1000MB.
Built-in LiPo battery 6400 mA/h.
Micro USB OTG (host/device).
Character LCD 128х64px for indication.
PowerJack for power supply and charging.
2. Software Development
As part of the project, we implemented part of the BSP – platform-specific driver-level software – and developed demonstration and test applications to enable all the device's features.
The software development was based on our vendor's SDK for OS Embedded Linux. The user software can be developed later with the Qt library as a separate project. 
3. Enclosure and Mechanical Design
The project involved the development of a unique device design, which was agreed upon with the client and adapted to suit the layout of the circuit boards and the external connectors required:
Two switches – one to select an operation from internal/external antennas, the other for customer software purposes.
LCD with 128x64 resolution.
Two control buttons.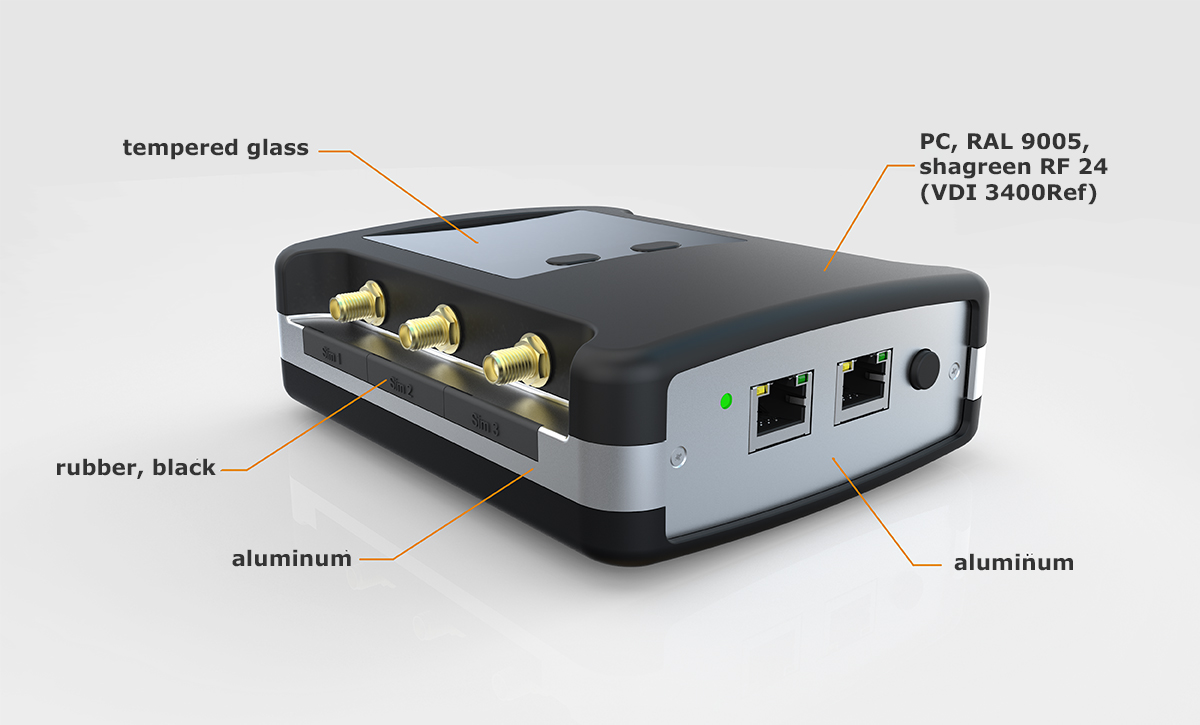 Final device rendering
During the development process, we produced enclosure prototypes using FDM technology – for quick analysis and detection of errors and design imperfections. In the final stage, we made prototypes using milling technology with the materials for mass-production devices.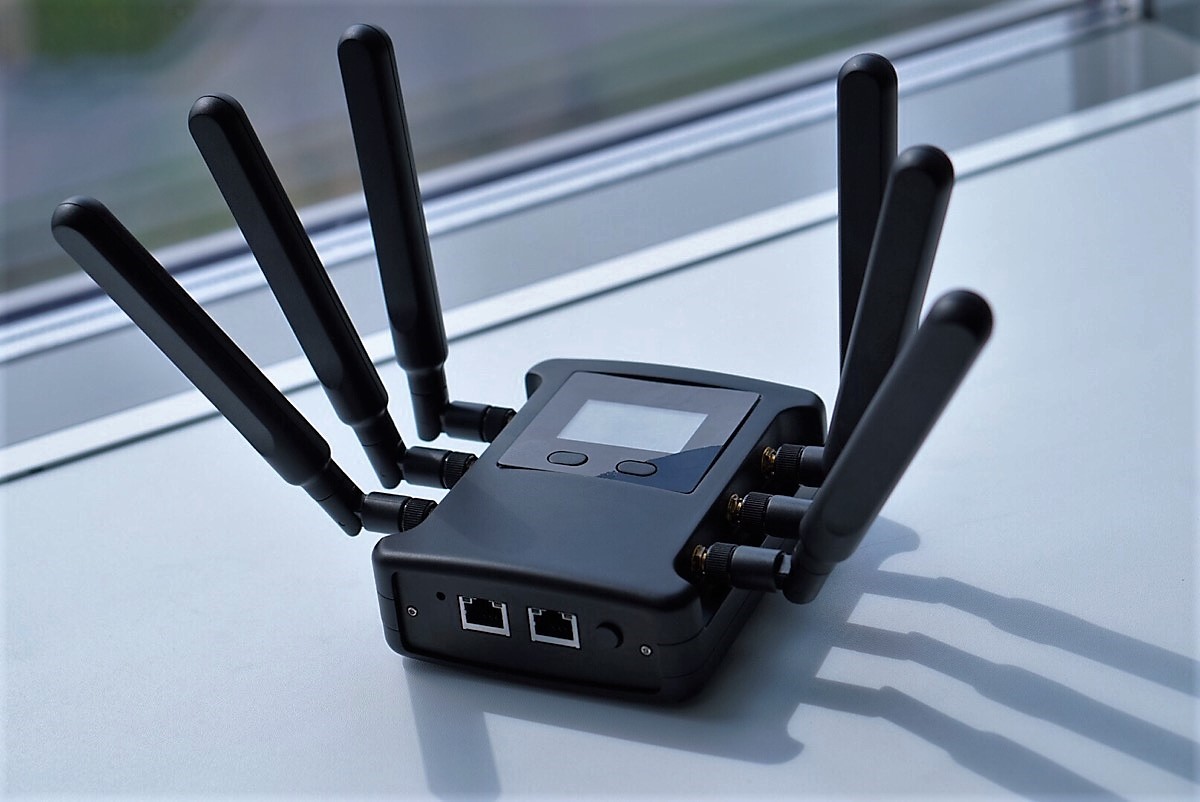 The final prototype of the device, produced by milling
Business Value
Our client has received a new device that allows them to stay connected everywhere. Constant internet access via 3 LTE or 3G modems ensures full coverage even in the most remote and difficult-to-reach areas.
The device can be easily customised to suit specific applications and production budgets:
Single or dual-core processor.
MiniPCIe modems for specific regions.
Internal or external antennas for 4G modems.