Promwad is an independent electronics design house. We take our customers' business to a new orbit helping them to develop and produce new world-class products for the high-tech market.
Established in 2004, we design new devices and software for the growing markets:
telecommunications, 
consumer devices & IoT,
automotive electronics,
home and industrial automation,
media and entertainment,
adaptive computing systems.
We take over all engineering issues, from the concept and feasibility studies to the launch of mass production. Our activity is not limited to outsourcing services. Promwad went through a long way: we have been engaged in electronics product design for more than 15 years, building a close-knit team of 126 experts. So, now we have a lot of experience in various market niches to be able to advise our customers how to develop their business with the latest technologies.
Our services
Research in digital signal processing (DSP), radio frequency, and neural networks.
Product design: electronics turnkey development, hardware design and testing, embedded and application software development, industrial design and mechanical engineering, FPGA programming, etc.
Manufacturing: testing at the production site, supply of electronic enclosures, manufacturing of prototypes, launch of mass production.
 
In our portfolio, you will find products for niche companies, startups, and market leaders. There are over 325 projects for customers in Europe, Asia, and America. About 3 million people around the world use devices developed by Promwad engineers.
We share our customers' goals and values, and we often operate on an affiliate scheme. Our electronic design company evaluates each project in terms of business and technology – we analyze marketing prospects, optimize costs and determine the time-to-market.
Thanks to our official partnerships and priority technical support of leading world manufacturers such as TI, NXP, Realtek, Qualcomm, Allwinner, Broadcom, HiSilicon, Xilinx, Telechips, Microsemi, Analog Devices we integrate into our developments the newest electronic components which have not yet been launched into the mass market.
The basis of our work is mutual trust. We take a project because we believe in the commercial success of our customer. We put all our efforts to create a competitive product for the world market. And the customers cooperate with Promwad because they believe in our experience and tech expertize.
Our offices are located in the European Union and the US. We cooperate with our European customers from the tech park in Lithuania, Vilnius. It is just within a few hours ride from our development center in Minsk, Belarus.
We are ready to execute a turn-key project or undertake individual tasks for you. In any case, you can count on:
 
| | | | | |
| --- | --- | --- | --- | --- |
| 1 | Fixed deadlines and budgets for your new product or application |   | 3 | A fresh look and independent project evaluation |
| 2 | Smooth-running processes, regular feedback and timely approval |   | 4 | Flexible models of cooperation tailored to your business goals and financial capacities |
At Promwad, values and business models work together as a system of bicycle mechanisms. This allows the company to move forward.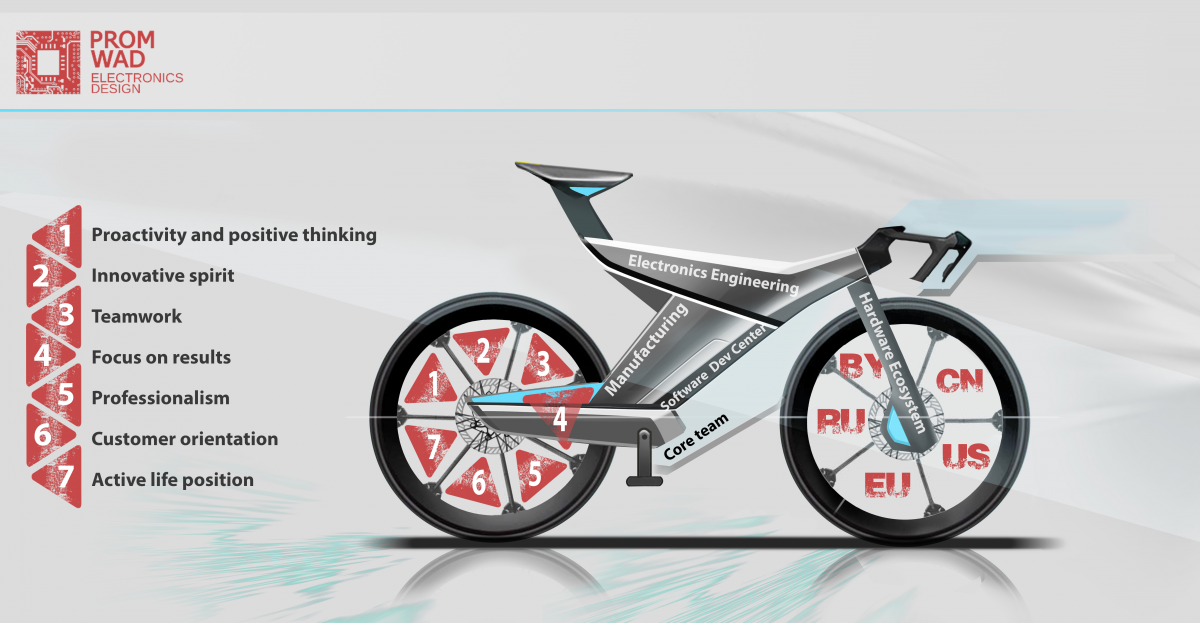 If you need a technology partner, our electronics engineering firm is ready to bring your project to life. Please, drop us a line about your project and our specialists will contact you today or next business day. All submitted information will be kept confidential.