Who Is a Lead Generation Specialist: Business Value and Career Opportunities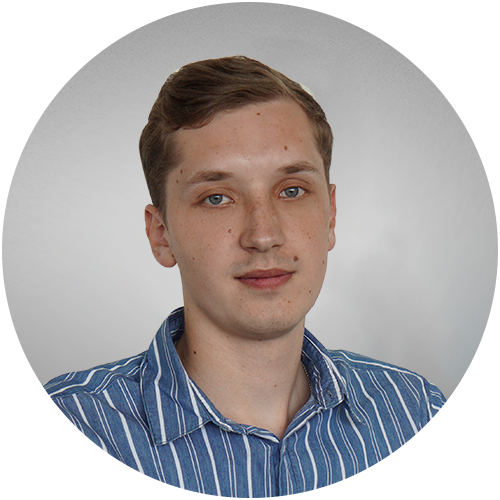 Dan Samoschenko (LinkedIn), 
Head of Presales & Chief Partnerships Officer
As we expand our European offices in the EU and Serbia, we regularly open new job opportunities for engineers and managers. In this article, I will tell you about the career opportunities for lead generation specialists at Promwad.
When interviewing for the position of lead generation specialist, I became convinced that applicants often have misconceptions about this job. We have encountered different versions: this is a monkey job that do not bring tangible results, lead generation managers do not know the fate of their leads, or acquiring new clients involves non-creative and scenario-based communication.
I decided to debunk these myths and explain why the job of a lead gen specialist at Promwad is a much more exciting role. What makes it special is that our department is the first to interact with potential clients and provides career opportunities in IT sales.
In addition to communicating with customers in various channels, we interact with the company engineers, make calls, and deal with objections. This work experience could be an excellent basis for a career as a sales manager or as a partner programme development manager at Promwad.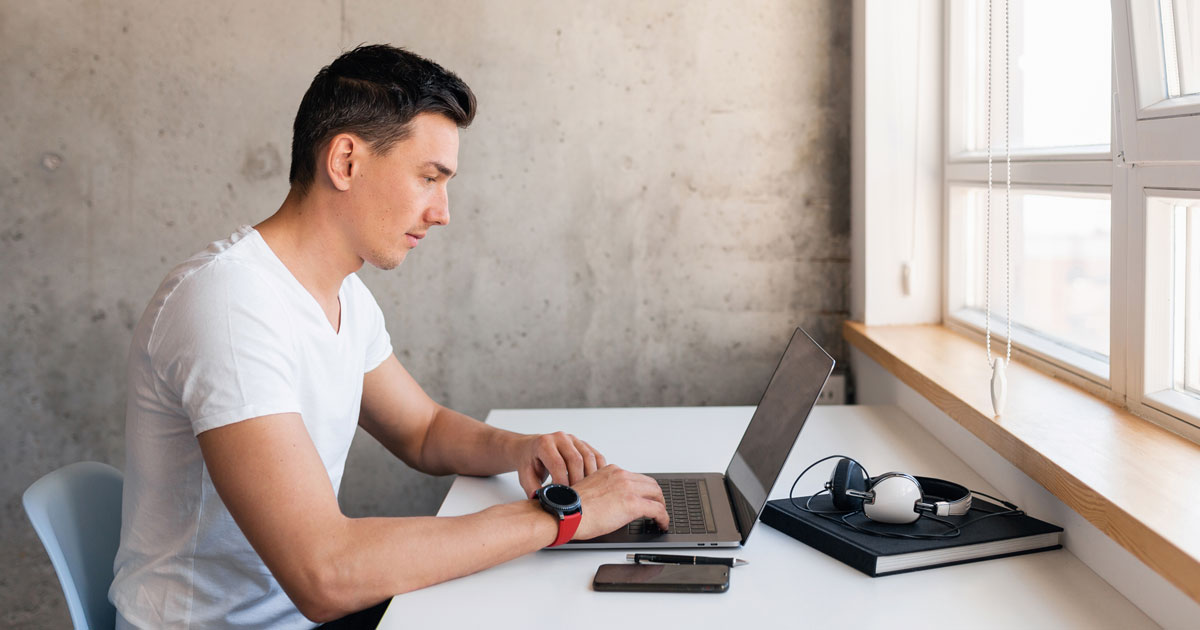 The work of lead gen specialist is not always office-based: you can choose a hybrid format and work from home
What is lead generation in the IT industry?
Lead generation is one of the stages of the presale — a set of activities before a deal is made with a client. Lead generation is the process of acquiring new clients (leads) interested in working with a company.
Every company has its presale structure. For example, it is pretty common for two professional units to be responsible for lead generation in technology companies:
A researcher compiles a database of suitable clients.
A sales development representative contacts each client from the collected database, sets up mailing lists, provides clients with the necessary materials upon request and makes appointments.
At Promwad, we don't call ourselves the lead generation department because that would create a misconception about our work. It would be more accurate to say that we perform both lead generation and presale specialists' functions.
The IT lead generation ends when a potential client agrees to discuss the start of a new project. At this point, a business development or sales specialist intercepts the contact and leads it to the deal. Also, we rightly call ourselves the Presale Department because, in addition to researching and compiling a customer base, we deal with new customer acquisition:
We analyse companies: their industry, size, region, investments, and annual turnover — all this information is often publicly available.
Together with the sales team and our technical leaders, we compile ICPs (ideal customer profiles).
We engage decision-makers through cold outreach via email and LinkedIn, follow up on our communication and update our CRM system.
We create customised presentations for our contacts, deal with their objections and bring in technical experts to give competent answers to our customers' questions.
Also, we organise calls with clients: we agree on a date and time, prepare agendas, moderate the process and provide a follow-up to our calls and meeting.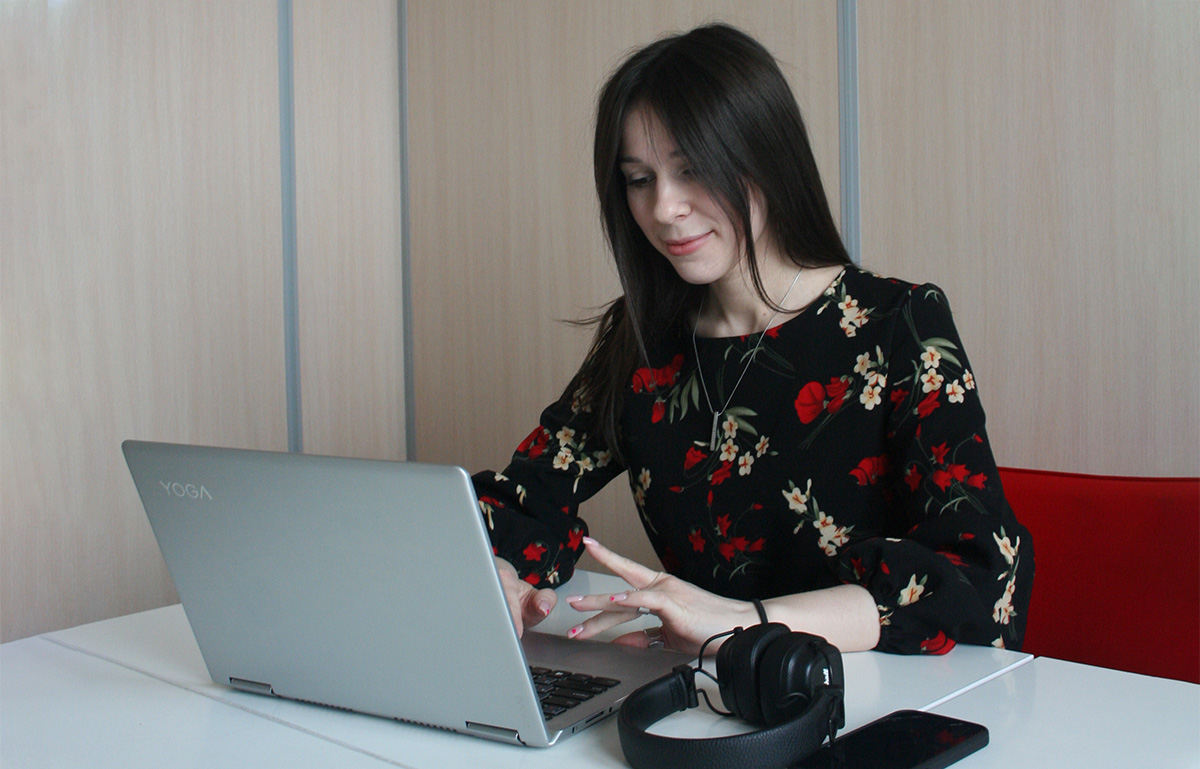 At Promwad, a lead acquisition specialist combines the functions of both a presale specialist and a lead generation specialist
What lead generation specialists do at meetings with clients
It is a common practice in many companies that lead gens do not attend phone calls: their authority ends at coordinating the date and time of a future call. We at Promwad advocate that the work of our specialists should be more comprehensive than monotonous searching for companies and compiling a database. First, it can lead to a rapid loss of interest and staff turnover. Secondly, by performing the same routine every day, without trying new things and making mistakes, it is easy to lose the vector of further career growth.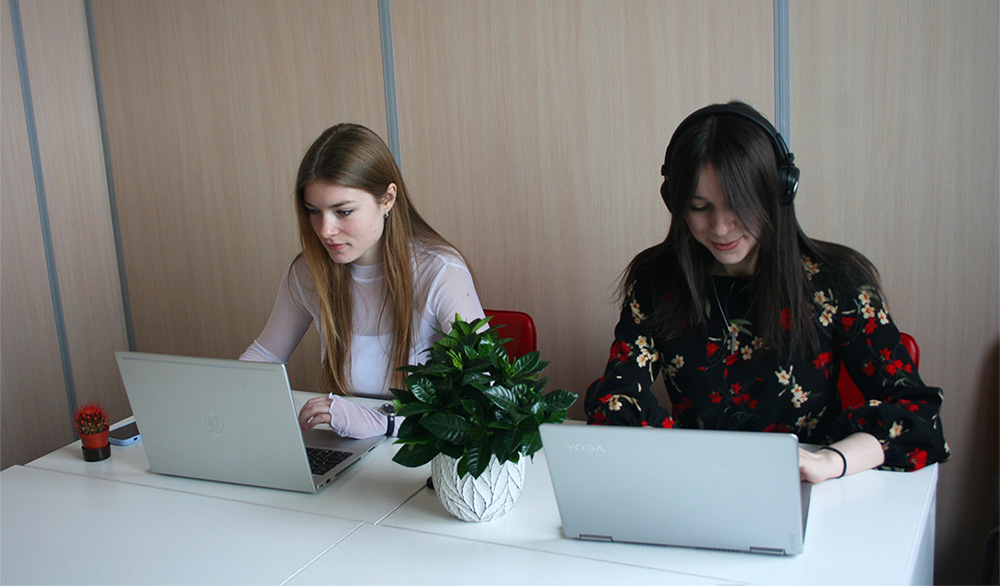 Participating in customer calls is an essential role for lead gen specialist and the key to future career development
Lead generation specialists headline the call: they moderate it, introduce the parties to each other, guide the process, and fill in pauses. Ultimately, they outline the arrangements and email a follow-up and the necessary materials. All these activities are a great experience for potential professional development.
After the meeting, the manager enters all the information into our CRM system: who was present on the call, what arrangements were made and what additional materials need to be sent to the client.
When the client submits their requirements — a request for collaboration on a particular model — the work of the generation specialist ends: their Linkedin contact becomes a lead for the company, and our business development manager handles all further communications.
However, this does not mean that the lead gen will not know about the fate of the lead: the CRM system is transparent, and it is possible to trace the lead's path to the conclusion of the deal and its stages. If a contract is signed with the lead, the employee who attracted it will receive a reward: a percentage or a fixed amount.
Differences between presales and sales
Leadgen specialists are the first to contact customers: they search for them, establish communication, represent our company and receive enquiries.
Sales specialists and managers work with ready-to-use leads and process the requests received:
clarify requirements and discuss them with our unit managers;
discuss financial and legal issues;
prepare quotations and explain our pricing to our potential clients;
cooperate with engineers;
prepare and sign contracts.
Everything is interconnected: with the presale department, there would be more projects for the sales department and engineering units.
Networking and communication skills are essential for acquiring new clients
The right skills for a presale manager / specialist
The primary hard skill is knowing how to use LinkedIn and company search tools: it is important to have a basic understanding of these tools at the start, and we teach in practice how to use them to achieve the right results.
Technical education is optional for this career path. Sometimes, on their first day on the job, our lead gen specialists may not know what a printed circuit board is. Still, after immersing themselves in the job for a month, they begin understanding the basics of hardware design and software development.
Soft skills are crucial here:
Foreign language. It is essential to read and speak English fluently, to keep up a conversation, and to understand industry jargon (as practice shows, this skill comes naturally during the probationary period). A good command of German is an added advantage. Our company works with the German-speaking market in the DACH region (Germany, Austria, Switzerland).
Analytical mindset. Ability to analyse information and present it coherently and understandably to others.
Communicative skills. You need to be able and love to communicate, to strike up a conversation or small talk with a genuine interest. With experience, each of our managers invents their tricks — sometimes non-trivial — which help get a response from a person they are talking to and add them to their contacts list.
Open-mindedness to keep the conversation relaxed in the first stages of the interaction. For example, the conversation can begin with a question about highlights of world events, famous trade shows or relevant topics in the client's industry. At the same time, it's about being open to new experiences, making professional acquaintances and getting in touch with other cultures.
Patience for the monotonous job of finding companies and the client-focused process.
Stress tolerance, to cope with periods with no visible work results - no potential enquiries from clients after sending dozens of messages. Presales are supported in this situation: we look for the cause, take apart each stage, and, if necessary, provide additional training. As a rule, in the second month of work, the "newbies" get their first responses and extra motivation.
Career development: prospects for lead generation specialists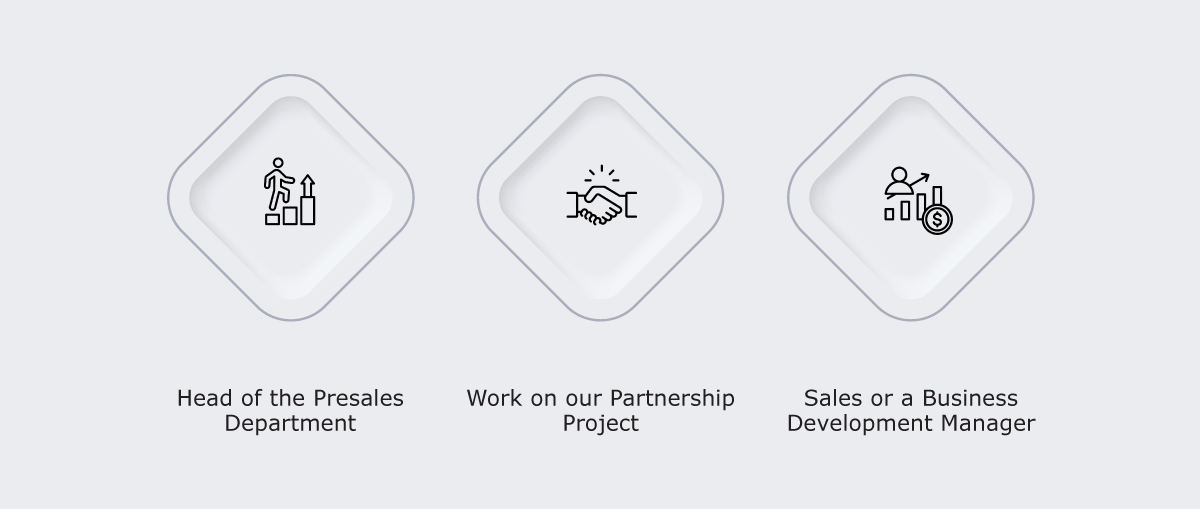 There are three career paths at our company: a head of the Presales Department, working in our partner project and becoming a business development manager
There are several options for growth from an entry-level position in our company:
Head of the Presales Department: you can grow to this position by passing the initial stages and showing promising results: searching for companies and interacting with potential clients, moderating and handling calls. And, of course, there is no substitute for management skills, such as managing a team, setting and monitoring targets, coaching and mentoring, and resolving conflicts.
Work on our partner project, where we are looking for partners for Promwad.
Growth as a biz dev specialist through additional training: preparation of commercial proposals, financial and legal aspects of transactions — it will be a new format of interaction with customers in this role.
Working as a lead management specialist can be a point of entry into the tech industry. It is possible to build an IT career starting with this position — even without a technical background.