Introducing Universal Flash Storage (UFS): Our Advanced Solution for High-Speed Data Storage

Promwad developed the UFS IP core as a universal, ready-to-use solution for high-speed and low-power data storage for new engineering projects — expecting this technology to become the new memory standard for high-end mobile products.
Universal Flash Storage (UFS) is a high-performance and scalable flash memory interface that can be used in mobile systems and other devices to store large amounts of data without implementing standard RAM. UFS as a successor to the current eMMC standard for embedded NAND flash memory can offer the benefits of fast SSD memory while operating on low-power chips. 
This dramatic reduction in power consumption will significantly extend battery life for video playback and graphics processing on mobile devices with high-resolution displays. From high-definition video and photo recording to seamless playback and rapid data transfer, the UFS IP core by Promwad delivers top-of-the-line performance while optimising costs. 
Here are the key features of our ready-to-use UFS IP core:
JEDEC UFS 2.1 
MPHY version 3.0 type-1
UniPro standard version 1.6
PWM Gear-1 x 2-lane 
HS-Gear-1 and HS-Gear-2, 2 lanes @ 5.8Gbps per lane
HS-Gear-3 x 2 lanes @ 11.6Gbps per lane (coming soon)
AXI-Full and AXS interfaces
This is a top-level diagram showing the main blocks of the UFS solution by Promwad implemented on the Xilinx Kintex UltraScale+ board with a GTY transceiver: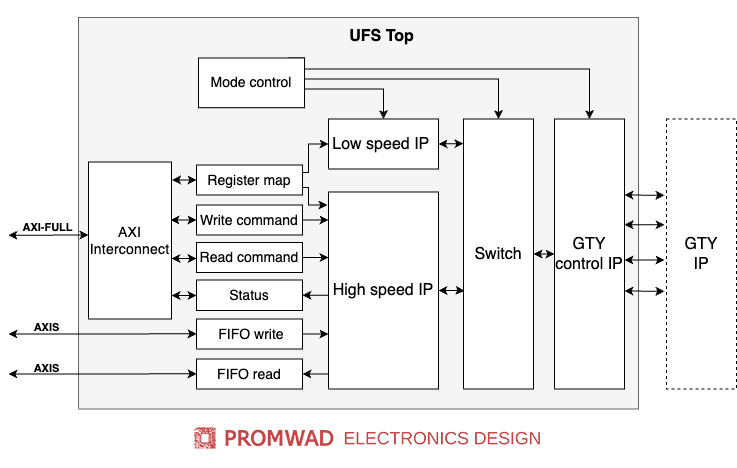 You can also explore other detailed diagrams and their descriptions on the page with engineering notes about the UFS IP core to make sure that this scalable solution can be the perfect choice for various devices, from servers to mobile phones.
This versatile solution is now available for purchase as an IP core or for integration into your engineering projects with technical support provided by Promwad. We customise the kernel for each client and integrate it into their project, taking into account engineering and business aspects. The intellectual property rights are shared between Promwad and our client, ensuring a mutually beneficial partnership.
Our customers receive this kernel as encrypted IP, significantly reducing the purchase cost compared to open-source solutions. The Promwad engineering team also plans to implement the UFS IP core on regular I/O instead of GTY transceivers, making this solution a real game-changer on the market, as it would allow using UFS on significantly cheaper FPGAs and dramatically reduce the cost of the final devices for our clients.
Would you like to use our IP core for your applications and embed UFS into your FPGA-based project? Please write to us!
Our Case Studies in FPGA Design