Low Power Wireless Technologies for Your Future Device: Selection Guide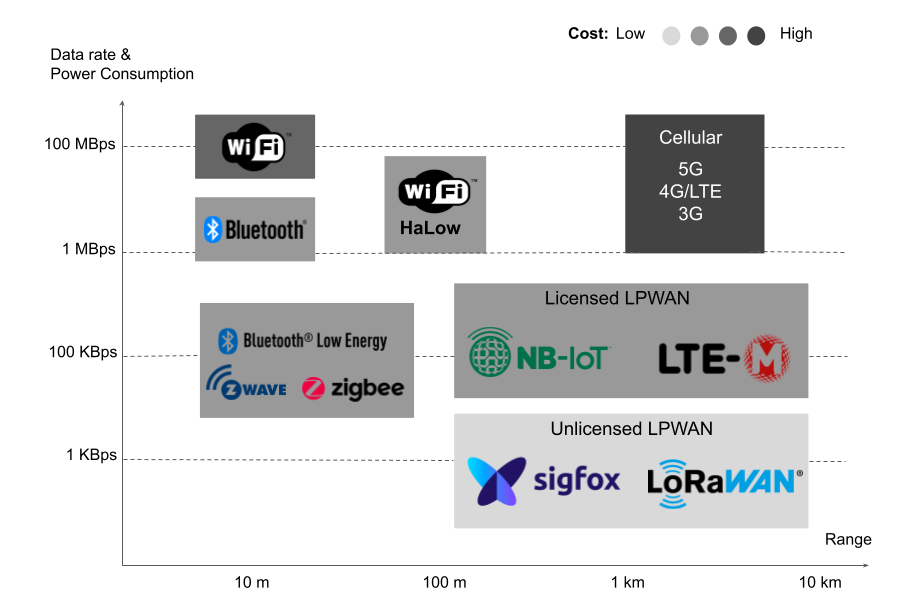 Wireless technologies, their bandwidth, range, and power consumption
 
How to choose the best wireless technology from dozens of available options to ensure the maximum battery life of your wearable device or smart sensor? In this article, we will answer this question by reviewing eight of the most popular low-power technologies we have used to develop energy-saving solutions for our customers: LoRaWAN, NB-IOT, Z-Wave, Zigbee, Bluetooth Low-Energy, Wi-Fi HaLow, LTE-M, and SigFox. We will compare their data transfer rate, the number of connected devices, the scope of application, key features, and disadvantages.
The energy-saving trend is gaining momentum due to both economic and environmental factors. In electronics and software development, the need for energy saving becomes especially relevant for wearable devices and smart sensors to find a balance between high-quality wireless communication and low power consumption. As a result, low-power wireless technologies (LPWAN) are becoming more and more in demand.
Let's start with the basic three types of wireless communication to better understand the available technologies within each of them:
wireless personal area network (WPAN) with a short range (up to several tens of meters);
wireless local area network (WLAN) for distributing signals of several objects using high-frequency radio waves;
wireless wide area network (WWAN) that covers long distances. 
LPWANs stand in a separate category and include WPAN and WLAN standards with low power consumption.
Types and ranges of low-power wireless technologies
 
Low-power wireless technologies provide communication between objects over long distances, but the data transfer rate between them is relatively low (50 kbit/sec or less). Devices with this type of communication consume less energy, use it more slowly, and can work without recharging for a long time.
IoT devices, such as equipment for smart houses and cities, are the best examples of the use of wireless communication with low power consumption. These technologies are applied in lighting systems, water supply, video surveillance, heating, and environmental control. Other popular spheres of application are smart meters, payment machines, and various sensors. 
There are many low-power wireless technology solutions, which inevitably leads to difficulties in choosing. In this article, we will consider the most popular ones we've used in designing mass-produced devices for telecom networks, industrial automation, and consumer markets:
LoRaWAN;
NB-IOT;
Z-Wave;
Zigbee;
Bluetooth Low-Energy;
Wi-Fi HaLow; 
Sigfox;
LTE-M.

1. LoRaWAN = Long Range Wide-Area Networks
LoRaWAN is an LPWAN protocol for long-distance data transmission (up to 10–15 kilometers), developed on the basis of the open standard LoRa. It is used in devices for the Internet of Things (IoT) and other projects as an alternative to networks that cannot be laid due to a lack of coverage, distances, or high traffic costs. 
Most often, this standard is used to interconnect a large number of industrial devices with low power, which regularly transmits small amounts of data. The advantage of this network is the large range and the ability to deploy solutions in densely built-up areas, which makes it suitable for the deployment of environmental monitoring systems in large cities, industrial and agricultural areas, and national parks.
As an example of LoRaWAN implementation, let's take one of Promwad's developments for a "smart city" — devices for air quality monitoring.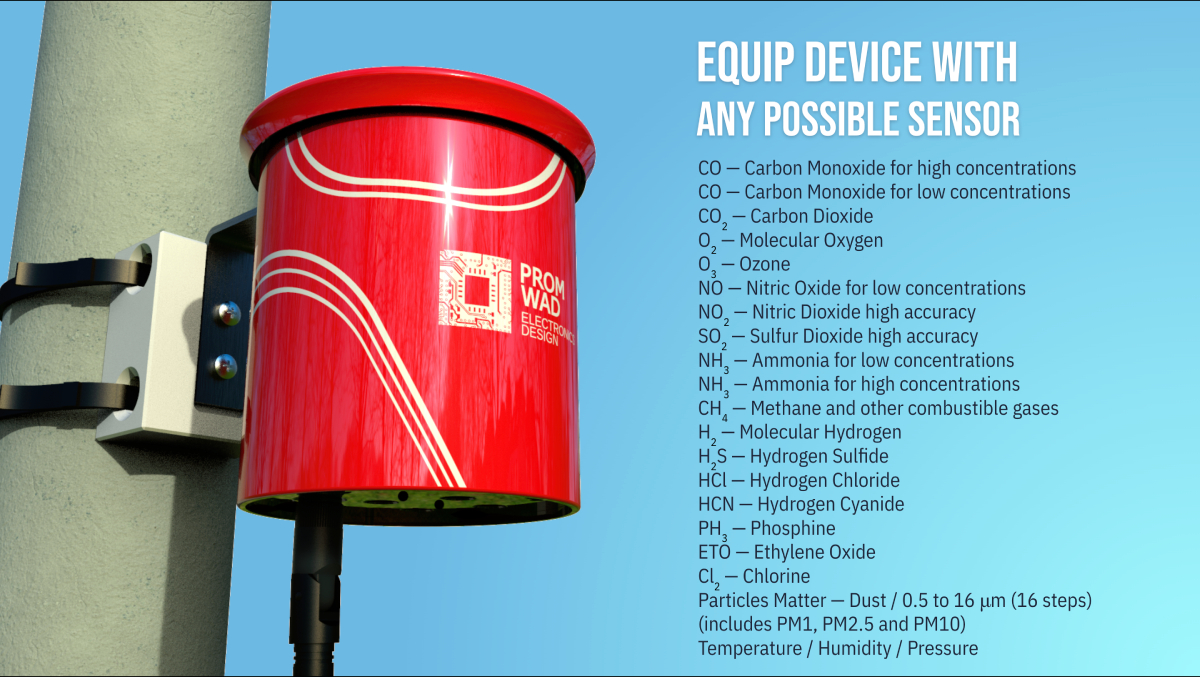 The Promwad project for a "smart city": an air quality monitoring system. It monitors and analyzes air quality indicators. 
 
The function of such devices with LoRaWAN support is to measure air quality indicators and send this data to a cloud server for analysis. As a result, an air pollution map is generated in real-time. 

2. NB-IoT = Narrow Band Internet of Things
NB-IoT is a cellular communication standard developed within the 3GPP consortium for low-volume telemetry devices. The first specification was published in 2016. 
NB-IoT connects a large number (tens of thousands) of autonomous devices, such as sensors in a smart house system, medical sensors, or resource meters. This standard operates with a high level of noise and transmits data of small size, i.e., it is not suitable for a large flow of information such as video and audio.
The cost of NB-IoT-enabled devices themselves is relatively low, as well as their power consumption. The disadvantages are the low speed of receiving and transmitting information and delays in power saving mode.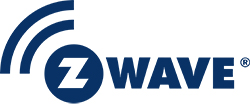 3. Z-Wave
Z-Wave is a patented radio frequency-based communication protocol for the automation of offices, smart houses and small industrial spaces. It allows the collection of data from meters, control of motion sensors and heating, switching loads up to 3.5 kW (on and off), etc. The first devices with the support of this protocol appeared in 2001. 
The number of connected devices via Z-Wave is about 200, which limits its use in large projects. Also, the connected devices should be placed at a short distance from the base: 30–120 m.
The Z-Wave network has a high level of security — the same encryption is used for online banking systems.
This type of communication is noise-resistant and easy to deploy but it has a low data transfer rate and is not suitable for densely urban areas.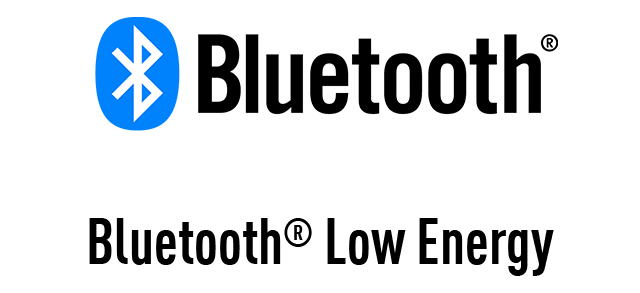 4. BLE = Bluetooth Low-Energy
Bluetooth Low-Energy is a WPAN technology and a Bluetooth specification from 2009 that uses low power at peak loads and in standby mode.This type of wireless connection can be applied to transmit small amounts of data with long intervals and over short distances, i.e., most of the time in sleep mode. 
A significant disadvantage is that bandwidth is reduced when deployed in densely urban areas. 
With BLE, devices can operate without a long recharge or on a miniature battery for extended periods of time. This reduces the size of the final device. This technology is suitable for sensors used in healthcare, sports, and environmental monitoring — for example, data on temperature, humidity, light, and soil fertility.
The Promwad team, commissioned by the French company Parrot, has designed a Bluetooth device that collects data from smart sensors via BLE and transmits it to a server. The device is used in the system for automatic watering and condition control of indoor plants: it transmits data on light exposure, moisture, and mineral composition of the soil.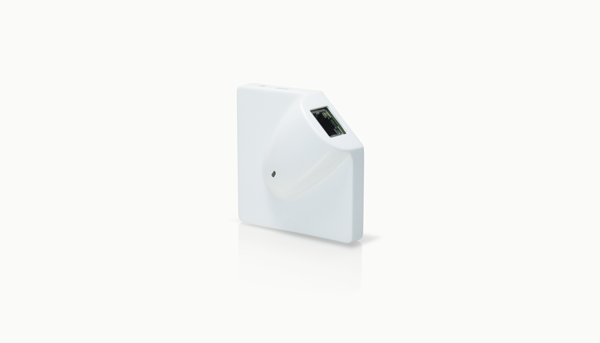 This network device with BLE sensors helps monitor the condition of the soil for houseplants 
 
In this project, we created an enclosure, designed a hardware platform, developed software, and manufactured prototypes. As a result, our customer received a compact device with low power consumption and the support of Bluetooth Low-Energy.

5. Zigbee
ZigBee is a WPAN wireless communication protocol based on the IEEE 802.15.4 standard for home and industrial automation, created in 2003. This technology is similar to Bluetooth, as they operate in the same frequency range.
In contrast to Bluetooth, ZigBee-enabled devices are faster to connect to the network. By comparison: 30 milliseconds versus 3 seconds. This helps reduce battery consumption and allows going to sleep faster. 
ZigBee is easy to deploy and has high levels of interference resistance and security. But at the same time, it has a low data transfer rate and low bandwidth in densely built-up areas.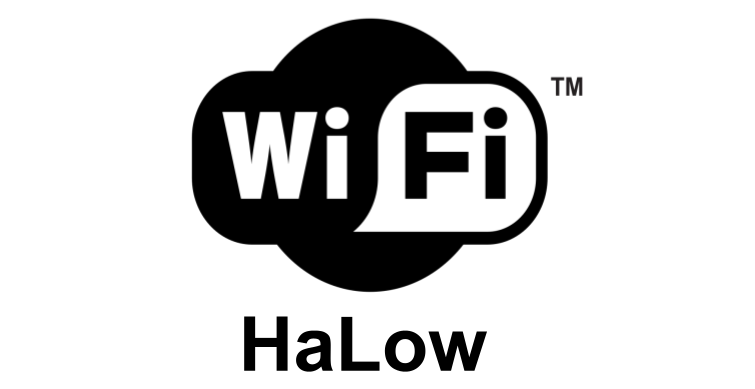 6. Wi-Fi HaLow
Wi-Fi is a WLAN technology based on the IEEE 802.11 standard. Initially, Wi-Fi was chosen to provide wireless data transfer with good speed, not to reduce power consumption. However, with the IoT evolving and increasing demands on energy efficiency, the IEEE 802.11ah or Wi-Fi HaLow protocol was presented in 2017 as a low-power wireless connection. This version of Wi-Fi operates in a frequency range of less than 1 GHz.
HaLow devices support several types of hibernation states, consuming less power and conserving the device's battery. Here are some of them:
Target wake time (TWT).
Restricted access window (RAW) — the access point can give data privileges to certain groups of stations while others will be in sleep mode.
Basic service set (BSS) — an extended set of basic services that can be on standby.
HaLow Wi-Fi provides a fairly high data rate — up to 200 Mbit/sec, making it well suited for deploying solutions in the city while consuming less power than traditional Wi-Fi standards.

7. Sigfox
Sigfox is a wireless low-speed communication technology for transmitting data over long distances with low energy consumption. It works over distances of up to 30—50 km in open terrain and up to 10 km in densely built-up areas.
This network operates on 868 MHz (Europe) and 902 MHz (USA). Its first specification was developed in 2009.
Sigfox has a special feature that we have to pay attention to: the number of messages from a station to an end device must not exceed 140 per day, and the size of the transmitted information must not exceed 12 bytes. So, this communication standard is suitable for transmitting small amounts of data with low regularity. 
This technology is used for the deployment of lighting systems, alarm systems, and data collection from meters.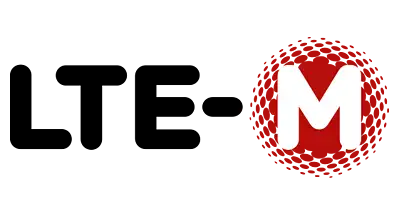 8. LTE-M = Long Term Evolution Machine Type Communication
LTE-M is the LPWAM mesh network standard, which is used for machine-to-machine communication. It appeared in 2016. It is characterized by mobility, a large coverage area and high signal penetration. The data transfer rate, if compared to NB-IoT, is quite high: up to 4 MBit/sec.
This protocol is suitable for controlling smart meters, security systems, medical sensors, as well as in logistics and wearable devices.
The above standards are not a complete list of all available technologies. There are also ANT, RF4CE, NFC, Nike+, iIr (IrDA) and others. For example, we are currently working with the OpenThread protocol from Google, which is an open implementation of the commercial Thread protocol for energy-efficient IPv6-based wireless communications. We have built this technology into the smart thermostat system that will be deployed in new buildings. The physical layer of data transmission will be implemented according to IEEE 802.15.4
Conclusions + comparison table
In this article, we described the most popular wireless technologies with minimal power consumption for the design of consumer and industrial electronics. For convenience, we have put the main parameters of each into a comparative table: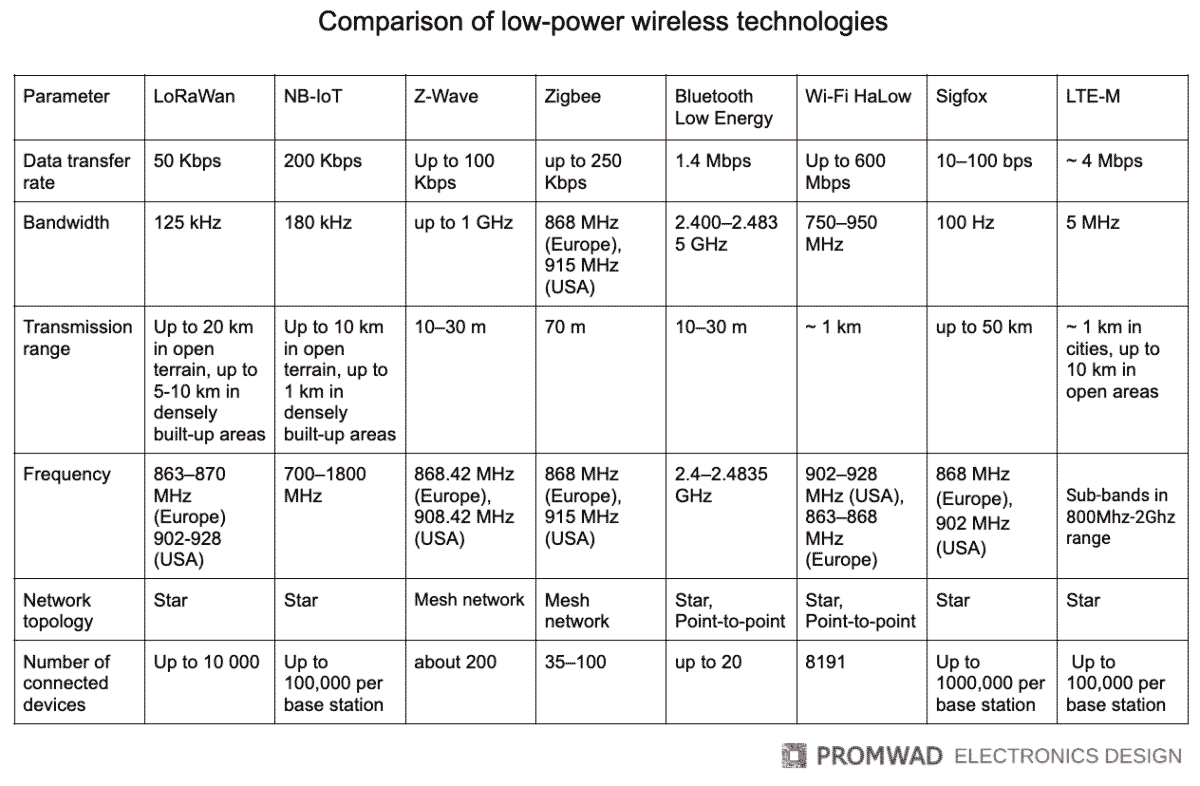 While developing low-power solutions for our clients, we carefully studied the features of the technologies listed in our article. It is impossible to say definitely that one type of communication is better than another: each of them has limitations and advantages, and each is suitable for certain tasks.
In addition to the technologies described in the article, there are other energy-saving solutions. Here are just a few examples: 
Wake-On-LAN implements the Energy Efficient Ethernet (EEE) component as described in IEEE 802.3az2 — the device sleeps until a packet arrives from the network.
Software optimization, maximum use of slip modes, and low-power modes of devices. We successfully implemented just such an approach in TAO WellShell, a wearable fitness device for our American customer, increasing battery life by three times. 
Using sleep schedules for wifi modules and other innovations. But that will be a topic for another article.
If you need any engineering help in developing mass-produced devices, hardware, or software with low-power wireless communication, please contact us, and we'll choose the best technology and design your new product!
Do you want to bring low-power technologies into your project?
Drop us a line about your project! We will contact you today or the next business day. All submitted information will be kept confidential.