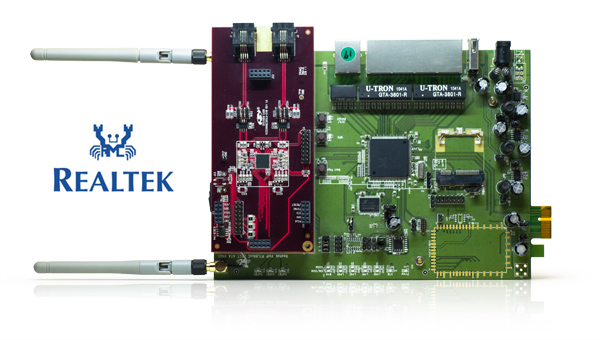 Realtek, based in Taiwan, is known to a large number of PC users for its network (Ethernet) and wireless (WiFi) interface controllers, as well as AC97 сodec chips. However, Realtek has processors not just for use in PCs, but also for various applications in the field of network equipment and media centres. Promwad partners with Realtek and provides tech support for its customers.
Realtek RTL895x
This family of processors is designed for use in subscriber network devices (CPE), such as Wi-Fi access point, ADSL / VDSL routers and VoIP routers.
Distinctive features of this line:
MIPS processor core with a frequency of 400 MHz to 1 GHz
DSP core for handling VoIP voice traffic with support for G.711, G723, G729 and G722
Support for PCM / I2S interfaces for connecting SLIC-analog telephony modules
Built-in 5-port GbE switch with an Ethernet PHY
Integration with Realtek wireless chipsets for 802.11n and 802.11ac
 
Realtek RTL83xx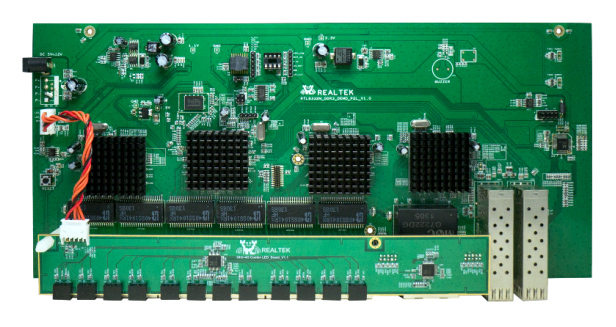 Realtek's portfolio has a wide range of switch processors 10/100/1000M with varying port capacity, for instance:
8 port FE + 2 * 1000Base-X
24 port FE + 4 * GbE Combo
24 port GbE + 2 * 10GbE
48-port FE + 4 * GbE
52-port GbE
For instance, the switch processor RTL8332M has the following features:
Ports: 24-port Fast Ethernet + 4-port Gigabit Ethernet
Integrated Fast Ethernet PHY for 8 ports
Support for two independent XSMII interfaces for external Fast Ethernet PHYs
QSGMII interface or two pairs of interfaces RSGMII / SGMII / 1000Base-X / 100Base-FX
Support for Serial/Dual I/O mode 32MB SPI Flash
Interface for external memory of up to 128MB DDR1/DDR2 or 256MB DDR3
MIPS-4KEc core with support for virtual memory addressing (MMU) at 500 MHz
Built-in memory SRAM 128KB
Two serial ports for debugging and monitoring via a command line interface (CLI)
EJTAG debug interface support
Support for EEPROM, I2C and SPI
Support for EAV and 1588v2
Support for Cable Diagnostics (RTCT)
Support for energy saving modes IEEE 802.3az Energy Efficient Ethernet (EEE)
L2 VLAN functionality
Maximum VLAN value 4096
Support for up to 64 independent processes for MSTP (IEEE 802.1s), RSTP and STP
Q-in-Q and VLAN tagging
L2 MAC functionality
Network packets up to 10 KB long
Table for 8K L2 MAC addresses
Table for 512 multicast addresses
IGMPv1/2/3 and MLDv1/2 snooping support
Other level L2 functionality
Traffic control: broadcast, multicast, unknown- multicast and unknown-unicast
Mirroring traffic support
Link aggregation support (IEEE 802.3ad)
Support for recognition and isolation of looped traffic (RLPP / RLDP)
Access Control List (ACL) functionality
Support for L2 / L3 / L4 (DMAC, SMAC and Ether-Type)
IPv6 ACL
QoS functions
8 queues per port
Queue processing algorithms Strict Priority (SP), Weighted Fair Queue (WFQ) and Weighted Round Robin (WRR)
MIB functionality
Ethernet-like MIB (RFC 3635); Interface Group MIB (RFC 2863); RMON (RFC 2819); Bridge MIB (RFC 1493); Bridge MIB Extension (RFC 2674)
Realtek RTL11xx (RTL1186, RTL119x)
In addition to switch processors, Realtek is developing its multimedia processors RTL11xx, which are systems-on-chip (SoC) with hardware support for decoding H264 / HEVC video, built around the MIPS and ARM architecture and optimized for media players, digital set-top boxes and other multimedia systems.
Typical features of a multimedia SoC by Realtek:
CPU: from the single-core MIPS 750MHz to the dual-core Cortex-A7 1.2GHz
GPU: OpenGL ES2.0-compliant 3D GPU
Decoders:

HD MPEG1/2/4/H.264/H.264 MVC & HD JPEG
HD AVC/VC-1
HD RM/RMVB
HD AVS

AV streaming/transmission via Ethernet & Wi-Fi
TV Encoder with CVBS/S-Video/YPbPr/SCART
With HDMI v1.4 with CEC and support for 3D over HDMI
I2S, SPDIF Out
Dual USB 2.0 Host or one USB 2.0 Host/Device with dual port integrated PHY, USB 3.0 Host/Device
SATA
10/100 Ethernet MAC & PHY
Gigabit Ethernet MAC
PCI-Express
Card reader (SD/MMC/MS Pro)
DTV - recording & time-shifting
Dual TS-In