Choosing a SoC for action cameras for the automotive industry
Wearable action cameras are used not only for entertainment, active sport, and personal security but also in cars. They have rather high-demanding engineering requirements, more serious than usual dash cameras that can be mounted on dashboard, windshield or view mirror. Action cameras can be mounted on anything, including a vehicle itself or a head of its driver. They are created to work in relatively tough conditions to record the action of any sort.
In this article, we would like to observe the leading chip vendors providing systems on chip (SoC) for the design of in-car action cams.
The dominant contribution to action cameras design and innovation is made by North America, Europe as the second-large market follows behind. And the promising market of Asia Pacific is showing an upward trend.
The global market of processors for action cameras is represented by the following key players:
Ambarella (USA),
Allwinner Technology (China),
Novatek (Taiwan).
Among the others, there are Qualcomm, Alpha Imaging Technology, Core Logic, iCATCH, Syntek Semiconductor, and SQ Technology.
Here are the best options from each leading chip manufacturer:
Ambarella, USA
Being, for sure, the leading manufacturer of processors for digital video recorders, Ambarella has two newest SoC for automotive cameras: CV22 4K SoC with CVflow Computer Vision Architecture and Ambarella A12W.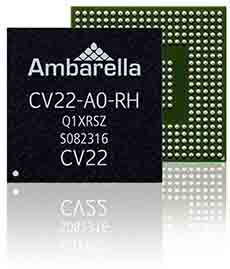 Ambarella CV22 4K SoC
The second chip in the CVflow family with image processing, 4Kp60 video encoding, CVflow computer vision processing, and low-power consumption.
The CVflow architecture in this SoC enables the Deep Neural Network processing for automotive, wearable cameras, drones, and smart home monitoring.
CV22 supports high-resolution video streaming at full 4K in AVC and HEVC formats with very low bitrates to reduce cloud storage costs. It processes computer vision at the resolution of 8-Megapixel at 30 fps, it enables image recognition with high accuracy, even over long distances.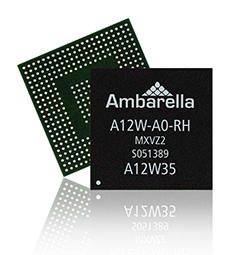 Ambarella A12W SoC
The A12W processor family was fabricated at the 28-nm manufacturing process and delivered with an SDK optimized for low-power applications.
The key features: an advanced image sensor pipeline, an H.264 encoder, and ARM Cortex-A9 CPU for advanced analytics and user applications.
The target application areas: social and professional wearable camera designs with powerful image processing tools,e.g. motion compensated filtering and sharpening, lens distortion correction, high dynamic range.
Allwinner Technology, China
The latest high-level video encoding industry solution from Allwinner is Allwinner V5 V100.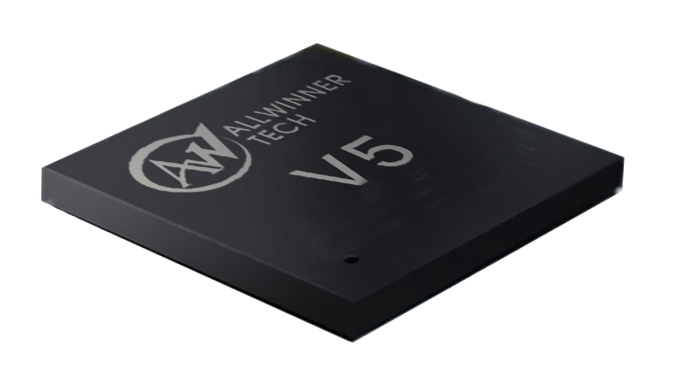 Allwinner V5 V100
This SoC is designed primarily for HD IP cameras. It has the following interfaces: dual-channel independent ISP, HiSPi, Sub-LVDS, MIPI, Parallel. Encoding multiple streams is achieved by the latest H.265 video comprehension codec.
The advanced low-power technology and architecture design of the Allwinner V5 V100 SoC allows significant BOM cost reduction.
With the help of an intelligent analysis accelerate engine within this SoC, you can enable such intelligent analysis applications as perimeter protection, intelligent motion detection, and face detection. One more engine, called independent image processing engine, allows supporting lens distortion correction, PTZ calibration, Fisheye, real-time stitching for two-channel images (panoramic 360°, wide angle 180°), and picture rotation by 90°or 270°.
As you can see by the description of the best systems on chip, their key features and application areas, there are impressive opportunities for the design of new action cams for the automotive industry. Just recently, the UK and European Union announced their plans to enact the regulation, requiring carmakers to include overspeeding preventing devices, distraction recognition systems, breathalyzers, and data recorders documenting the accidents, in all new cars.

Here you may explore the list of top wearable app development agencies and advise on how to find the right one.
Feel free to contact us to consult about the optimal hardware platform for your new audio/video devices or discuss other possibilities of developing new products at Promwad.