System on Module (SoM) based on new chip SPEAr1340 by STMicroelectronics was designed by Promwad to address growing demand in industrial grade SBC.
SPEAr1340 possesses exceptionally low power consumption, powerful CPU and GPU, rich set of interfaces and integrated periphery, making it an ideal choice for a wide set of graphics oriented industrial applications, both stationary and mobile.
Key applications of SPEAr1340 SoM:
GUI terminals (thin clients)
Industrial tablets
Surveillance systems
Video conference
Industrial controllers with GUI
HMI
SPEAr1340 block diagram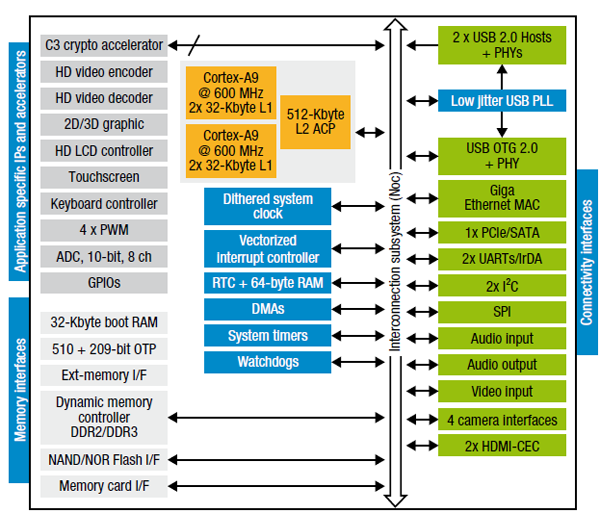 Key features of SPEAr1340
Exceptionally low power consumption
Two ARM Cortex-A9 cores run at 600 MHz
Video accelerator of 2D/3D graphics with support of OpenGL ES 2.0
Hardware video codecs: H.264, H.263, MPEG-2, MPEG-4, WMV9 / VC1, DivX
Support of up to FullHD video resolution
Hardware acceleration of cryptographic algorithms: DES, TripleDES, AES, SHA, RSA
On-chip one time programmable secure memory
Acceleration of TCP/IP stack and streaming real-time protocols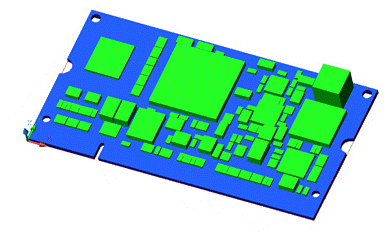 3D model of SPEAr1340 SoM
The periphery of SPEAr1340 SoM
Two chips of DDR3 memory
One chip of NAND memory
MicroSD slot
Voltage regulators and power management, designed to run from a single 5V supply
Gigabit ethernet PHY
Mini PCIe for auxiliary periphery (e.g. Wi-Fi module)
Connector for LCD Touchscreen display
SoM complies with standard SO-DIMM 200 pins form factor. Motherboard contains no sensitive or high frequency circuits which greatly simplifies its design. Typical motherboard PCB has only two layers. For operating, SoM requires from motherboard only single 5V power supply.
The interfaces on the SoM-to-motherboard connector
HDMI video output with CEC support
4 channel video camera interfaces
I2S interface for 7.1 audio codec
Analog video input (CVBS)
S/PDIF digital audio output
4 PWM outputs
Port for 6x6 matrix keyboard
JTAG port
Gigabit Ethernet
General purpose interfaces: UART, SPI, I2C, GPIO, ADC
SPEAr1340 module package
Motherboard with rich set of periphery that demonstrates all the power of SPEAr1340
Complete set of documentation and CAD files for production of motherboard
NAND image with Linux
NAND image with Android
Complete source codes
Do you want to use a processor module ST SPEAr1340 in your project?
Contact us, we will answer your questions.