Promwad Recognised by GoodFirms as the Best Company to Work With
Customised software, hardware, FPGA design, and embedded systems are common and trending needs of tech businesses today. Though there are numerous development companies across the globe, not all have the requisite expertise and experience in all these engineering services. Businesses are thus looking for the top software development companies with leading capabilities in custom software for electronic devices, IoT development, and other complex hardware-software systems to create high-grade, tailored solutions that have the potential to take their growth and profitability to the next level.
GoodFirms has recognised Promwad for its versatile skills and broad experience that put our company as one of the top industry leaders and market influencers through the Leaders Matrix program. Our engineering team was identified as the "Best Company to Work With." 
With multiple offices in Lithuania, Germany, Poland, Serbia, and Latvia, Promwad offers all-round engineering services to businesses worldwide, including full-stack software development, hardware design, industrial & mechanical design, and manufacturing. The company follows utmost diligence in its work, accepting every challenge that comes its way and aims to take the customers' businesses to a new orbit by helping them develop and manufacture new world-class devices, embedded systems and applications for the high-tech market.
For the year 2023, GoodFirms named Promwad as the "Best Company to Work With."
If you are looking for the top Engineering Services companies with global exposure, Promwad is the one-stop solution for all your needs, recognised by GoodFirms Leaders Matrix. Right from its inception, Promwad has maintained the highest standards of quality and strived to innovate and adapt to clients' needs, delivering end-to-end software development and other engineering services to startups, niche companies, and market leaders across the globe. The company has been embracing the power of innovation, talent, and professionalism to help its clients' businesses grow. With this approach, Promwad takes pride in creating high value and success for its clients and having earned immense trust from businesses worldwide. GoodFirms recently recognised Promwad as the "Best Company to Work With" in 2023.
Promwad - Vision, Strength & Scope
As a reputed software development and engineering services company, Promwad caters to the varied needs of its clients. The company offers a wide range of software development services, including all levels of software for electronic devices and embedded systems from firmware and middleware to user applications and backend solutions. Promwad also specialises in hardware, field programmable gate arrays (FPGA) design, and development of AI-powered embedded solutions. Moreover, the company has created software solutions and new devices for automotive, industrial automation, telecom, digital TV & video streaming, adaptive computing, and FPGA design.
Here is just one example of the company's 500+ projects: Promwad developed a video streaming app for a client. The client was extremely happy with the Promwad team's work on this project and rated them a full 5/5, highlighting that the company treats their clients' business as their own, they analyse the project more deeply, suggest excluding redundant features, and keep an eye on deadlines and budgets.
Another notable project that Promwad accomplished was designing the hardware and software for the client's new device that would integrate into their gaming console. The client was very happy with the performance and results of Promwad on this project, quoting that the company became a reliable design partner supplying the expertise in mechanical design, hardware, and software engineering. They highly recommend the company for exhibiting a high level of professionalism along with enormous technical expertise.

A few more reviews of Promwad from our customers: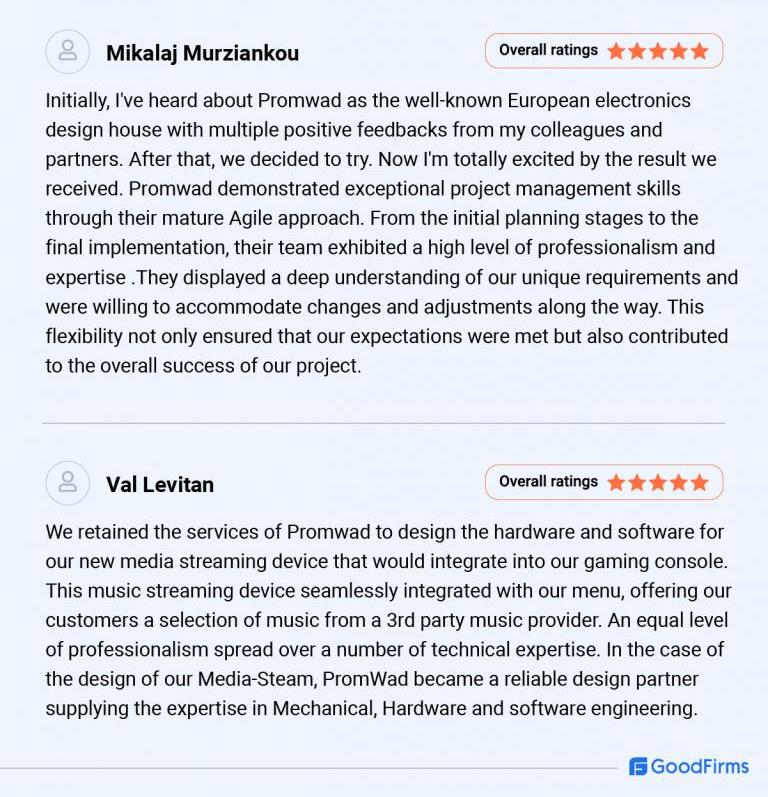 Why is Promwad the Best Company to Work With?
Leveraging its core values of agility, global exposure, talent, creativity, constant learning, and customer centricity, Promwad has established itself as one of the most reliable software development, broad engineering services, and other technological services providers. The company has successfully delivered high-quality services and solutions to numerous businesses, earning remarkable customer trust, loyalty, and reviews.
"We believe Promwad's positioning in GoodFirms' Leaders Matrix report reflects the company's exceptional ability in providing top-notch software development and other engineering services, enabling its clients to automate, streamline processes, enhance operational efficiency, shrink costs, and boost profits," said GoodFirms.
Promwad had to undergo a rigorous assessment under the GoodFirms Leaders Matrix program. The evaluation covered the service landscape, verified client reviews, experience in the domain, market, competitive positioning, and much more. Such analysis helped surface in-depth strategic information about Promwad's capabilities, competitive differentiation, and market position.

About the "Best Company to Work With" Badge
"Best Company To Work With" is an exclusive program run by GoodFirms where the Leaders Matrix companies are recognised with a Badge, an exclusive article about the company, and a supporting PR. Such recognition stands as a support to developing trust and authenticity within the B2B community. It also allows the participating companies to improve their ranking - rank higher in the Leaders Matrix categories, receive inbound backlinks from GoodFirms LeadersRoundtable podcast campaign, and get a certified Badge saying, "Best Company to Work With."
About GoodFirms
GoodFirms is a B2B review, listing, and rating platform helping businesses accelerate their digital journey and to maximise the value of modern technology. The company connects service providers with service seekers through a comprehensive and thoroughly researched fact-based list of the best services and solutions. Recognised as the most reliable source for the B2B market, GoodFirms has world-class experience with partners across the globe.