Broadcom sampling new StrataXGS Trident 4 switch series
A week ago our partner Broadcom came up with the industry-leading innovation, changing the way enterprise network infrastructure is built today. Welcome its new StrataXGS Trident 4 BCM56880 7nm switch series allowing substantial money and power savings at the same time reaching a new level of runtime flexibility and network availability. 
The new switch is programmed using the NPL high-level language all in 7nm process technology and offers from 2.0 to 12.8 Tb/s bandwidth, bringing the highest ever-existing Ethernet switching performance and user-programmable capabilities.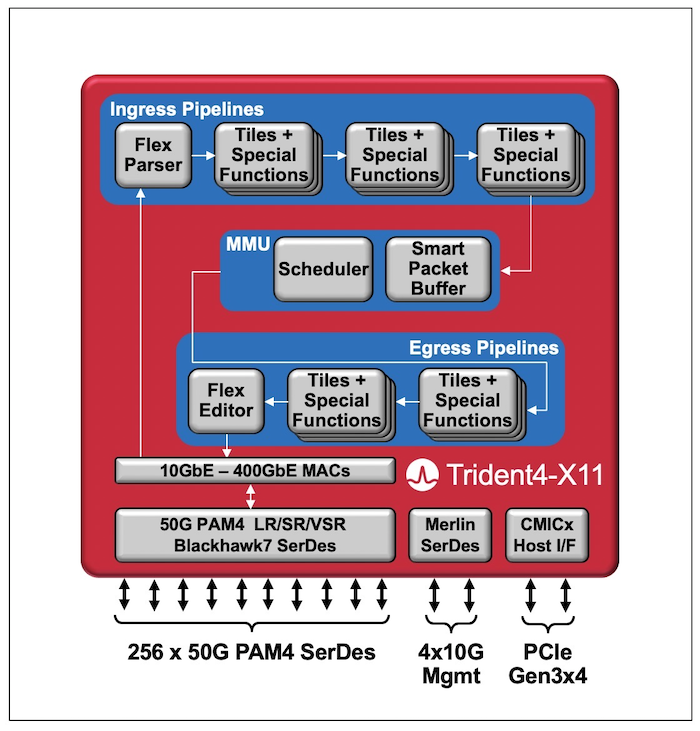 Broadcom Trident 4 Block Diagram. Source — Broadcom.
The key features like supporting up to 128x100GbE or 32x400GbE switching and routing, variety of load balancing and congestion management capabilities, and an extremely rich, enterprise-grade feature set with a high degree of concurrency allows the flexible implementation of advanced network functionality such as DDoS protection, application load balancing, and large-scale NAT. 
Hardware systems utilizing Trident 4 will have a rapid path to market with the ability of the reuse of existing high-volume systems. We are very excited to use this perfect solution for your projects.