Promwad meets with broad connectivity capabilities of the new Nordic nRF52811 SoC
At the end of February, our Scandinavian partner Nordic Semiconductor introduced the nRF52811 system on a chip with comprehensive protocol support. We plan to use this new solution with Bluetooth 5.1 and customizable SDK for the design of telecom and IoT devices helping our clients to create new products for their business.
Nordic's nRF52 series platform was always highly popular, but the latest SoC will surely expand the demand for it. The advanced nRF52840 and mid-range nRF52832 are integrated with the new nRF52811 what greatly enriches the nRF52 baseline. Besides, the customizable development tool environment is available with the help of the nRF5 software development kit.
The new solution supports Bluetooth 5.1 direction finding incorporating all the features needed for tracking. It uses both Angle of Arrival (AoA) and Angle of Departure (AoD) methods to enable more accurate positioning solutions for Bluetooth 5.1. Also, Nordic is planning to enlarge nRF52811 capabilities by adding Bluetooth 5 Long Range and Zigbee 3.0 during 2019.
The SoC is already available in three packages compatible with those of the nRF52810 SoC allowing reuse of the same PCB:
6x6mm QFN48 package with 32 GPIOs;
5x5mm QFN32 with 17 GPIOs;
2.5x2.5mm wafer level CSP32 with 15 GPIOs.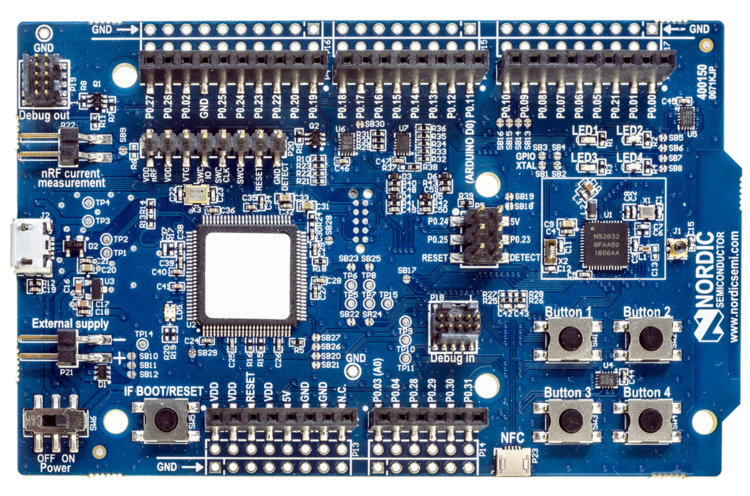 The nRF52-DK. Photos courtesy of Nordic Semiconductor.
"The nRF52811 SoC joins the comprehensive family of Nordic multiprotocol products that address the widest scope of applications found today," says John Leonard, Senior Product Marketing Manager of the company.
Nordic Semiconductor was also among the exhibitors at MWC Barcelona 2019. They demonstrated the latest solutions under the slogan "Cellular IoT made easy". The most catching of the booth were low power cellular technologies like LTE-M and NB-IoT. Alongside with giving the opportunity of running really low power endnotes, they can replace WiFi or BLE to go directly to a cloud service. So the devices are always connected, they are always online and stay there as long as battery left.
The partnership with Nordic Semiconductor allows using the energy efficient technologies while designing the highest quality possible telecom or IoT devices for our customers.