Android is one of the leading mobile software platforms in the world market. It includes not only operating system, but also middleware and key applications. Android OS is based on a modified version of the Linux kernel.
New versions of this operating system are released by Google and other members of the Open Handset Alliance. Maintenance and further development of Android is carried outby The Android Open Source Project (AOSP).
Promwad Innovation Company has a special division Promwad Mobile which is responsible for developing Android mobile apps for cell phones, tablet computers, ebook readers, car navigation systems and other multimedia devices.
Android mobile application developers primarily use the Java language, controlling the device via Google-developed Java libraries (Android SDK). Java bytecode is converted into own Android bytecode format called dex, which is executed by Dalvik virtual machine.
Distinctive features of Android platform
Dalvik virtual machine
Built-in web browser based on Webkit engine
Rich graphical libraries for 2D graphics and 3D graphics compliant to OpenGL ES 1.0 specification with support of hardware acceleration
Usage of SQLite for structured data storage
Vast multimedia support (MPEG4, H.264, MP3, AAC, AMR, JPG, PNG, GIF)
GSM software communication stack
Software communication stack to work with Bluetooth, EDGE, 3G and WiFi
Support of additional devices like webcam, GPS, compass, accelerometer
Sophisticated development tools: debugger, emulator, profiling tools, integration with Eclipse IDE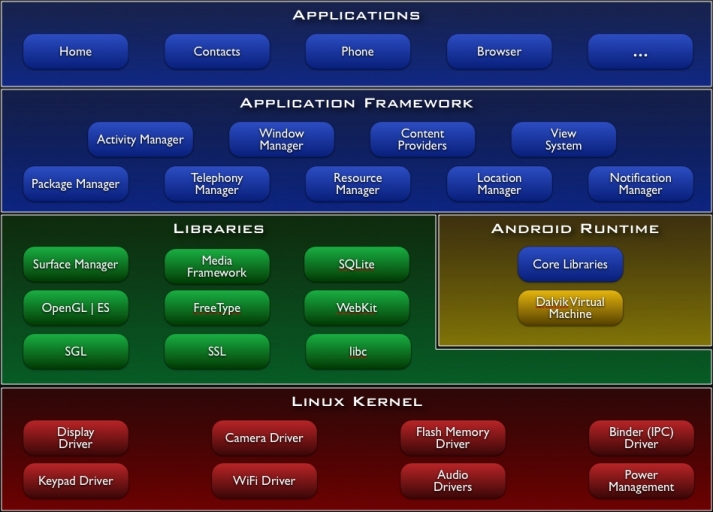 Android platform architecture
The most important advantages of Android include:
Excellent integration with Google Maps and other Google services
Comprehensive libraries for 2D and 3D graphics, image, audio and video files
Video camera, touchscreen, accelerometer and magnetometer support
Interprocess communication (IPC) messaging
Support for P2P using Google Talk
SQLite relational database for data storage
Custom control development
Development of user interfaces with extended functionality using Android XML layouts
Do you need help with programming mobile applications for Android?
Contact us. We will answer your questions.