Promwad Electronics Design House developed its own software solution based on the Asterisk application to integrate VoIP into network devices.
Asterisk PBX is an open source software operated by Linux that allows you to implement the following functions.
Asterisk PBX functionality
voice mail
call processing
interactive voice response (IVR)
music on hold (MoH)
call history (CDR)
support for audio codecs (G.711, G. 723, G.726, G.729, GSM)
comfort noise generation (CNG)
line echo cancellation (LEC)
voice activity detection (VAD)
jitter buffering, faxing (T.30 and T.38) and other
In its VoIP software solution Promwad implemented the support for SLIC (subscriber line interface circuit) to connect analog telephones to network devices. The choice of SLIC depends on the desired number of connected analog telephone sets.

Promwad has experienced in working with SLICs manufactured by Silicon Laboratories Inc., Zarlink Semiconductor Inc.
VoIP software components scheme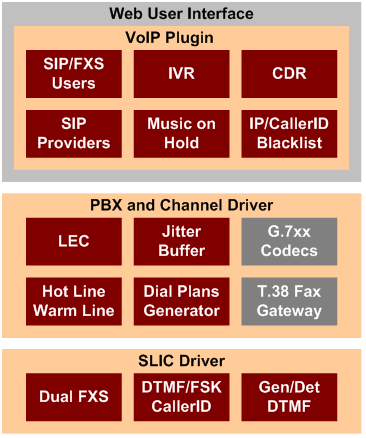 Picture. VoIP software components
For VoIP software Promwad developed the following components:
The SLIC driver for the sound transmission and calls detection
The Asterisk channel driver for communication between the SLIC driver and the Asterisk application
Dialing rules generator for Asterisk
The web-based interface for Asterisk and SLIC configuration management
Do you need telecom devices development and VoIP integration? 
Contact us! We are ready to answer your questions.