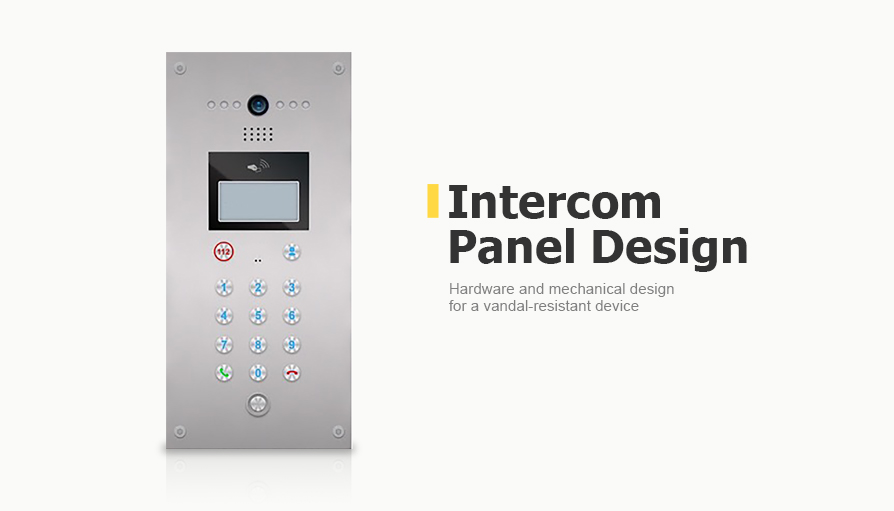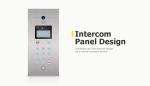 Client
A major European manufacturer of intercom systems.
Challenge
The customer turned to us for the turnkey development of an intercom panel. Within the project, we provided a range of services:
ToR development;
industrial and mechanical design;
schematic and PCB development;
prototyping;
mass manufacturing costs estimation;
mechanical design optimisation aimed at manufacturing cost reduction.
Solution
1. Hardware Development
The hardware platform of the intercom panel is a single-board computer VAR-SOM-MX6 by Variscite, and its technical specifications allow to extend the functionality of the device:
1024 MB RAM and 128 MB ROM – for code and OS;
4 GB eMMC – for user data storage.
The module is designed in the SODIMM 200 form factor. It is based on the IMX6 processor with an ARM Cortex-A9 core (800–1200 MHz) developed by our partner NXP. The processor is available in several options: single-core, dual-core and quad-core.  
When designing the intercom device, we ensured the support of the following features:
Communication via Ethernet at 100 Mbps.
A video camera with additional IR illumination. The brightness of the backlight is adjusted programmatically according to the information from the illumination sensor.
The Mifare standard proximity card reader to authorise residents and service staff.
A built-in microphone and a 2W external speaker provide voice communication.
The panel is heated with an SQP10AJB series resistor. A thermistor controls the temperature, and the MCP9902T chip monitors and manages the heater. The functionality of the heating software was developed and verified on the client's side.
We provided the opportunity to install one of the displays:
MT-12864J-3FLW-3V0 by Microtips Technology;
UG-2864ASWPG01 by Univision Technology.
The default setting is the OLED display UG-2864ASWPG01. Its operating temperature range is from 40 to +85 ℃.
The power supply of the intercom panel is 12V ±10%. The power supply provides an output current of at least 2A.
2. Mechanical Design
We were also responsible for the mechanical design and ensured the following customer requirements:
vandal-proof design;
repairability at the place of installation;
operability at temperature ranges from −30℃ to +70 ℃;
low cost of production.
The internal components of the system are easily replaceable. During operation, the customer can replace the camera, speaker, microphone, display, access card reader, and processor module.
The external enclosure consists of the following elements:
Buttons. We installed light conduits to light the intercom panel;
a front panel is made of stainless steel;
a shockproof polycarbonate panel protects the display;
a speaker;
a shockproof polycarbonate insert protects the video camera.
Business Value
The customer received an intercom panel with low-cost production, convenient maintenance, and easily replaceable components. The panel features a video camera with IR illumination for excellent night vision, authorisation capabilities for residents and staff through proximity access cards, and the ability to call emergency services or concierge.
Also, the device has a vandal-resistant enclosure and elements for increased durabilitу and trouble-free operation across temperatures ranging from −30°C to +70°C.