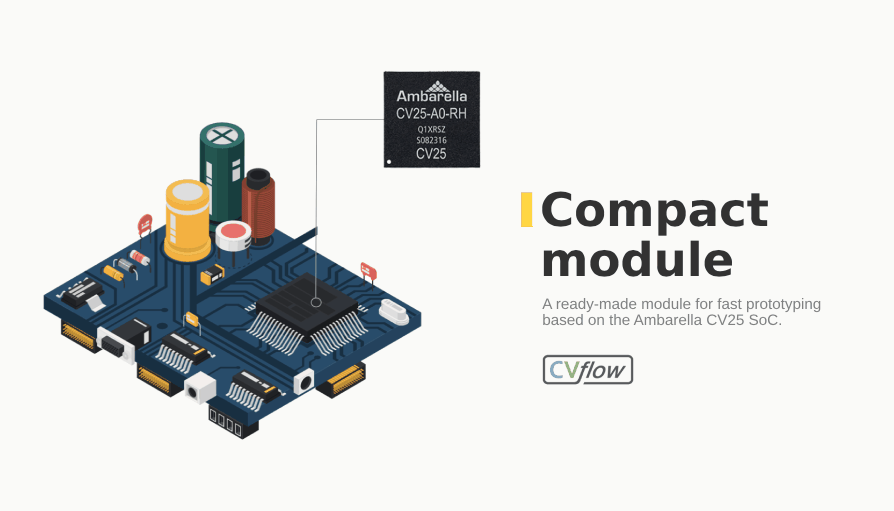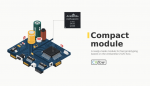 Ambarella CV25 based module for consumer cameras
Challenge
To design a compact module with flexible architecture suitable for consumer cameras in sports, drones, wearables, VR application areas. Cameras should possess face analysis and recognition capability.
Solution
We've designed a ready-made 55x65 mm module for fast prototyping based on the Ambarella CV25 processor, which provides advanced image processing and state-of-the-art computer vision technology. Our solution is built based on CVflow chip architecture. Unlike general-purpose GPUs and CPUs, CVflow comprises a dedicated vision processing engine designed with a high-level algorithm description that combines a considerable performance scale with low power consumption.
We can also provide a solution based on Ambarella H22. The Ambarella H22 chip is a next-gen solution for connected drones and VR cameras that delivers up to 4K video recording at 60fps while streaming a second, live, mobile-resolution video over a Wi-Fi network for preview or sharing. Although, CVflow is available only with Ambarella CV25.
Module characteristics:
DDR3L
eMMC
NAND
Wi-Fi/BL 5.0
Support of two cameras with up to 4K resolution
Along with face recognition modules, we can provide the camera modules:
Sony IMX 327/335 modules
FullHD or 4K resolution
Built-in lens

Result
Promwad engineers are actively experimenting with Ambarella CV25 SoC and are ready to help you with your intelligent camera design projects.