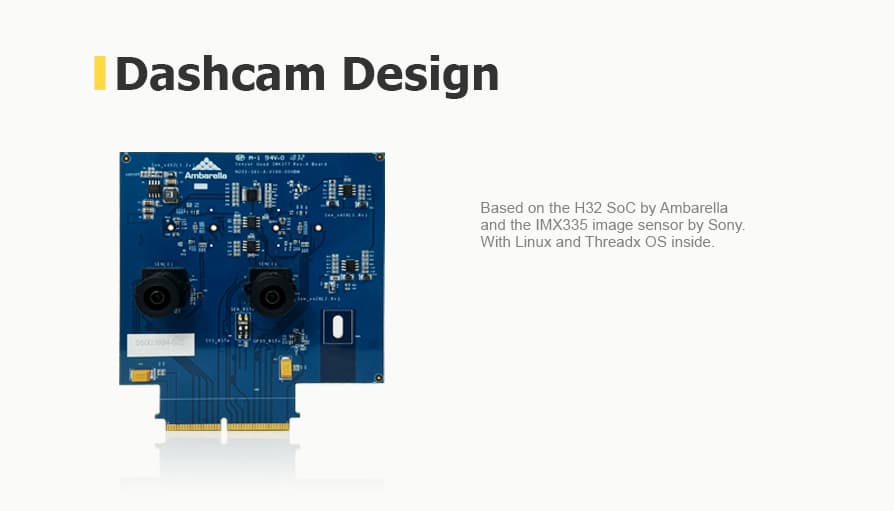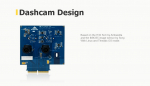 Dashcam product development
Client
A European distributor of in-car speed awareness, dash cam security, and audio solutions.
Challenge
The client turned to Promwad for the dash cam product development. The project included:
specification development; 
hardware design and software development;
enclosure design and prototyping;
in-production software testing.
Solution
1. Hardware design
We have designed the dash cam hardware with the following features:
Ambarella H32AX75
1 GB DDR4 
NAND + 2xSDCard
GSM/GNSS – Quectel EC25
Accelerometer

Wi-Fi + BL Combo module
Image sensor Sony IMX335
M12 Lens
Supercapacitor for the power or battery
USB type C
2. Software development
The chosen Ambarella hardware platform and its core runs on Linux and Threadx OS.
We designed drivers for peripheral devices and the device's logic within the project. 
The designed dash cam has no screen, so it works in conjunction with a smartphone. We made the data streaming from a device to a smartphone possible through Wi-Fi.
One more distinct feature of the dash cam is its capability to operate with a server side. In a user account on the server, it's possible to watch low-resolution video or download 4k video. Besides, the user can browse their tracks, review risky situations, geo-fence exits, speeding, etc.
3. Enclosure design
We took into account every single client requirement during the enclosure design stage. The prototyping consisted of two iterations:
We printed the prototype on a 3D printer, and checked its assemblability together with the PCBs; we also checked the operation of the antenna.
We produced a sample of the enclosure by milling.
Outcome
The client received not only a device with a dash cam functionality, but we also added extra features:
GPS tracking;
server-side data storing;
security system function;
a warning system for emergencies;
lane control feature;
sign recognition;
car registration stack integration.