AI on Edge Solutions for Mobility Projects at Meetup in Warsaw
Last week we participated in the meetup on e-mobility for engineers and business managers, which we organised with Bridgio Tech Accelerator and Startup Hub Poland in Warsaw. Our Tech Lead and Project Manager Andrei Smirnov was one of the event speakers and presented his overview of AI-based projects for electric transport, which could eventually become part of the smart city infrastructure.
We are publishing a video of Andrei's presentation above so you can find out how cooperation in the market works to launch AI on Edge projects and what kind of designs for electric vehicles our engineers are currently working on.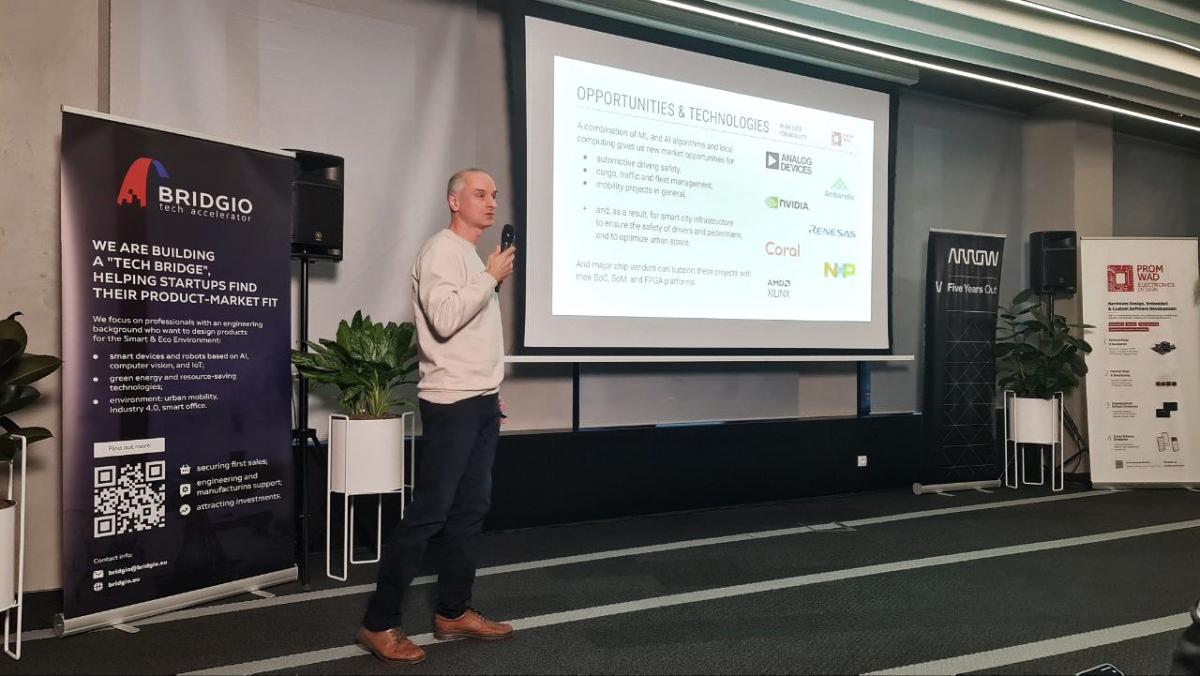 From our presentation you will learn about the following case studies:
Solutions for driver assistance systems (ADAS) to track people's facial expressions, eye and head movements. 
Smart parking systems for bicycles and cars that can solve the parking problem in busy tourist cities.
Fusion of data from cameras, radars and lidars for AI object classification, real-time distance and speed measurement to prevent dangerous road traffic situations.
Potential integration of individual solutions into the smart city infrastructure.
This video was published on the Hardware Ecosystem Youtube channel. We advise you to subscribe for future useful broadcasts and events for business and career development in the global high-tech markets.
In addition to presentations made by experts from mature tech companies, the meetup video includes pitch presentations made by eight EV startups from Poland and Lithuania, as well as feedback from venture capitalists. So, you will find a lot of insightful things to watch. 
We would like to thank our long-term partners and global suppliers of advanced technologies and components, Arrow Electronics and Analog Devices, which made this Warsaw event possible. We will continue our work with technology businesses in Poland by supporting the engineering community and launching new breakthrough projects in the field of AI on Edge and Automotive together with our customers in the EU.
Feel free to contact us if you need any help developing software or hardware for these and other markets.