Microcomputer 88F6282
A microcomputer based on Marvell 88F6282 CPU, is a flexible multifunctional solution that significantly decrease the time for, costs and risks when designing new products with WiFi and Gigabit Ethernet interfaces.
The processors of 88F6282/88F6283 family are made on 55 nm technology, they have well-developed peripherals and low power consumption. Marvell 88F6282 is perfect for wide range of applications such as routers, gateways, network agents, media servers, NAS systems, thin clients, access points, and other network devices. Marvell 88F6283 is an optimized version of 88F6282 with lower power consumption.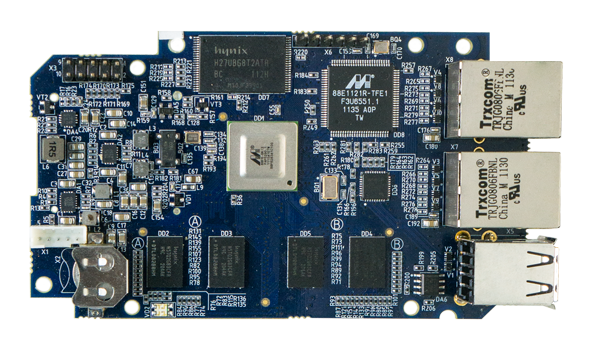 Base PCBA of 88F6282 microcomputer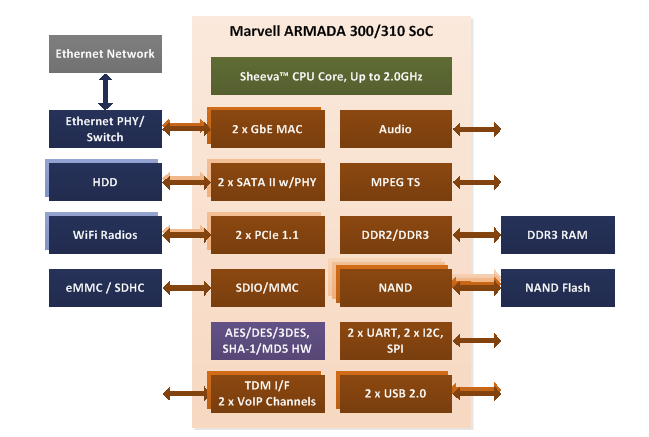 The block diagram of the 88F6282 microcomputer
 
Key features of 88F6282 microcomputer
Hardware

CPU

Sheeva architecture , compatible with ARMv5TE

L2-cash 256 KB

Memory

DDR2/DDR3 (1066 МГц data rate)

NAND/SPI Flash

Flash Expansion - SDIO/MMC

Interfaces

Network

2x Gigabit Ethernet

Input/Output Interfaces

2x PCI Express

2x USB 2.0 High-Speed

2x SATA 2.0

2x UART / 2x I2C / SPI

Software

Operation system

OpenWRT, Buildroot, Debian Linux
Possible CPUs

88F6282

1,6 ГГц

1,8 ГГц

2,0 ГГц

High performance

88F6283

800 МГц

1,0 Ггц

Low power consumption
Cooperation scenarios
1. Purchase an 88F6282 microcomputer in a desired configuration
You can create your own product based upon the microcomputer or use the microcomputer as a developer's kit for the modeling and designing electronics.
2. Order platform modification
In the case of a large serial production, we are ready to modify the microcomputer for your project requirements.
Do you want to buy an 88F6282 microcomputer or to order platform modification for your project? Get in touch with us, and we will answer all your questions.