Wireless Charging Technology for Electric Vehicles: Benefits and Prospects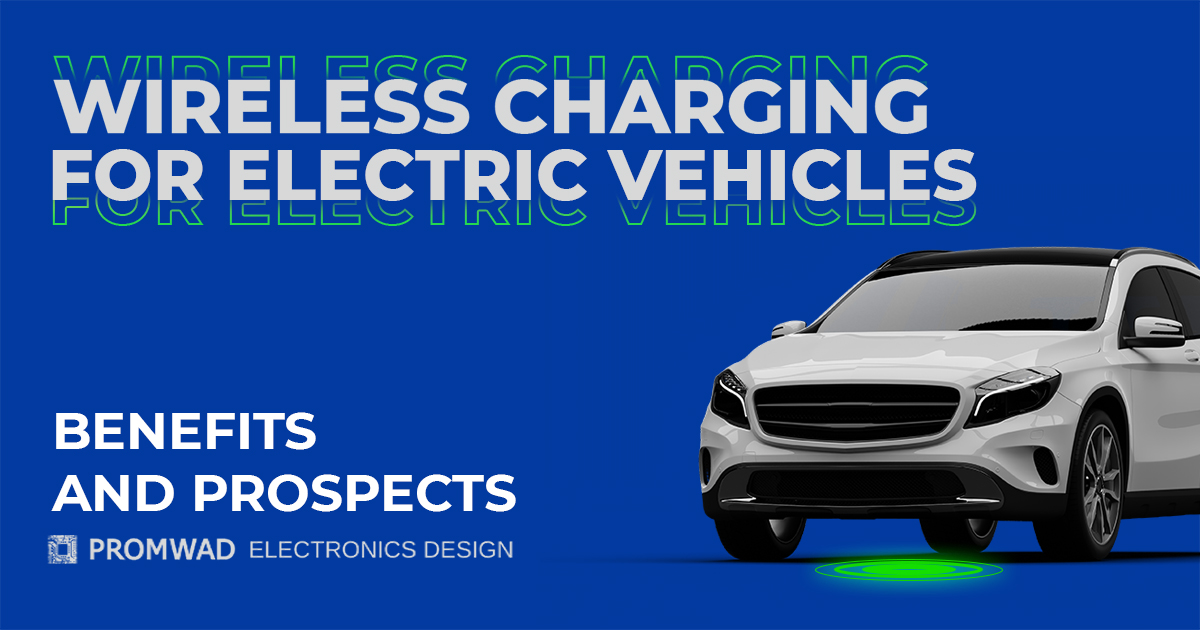 Wired charging technology is not the most convenient but the only massively available way to charge electric cars. For now. Soon, EV users will enjoy the benefits of the new inductive charging technology — fast, affordable and, most importantly, cable-free! Let's explore wireless charging for electric vehicles and new engineering solutions from Promwad and other international companies in this field.
The world is moving towards sustainable transport, and electric vehicles (EVs) are becoming increasingly popular: global sales of electric vehicles for private use reached 3.1 million units in 2020 and exceeded 10 million units in 2022.
The switch to electric vehicles solves the problems of environmental and noise pollution, dependence on fossil fuels, and energy efficiency.
In many countries, the EV implementation process is regulated and supported at the legislative level: governments offer subsidies for purchasing electric cars (Norway, the US, China) and introduce standards on exhaust emissions.
According to forecasts, by 2030, the proportion of electric vehicles sold will be 60% of total car sales. The demand for EVs is also growing in the municipal sector, including the need to convert diesel and petrol trucks to electric power. Municipal vehicles for waste collection and other urban services are more efficient and environmentally friendly than internal combustion engine vehicles.

How EV sales have grown in 5 years: in 2017, there was only one EV for every 70 vehicles sold, and in 2022 every 10th vehicle sold was an electric one. Data source: iea.org
At the same time, there is a growing need for affordable, fast and safe charging for electric vehicles, which would eliminate many of the disadvantages of current charging stations.
Challenges of traditional charging stations
Challenges in the charging infrastructure parallel the spread of electric vehicles. Here they are:
Demand for chargers exceeds their supply.
Low charging speed for electric vehicles: charging battery electric vehicles (BEVs) takes up to 10 hours at Level 2 charging stations and up to one hour at high-speed stations.
Incompatibility between charging stations and electric vehicles: drivers face different charging network and connector standards. There is no single standard in the industry. 
Unreliability and technical failures of stations: according to JD Power research, 1 in 5 attempts to use electric car battery charging stations have failed due to broken connectors, network failures, faulty screens and failed payment systems. 
Insufficient grid capacity: the increasing number of electric vehicles reduces grid capacity, especially during peak usage. There is an emerging need to upgrade the power grid infrastructure for a stable and fast power supply.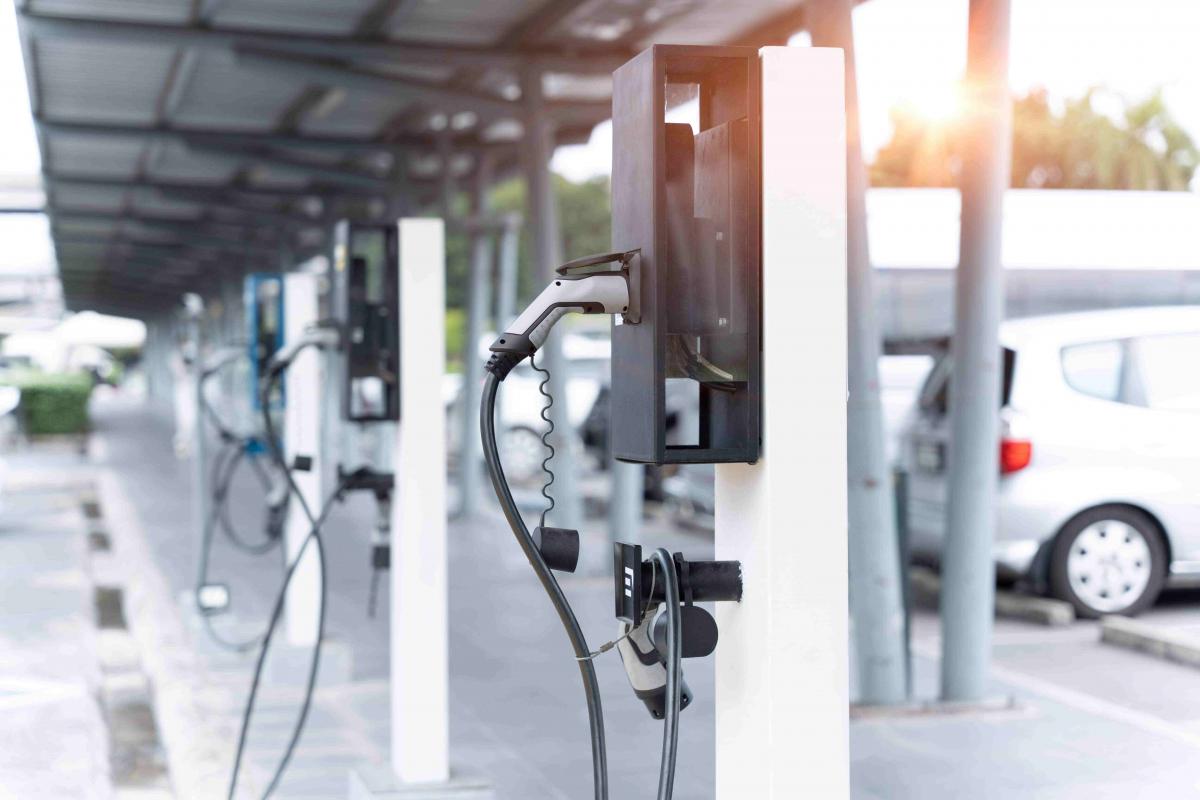 It takes at least 5–10 hours to charge an electric car with a traditional charger. The vehicle's idle time is one of the reasons why users are reluctant to switch to electrics. 
 
Of course, each of these problems can be solved, but most are likely to become persistent because a global approach and huge investments in infrastructure modernisation are required. These problems cannot be solved at the level of individual companies; we will need intervention by governments and global corporations. However, there is an alternative that offers a convenient and reliable way to solve most of the problems EV drivers face— wireless charging technology for electric vehicles.
What are induction chargers for EVs
Electromagnetic induction charging is a wireless charging technology that allows electric vehicles to be charged without a physical connection to a charging station.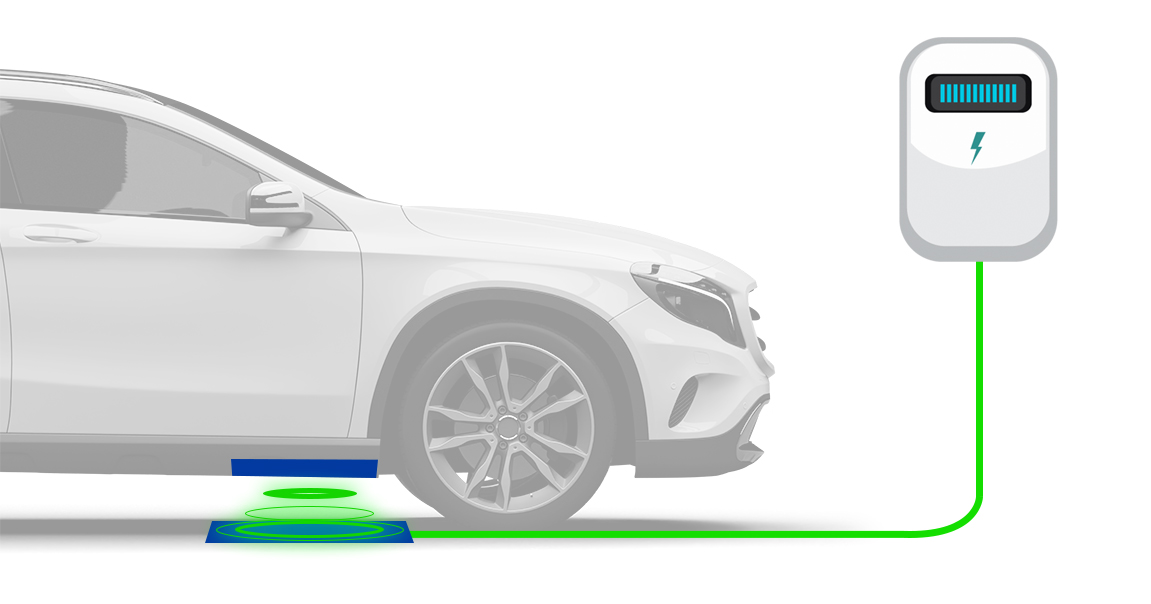 That is how inductive charging works
 
Wireless charging for automobiles works by transferring energy between two magnetic coils:
One is on the charging pad, which is connected to the power supply and is located on the ground.
The second coil is placed in the charging receiver inside your vehicle. 
The EV is charged wirelessly, transmitting energy from the charger to the vehicle battery.
EV induction charging is another step in the development of automotive systems for smart cities. This technology allows fast charging stations to be built into road infrastructure — at traffic lights, stops and car parks — to save charging time and enable car owners to recharge their batteries as they use their cars in everyday life. 
One of the most promising use scenarios for inductive charging systems is the integration of stations into individual road segments to charge EVs while driving. For example, in 2019, Israeli company Electreon launched a project in Sweden to test a road with integrated electromagnetic induction charging for electric trucks.
Advantages and potential of inductive chargers for EV
Wireless charging technology for electronic devices has been developing for more than 15 years. The first tests of induction chargers for EVs were started in 2011. Both promising start-ups and international car companies are working on introducing this technology into their mass-produced products. Siemens expects the market for wireless EV charging in Europe and North America to reach $2 billion by 2028.
Due to their benefits, automotive wireless chargers could be a new phase in the evolution of charging infrastructure worldwide. A US study by Qualtrics, an independent market research firm, found that 96% of those surveyed would like access to wireless charging, with higher demand for this feature than for full self-driving systems.
Here are the advantages that could drive the growth of this new technology: 
Absence of charging cables: you do not need to store and secure cables.
Convenience and speed: drivers do not have to leave their vehicles, allowing fast charging stations for electric cars to be deployed at traffic lights and public transport stops. As for the charging speed, it can be really high. For example, scientists at Chalmers University in Sweden have already developed an inductive charging system that delivers up to 500 kW of power in 10 minutes.
Safety: inductive vehicle charging can be safer than conventional stations and reduces the risk of electric shock.
Energy efficiency: 90–93% and not the limit. By comparison, the efficiency of conductive charging is as high as 96%.
In recent years, major car manufacturers have been involved in wireless charging design projects. Volvo Cars tested this technology in urban environments with Swedish taxi operators. In 2017, Renault Group equipped 2 Kangoo ZE models with wireless chargers from Qualcomm Technologies. It tested dynamic electric vehicle charging: it worked at speeds of up to 100 km/h, and the charging power was 20 kW.
Let's take a closer look at the companies that make electric car charging stations.
WiTricity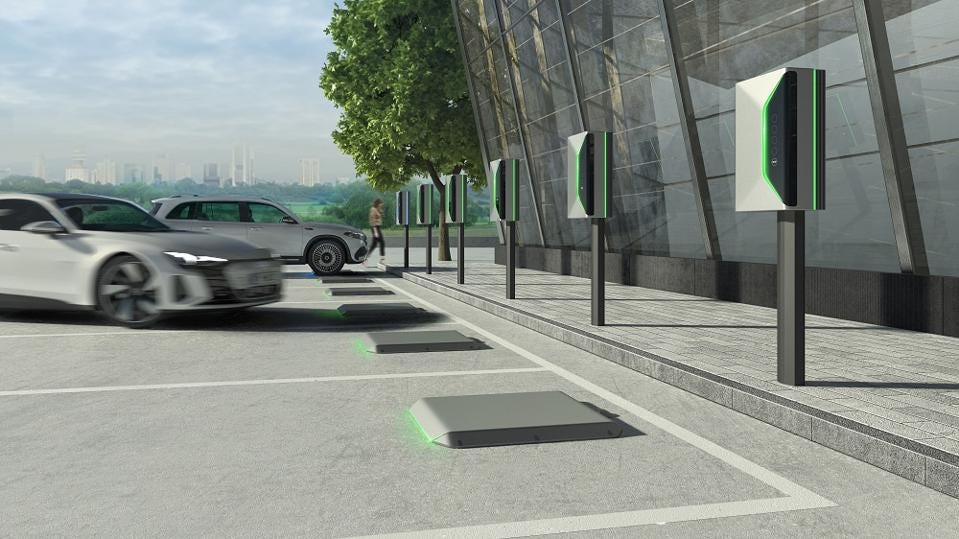 This is the wireless charging version offered by WiTricity. Source: witricity.com
 
The American company WiTricity was founded in 2007, and at the moment, it patented a technology with the same name: wireless energy transfer using magnetic resonance. Initially, the technology was used to recharge mobile phones and laptops, but since 2017, the company has been developing hardware and software for contactless charging.
WiTricity was one of the first to deliver its technology as a factory application to major OEMs: the company signed partnership agreements to develop and test wireless charging with General Motors, Nissan Motor, and Hyundai Motor Company. In December 2021, a Tesla Model 3 demonstration car was released, equipped with its wireless charging solution.
BRUSA Elektronik AG


The Brusa Elektronik AG charging system for BMW. Source: brusa.biz
 
Brusa Elektronik AG was founded in 1985 in Switzerland. Even back then, the company was one of the first to carry out developments in electric transport and mobility. In 2013, it began working on contactless electric vehicle charging stations. 
Brusa was one of the first electric vehicle charging stations company to bring its solution to market: in 2018, they launched inductive charging for the BMW 530e iPerformance. The charging system complies with ISO-26262 functional safety, is protected against overheating and overvoltage and recognises foreign objects, including animals.
Easelink
 

An example of wireless charging for electric vehicles by Easelink. Source: easelink.com

 
Austrian company Easelink has been on the market since 2016. They are developing an automated, conductive charging system called 'Matrix Charging', which features a charging plate on the ground and a connector on the car's underside. The system works this way: a car parks over the charged plate and lowers its connector onto it, through which charging occurs.
Easelink has launched several projects to introduce and test its wireless charging in users' daily lives. One example is the launch of a taxi test site in Vienna, Austria.
Summary 
The widespread switch to electric cars, government support for this process, and the development of charging infrastructure are all driving the introduction and development of wireless charging technology for EV. 
Induction charging with power transfer between the ground board and the magnetic coil inside EVs allows many promising infrastructure projects to be implemented, making the charging process faster and easier.
The growth of this market segment is being driven by breakthrough developments from new engineering companies and global carmakers who are actively investing in the development of wireless charging systems. And we see a growing interest in this technology from our clients. 
Now, the Promwad engineering team is developing a switch box to set the power source for an onboard charger (OBC), commissioned by one of the induction charger manufacturers. Such a device with CAN bus support will enable charging the vehicle via standard plug or wirelessly. It is just one example of how our engineering expertise in the automotive industry that allows us to develop software and design hardware for our clients worldwide.
Contact us to find out more about how we can help you implement the new wireless charging technology for EV.
Our Case Studies in Automotive Industry