The Future of Connected Cars: How V2X Technology is Transforming the Automotive Industry
Vehicle-to-everything (V2X) is not a new technology, but with the development of AI and edge computing, it will be used in 95% of new cars by the end of this decade. Let's see how it works in connected cars and what trends drive its development. You will also find here the latest case studies from global car manufacturers and our engineering team.
In 2021, 50% of all cars sold worldwide were connected. By 2030 this figure should reach 95%. This statistic from the McKinsey report shows a favourable outlook for engineering connectivity solutions in the automotive market. Also, it gives hope for improving the sad statistics on traffic accidents.
Last year, more than 20,000 people died in car accidents in the EU. Vulnerable road users, such as pedestrians and two-wheelers, caused 70% of urban fatalities. What can we do to change this situation? The EU has developed a transport transformation strategy to reduce the number of fatalities to zero by 2050. And one of the ways to achieve this goal is connected car design and the introduction of vehicle-to-everything communication systems.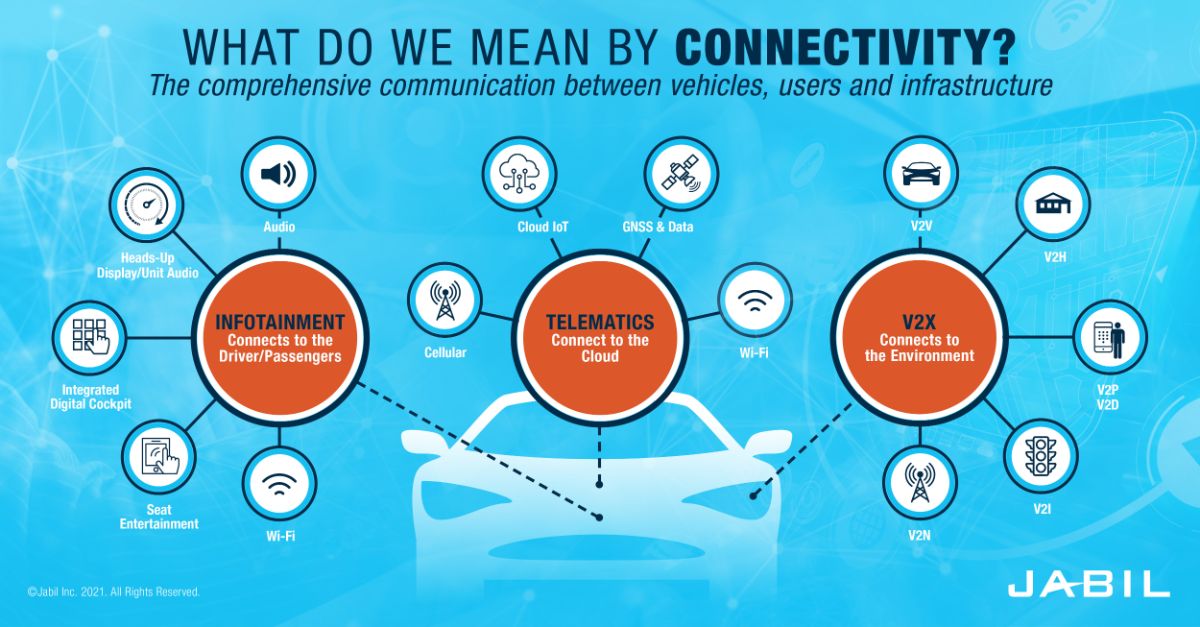 The connected car with communication features in IVI, telematics and V2X. Source: jabil.com
Smart connected cars are equipped with technology to communicate with each other, infrastructure and almost anything connected to the network by wired or wireless communication – this is vehicle-to-everything communication.
What is V2X
Vehicle-to-everything technology (V2X) allows connected vehicles to transmit information about road conditions to other road users and surrounding infrastructure. This concept includes several types of communication:
Vehicle-to-Vehicle (V2V)
Vehicle-to-Infrastructure (V2I)
Vehicle-to-Network (V2N)
Vehicle-to-Pedestrian (V2P)
Vehicle-to-Home (V2H)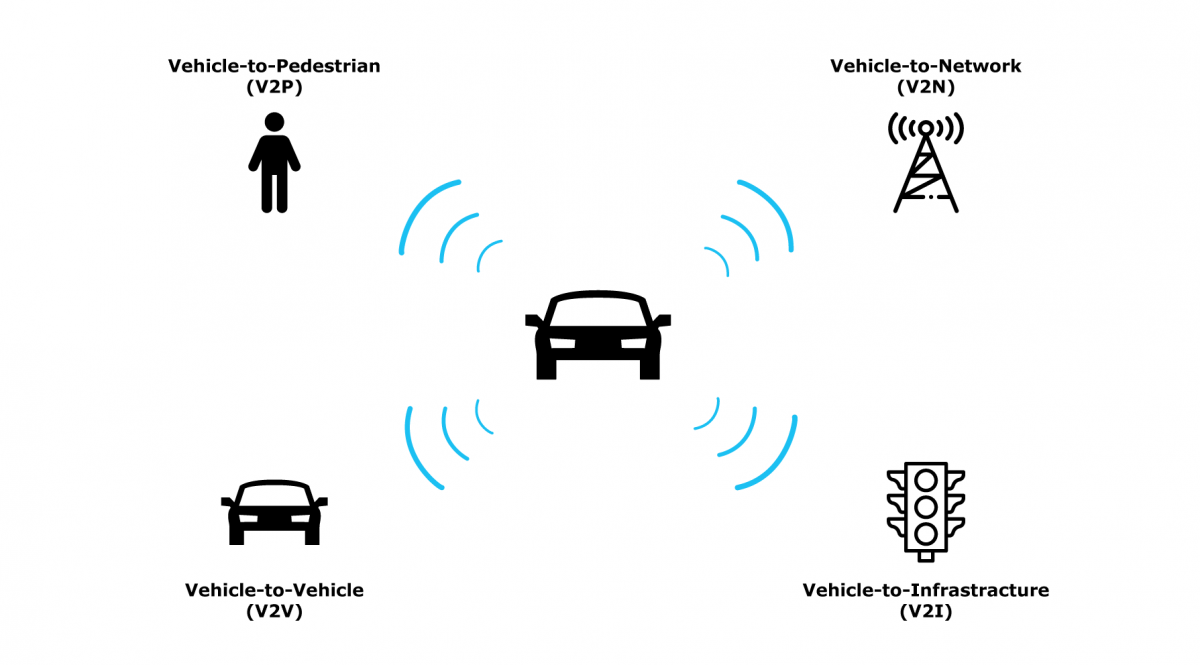 How it works. To implement V2X-based systems, all its users must be equipped with communication devices to transmit and receive data: IVI systems in cars and motorcycles, onboard computers for bicycles and scooters, smartphones and wearable devices. The received information is displayed on the screens of smart connected cars, in the interfaces of systems for infrastructure management and the applications of various mobile devices. The data is generated by sensors installed in vehicles, mobile devices for pedestrians, and infrastructure, such as traffic lights or cameras.
Let's take a closer look at the functions of vehicle-to-everything (V2Х) technology.
Safety: connected vehicles and pedestrians exchange real-time information that prevents dangerous situations (the vehicle's location, speed, emergency state or blind spot detection). 
Traffic optimisation: information on the status of traffic lights, road closures, repairs, and jams will help to choose the best routes and relieve busy urban highways.
Efficient resource usage: drivers of connected cars with internal combustion engines can choose the best routes to save fuel. Owners of electric vehicles will find the nearest available charging stations to use them rationally  during peak demand hours.
Autonomous driving: by communicating with transportation and infrastructure, autonomous vehicles can make more accurate decisions, avoid accidents, and optimise driving routes.
Urban mobility development: V2X technology will provide better coordination of urban transport and provide real-time information about the traffic situation, public transport schedules and the availability of free parking. It will reduce dependence on private cars and increase overall mobility in the city.
Automotive future trends and today's challenges
Let's explore the engineering solutions that make V2X connectivity part of our lives and set future automotive trends: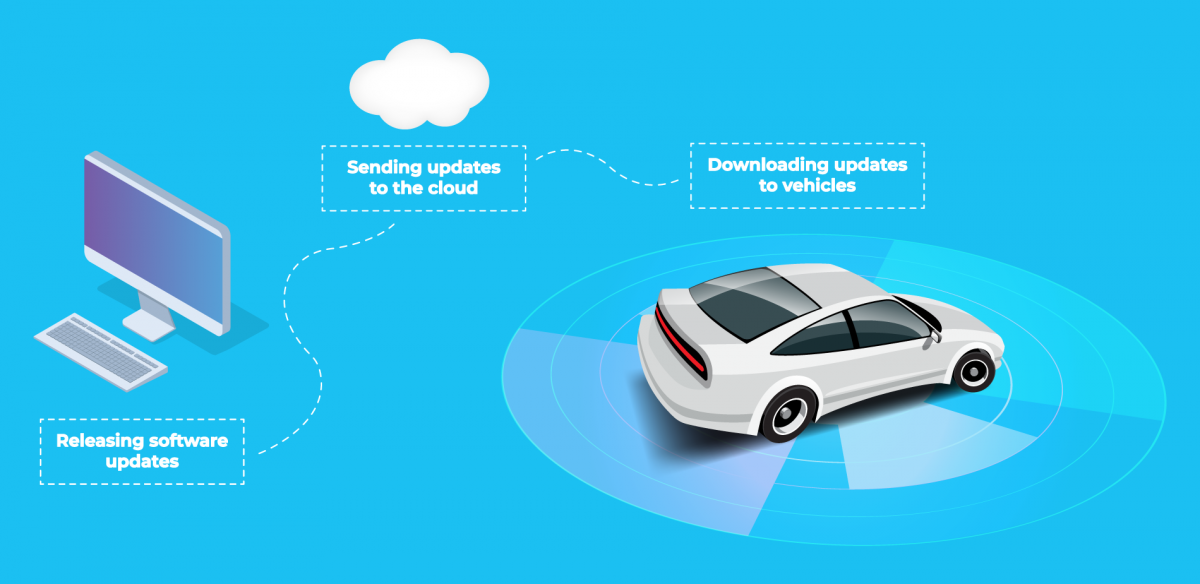 Software-defined vehicles with over-the-air upgrades
Software-defined vehicles can be upgraded with new features throughout their lifecycle with software development and over-the-air updates (OTAs). Manufacturers can offer a range of services, from safety features to personalised entertainment systems, through software-defined communication with the vehicle.
The new features work through individual sensors and sensor fusion – cameras, radars and LiDARs. And as manufacturers develop new features, the number of these sensors and software platforms for cars will only grow. By 2027, the automotive software market will exceed $40 billion, an increase of 85% over 2022 (by MarketsandMarkets).
Software over-the-air (OTA), which allows you to tune and monitor performance, solve problems remotely and provide fixes without recalling cars, will become crucial. Over-the-air programming prevents about 40% of vehicle recalls (Automotive Recall Report, 2020).
Currently, OEMs choose to develop their software in-house, collaborate with large off-the-shelf solution providers, or outsource development to companies that provide ASPICE-compliant software engineering services. 
However, as the capabilities of software solutions expand, so do the security threats. To address this, industry standards bodies have developed ISO/SAE 21434, a new automotive cybersecurity standard issued by SAE International and the International Organization for Standardization (ISO).
Edge computing for real-time data transmission
Solving the problems of fully connected infrastructure and real-time data transfer will ensure that autonomous cars become more widespread. 
Now, the data that forms connected car services arrive in the cloud with a delay. It is a problem: autonomous cars need to make decisions in real-time, whether there is external connectivity or not. It is the only way to ensure their functionality and safety. 
Edge computing technologies for transport and infrastructure will ensure minimal latency in data transmission in automotive engineering solutions. And dedicated radio frequency bands will allow data to be transmitted without interference. For example, in 2020, the Federal Communications Commission (FCC) proposed using the upper 30 MHz of the 5.9 GHz band for the Intelligent Transportation System (ITS).
V2X case studies: vehicle to everything solutions
Let's review the new products and connected car services within the V2X concept: 
Vehicle-to-Vehicle (V2V)
Vehicle-to-vehicle technology allows vehicles to transmit information about their position, speed, and direction to one another. GPS tracking solutions, cameras, lidar and radar, generate this data.
V2V case study: precise positioning with V2X-Locate from Cohda Wireless
Australian company Cohda Wireless developed its V2X-Locate solution for precise positioning within 10 cm while typical GPS accuracy is about 3 to 5 metres.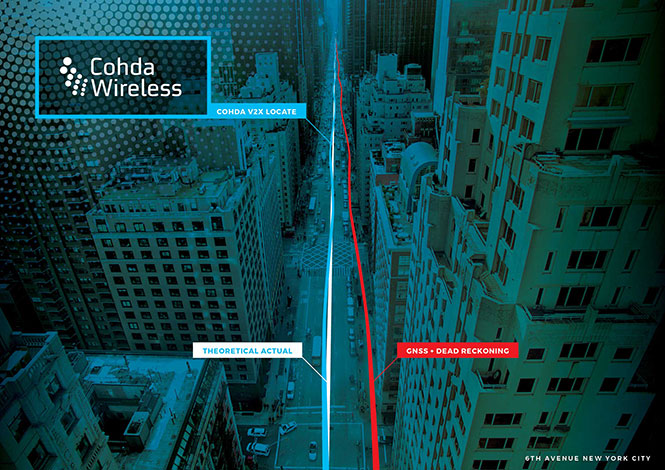 V2X-Locat technology by Cohda Wireless. Source: cohdawireless.com
The image shows an example of how accurately the new technology determines the exact path (blue line) in sections of 6th Ave in New York City, where the GNSS signal (red line) is not available due to tall buildings.
V2X-Locate is helpful in urban areas where GNSS signals are blocked or lost due to tall buildings, dense green spaces, canyons, bridges or tunnels. It allows vehicles to continue communicating with each other even when GNSS signals are blocked, providing accurate positioning and reducing the possibility of accidents. This feature is essential for autonomous vehicles.

Vehicle-to-Infrastructure (V2I)
Vehicle-to-infrastructure (V2I) technology allows vehicles to receive information about the state of infrastructure:
road situations: jams, repairs or accidents;
availability of free parking spaces and charging stations.
Also, V2I connectivity allows emergency vehicles and public transport to receive priority traffic light signals.
V2I is enabled by roadside units (RSU) with sensors, cameras, radars and radios that receive and transmit the necessary information. The information is provided by acoustic signals from the IVI systems or the vehicle's instrument panel display.
V2I case study: Green Light Optimised Speed Advisory (GLOSA) by Audi
Audi's Green Light Optimised Speed Advisory (GLOSA) solution helps drivers avoid red lights. It analyses car locations and traffic light sensor data in real-time to calculate the optimal speed for passing a green light at the next crossroad.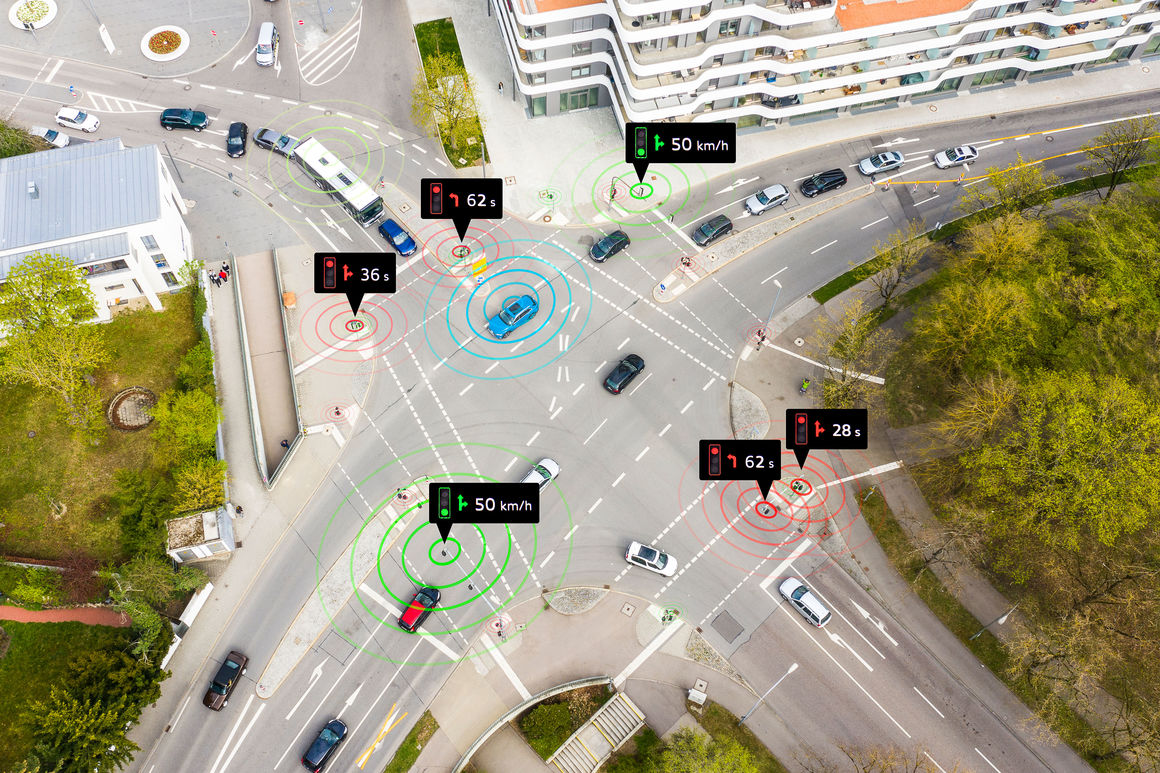 Green Light Optimised Speed Advisory (GLOSA) by Audi. Source: audi-mediacenter.com
Here's what GLOSA can do to improve the driving experience and the environment:
reduce CO2 emissions;
ensure optimal fuel consumption by reducing the need to accelerate and brake at red lights;
save battery life for electric vehicles by reducing travel time;
reduce traffic jams.

Vehicle-to-Pedestrian (V2P)
Vehicle-to-pedestrian technology allows connected vehicles to receive information about pedestrians and report their location. The "pedestrian" category of the V2X concept includes cyclists, owners of small vehicles (scooters, motorcycles), and people with reduced mobility.
V2P systems can "see" pedestrians and small two-wheeled vehicles in blind spots or inappropriate places for crossing or passing. 
V2P case study: pedestrian detection system from Mobileye 
An example of a V2P solution is a system from the Israeli company Mobileye: it can detect pedestrians from a distance of up to 200 metres, track them in real time, forecast their trajectory and warn the driver of a possible collision. This solution works in daytime and nighttime, in low-light or low-visibility conditions.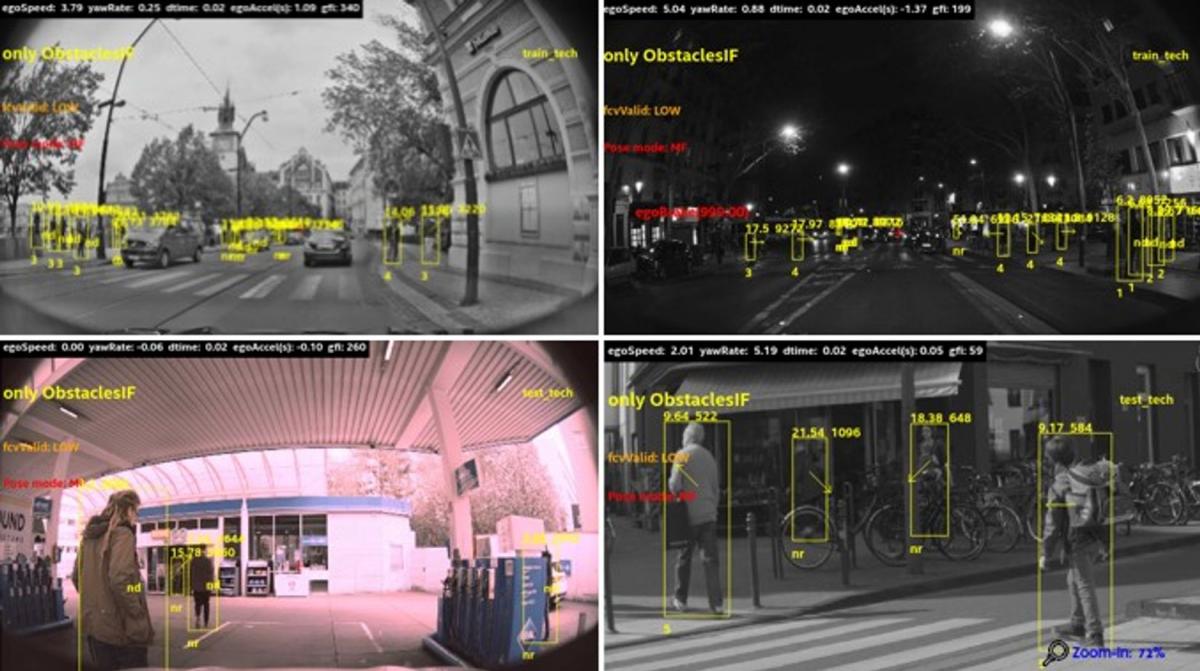 Pedestrian detection system by Mobileye. Source: mobileye.com
Mobileye's solution uses deep learning to identify different types of pedestrians: adults, children and cyclists, to adjust the system's response based on the potential risk that each type of "pedestrian" represents.
How it works: Mobileye generates visual and audible signals to the driver and can activate emergency braking if a collision is imminent and the driver does not respond to warnings.

Vehicle-to-Home (V2H)
Vehicle-to-home technology allows electric vehicles (EVs) to power homes and businesses. There are two basic scenarios:
The vehicle shares its charge during a power outage, providing an uninterrupted supply.
The car transfers cheaper energy during periods of peak demand (and higher rates) and then stores it during periods of low demand (and lower rates).
V2H case study: Tesla Powerwall battery 
Both of these scenarios are involved in the Tesla Powerwall home battery. The Powerwall stores electricity from renewable sources and shares the charge through cars equipped with a bi-directional charger that can charge the car battery and return the energy to the grid.
Tesla Powerwall home battery with V2H connectivity. Source: tesla.com
V2H solutions have the following benefits:
slowing down the growth of power plants, which are financially expensive and polluting;
stabilising the power grid and striving for zero CO2 emissions: cars can store excess energy from renewable sources and feed it back into the grid in times of high demand.

Vehicle-to-Network (V2N)
Vehicle-to-network (V2N) is a bi-directional V2X technology that connects vehicles, road infrastructure, cloud services and control systems via the Internet. All road users can transmit their condition data to the network to form a complete real-time picture of the road situation.
V2N case study: emergency assistance call service from Bosch
An example of the practical implementation of V2N is Bosch's eCall system for automatically calling emergency services in the event of an accident. eCall automatically sends data about the location of the accident, the number of passengers in the vehicle, and the vehicle's route.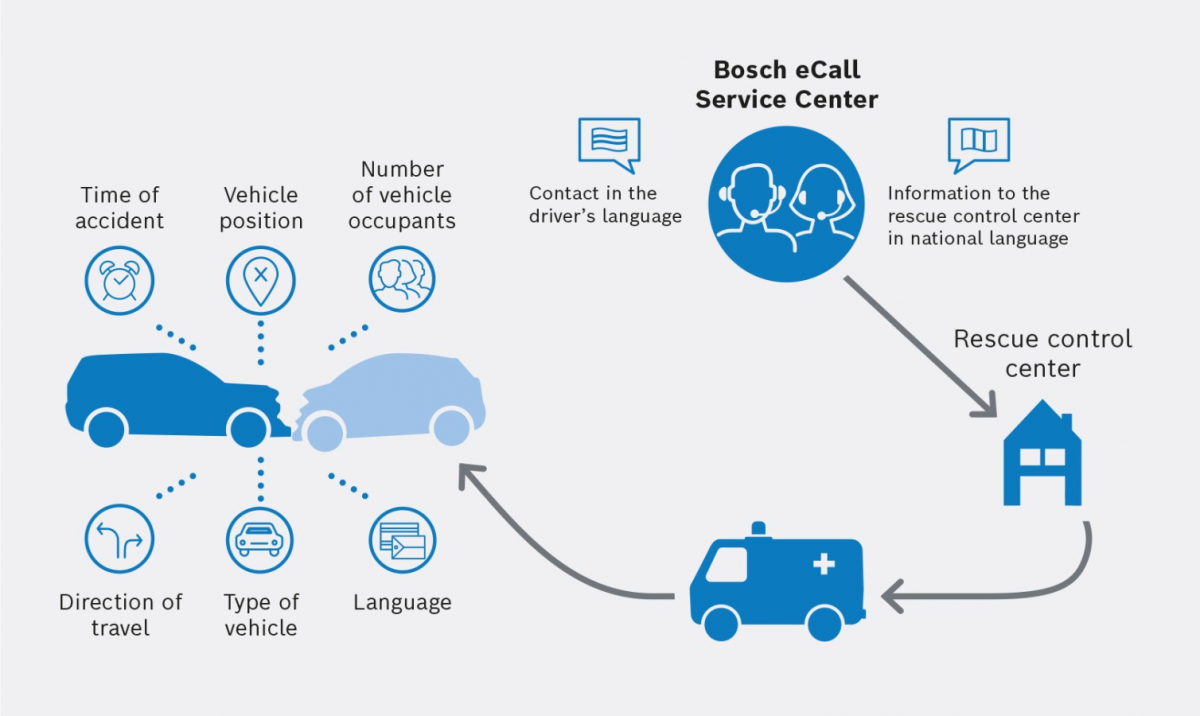 The eCall automatic emergency call system. Source: bosch-presse.de
eCall can also be started manually by pressing a button in the vehicle. The system uses a GPS receiver and mobile phone module to locate the vehicle and transfer the call to the nearest emergency centre.
Сellular-V2X (C-V2X)
The V2X development is driven by cellular vehicle-to-everything technology (C-V2X), a 3rd Generation Partnership Project (3GPP) standard that allows direct communication between V2X system components. There are two modes of the standard: direct communications (PC5) and network communications (Uu).
The PC5 mode provides communication between the connected vehicle and other traffic participants. It can operate independently of mobile networks.
The Uu mode operates based on mobile networks and is responsible for information on traffic and road conditions.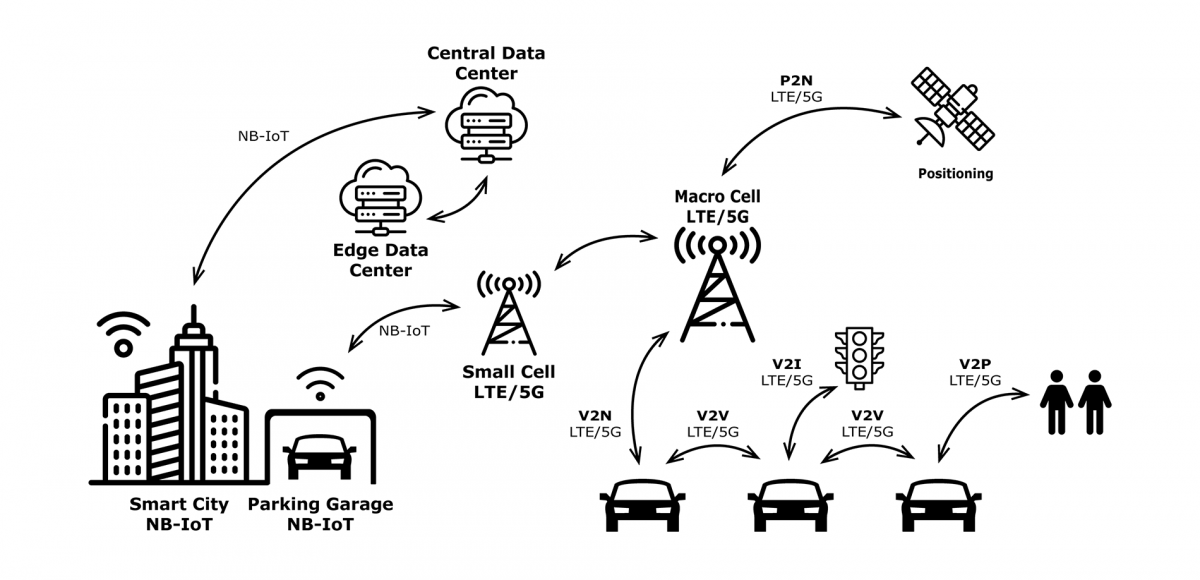 For a long time, the main communication technology for V2X has been DSRC (dedicated short-range communication). Still, it has its limitations: low data rates, limited quality of service and high channel access latency. To address these limitations, 3GPP developed the C-V2X communications standard based on the existing cellular network infrastructure; it runs on the same technology as smartphones and other mobile devices. 
C-V2X can support a large number of connected devices without compromising performance. It is essential for automotive applications, where many vehicles and other devices interact with each other at the same time. At the same time, the C-V2X retains the ability to operate in DSRC mode and communicate directly with other vehicles, pedestrians and infrastructures that are a relatively short distance away.
The C-V2X is a critical part of the connected and smart transportation system and allows the deployment of applications that make driving easier:
automated toll collection for toll road sections, parking and battery charging;
joint adaptive cruise control, with which the car can adjust its speed depending on the car's speed in front and behind it.

* * *
 
V2X connectivity gives companies a competitive edge in the automotive market and provides a new level of comfort, efficiency and transport safety. And we help our clients take advantage of these opportunities.
Here are just two recent case studies in which we described projects implemented by our engineering team:
Case study: intelligent speed assistance (ISA) device for VOOVOO
Promwad participated in developing VOOBOX, a speed-limiting device, for the Latvian company VOOVOO. The device works on a plug-and-go principle and is built into the connection between the accelerator pedal and the engine control unit: a GPS tracker detects the excessive speed and transmits a signal to reduce it. Data on speed limits can come from Google Speed API, HERE Maps API, and OpenStreetMap.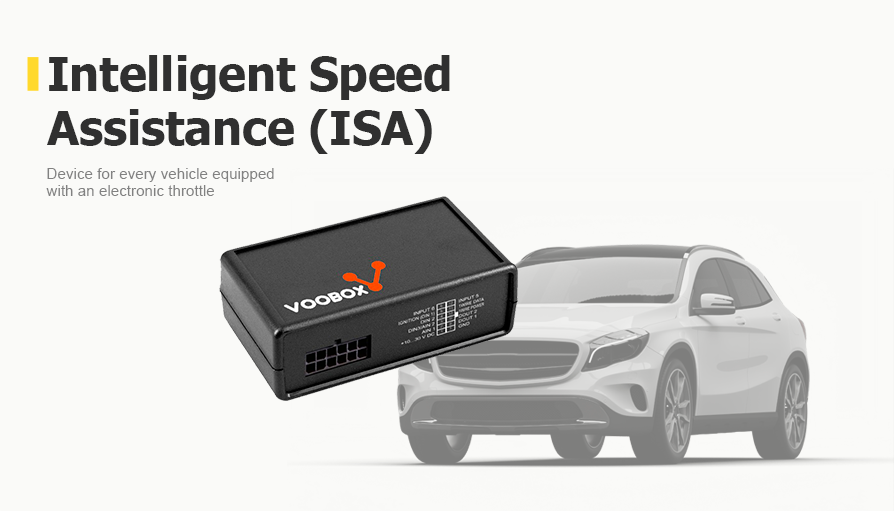 This device is used in car-sharing companies and helps reduce the accidents that occur due to speeding. In addition, with the help of this device, it is possible to exclude deviations from the set route.
Case study: AI-powered face recognition system
Another example is a hardware-software complex for safety monitoring that Promwad designed for a car-sharing company. This solution consists of the following components:
intelligent cameras with face, object and event recognition;
cloud service for administering carpooling, users, and client devices;
mobile application for user registration and status control.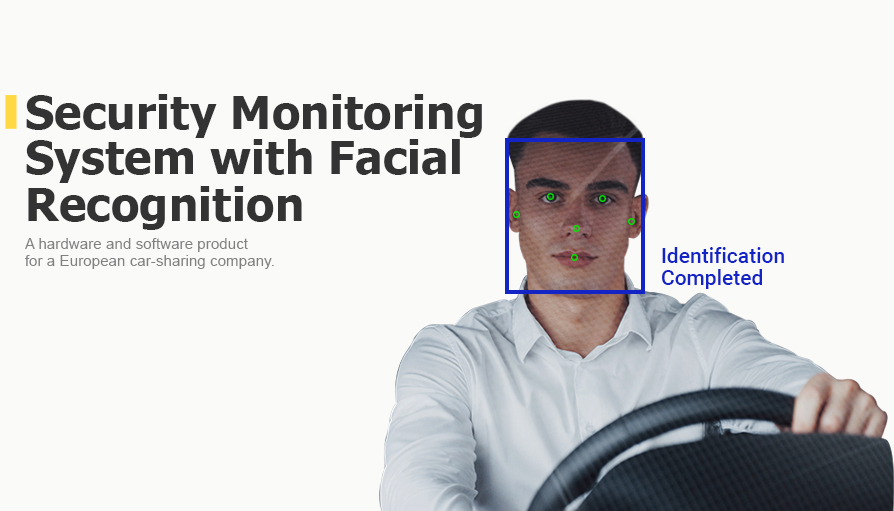 The system works as a user ID: it recognises faces, is responsible for registration and access to the car, and can record movements. At the same time, it provides privacy: photos of faces are encrypted as a mathematical representation of the image when stored and transmitted.
* * *
V2X offers a range of benefits – from anti-collision to traffic management – that will improve traffic safety, reduce congestion and improve mobility. As V2X technology continues to evolve and become more pervasive, we can expect even more exciting developments in the industry in the coming years, from special software to various devices and sensors.
For more details on how our engineering team can help you develop new V2X solutions, please visit our automotive connectivity page:
Our Case Studies in Automotive Industry