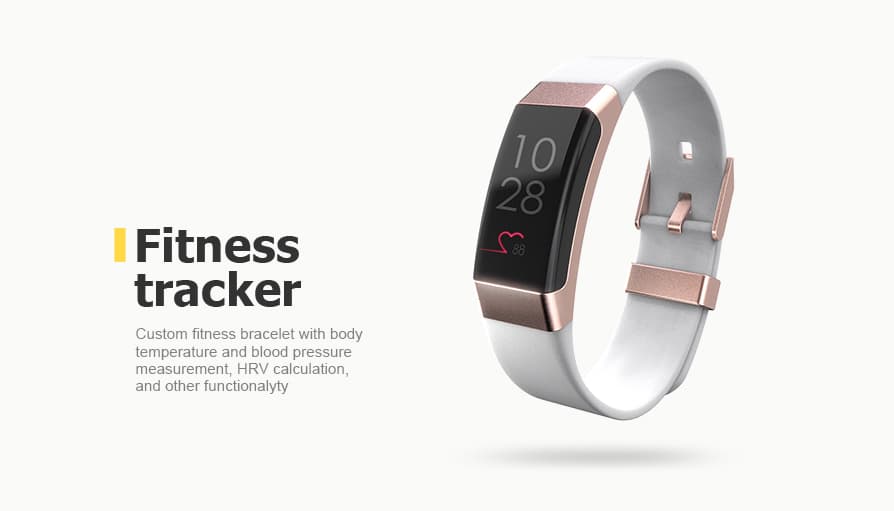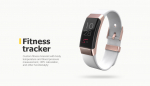 Custom fitness tracker industrial design
Client
Our client is a European distributor of consumer wearables, specialized in Sports & MedTech solutions.
 
Challenge
The customer turned to us for the industrial design of the fitness tracker, which tracks and sends the user data to the mobile app.
Our primary challenge was to develop a product concept that meets the customer's requirements.
Designers from the Promwad Manufacturing department have completed a thorough market analysis. They have studied the list of available fitness bracelets models, taking into account the customer's technical requirements.
The bracelet must possess the following functionality:
Heart rate measurement at different human physical conditions: at rest, during physical or emotional exertion;
Body temperature measurement;
Blood pressure level measurement ;
An ECG graph;
Fatigue index calculation: heart rate variability or HRV;
Sleep types definition + daily statistics;
Calorie loss calculation during physical activity.
An additional requirement was initially obtaining API methods from the developers of fitness bracelets for testing and subsequent integration with their mobile application. 
 
Solution
At the project start, we have studied the fitness wearables market. We've gathered the client's requirements, reviewed the available models on the market in different price ranges, looked at technologies for tracking human physical condition data, determined the degree of convenience in use and compliance of the product with the purpose and usage principles.
As a result, we've compiled a list of devices and manufacturers following the customer's requirements.
Our industrial and mechanical designers communicated with the chosen manufacturers in the next stage, requested full specifications for each model and accessed API methods. In addition, we discussed the feasibility of customization of both the fitness bracelet itself and the consumer packaging, as well as software.
After that, we selected models for testing, which satisfied both the technical requirements and the bracelet manufacturer's business model. Each model was tested and evaluated, leading us to conclude that the measuring technology used in modern bracelets did not meet the required accuracy.
Together with the client, we've developed a statement of work with requirements for device customization according to his brand book and installed software. After that, we've helped to launch mass production at the right place in the world. Promwad engineers additionally developed UI and testing methods for the updated software and performed remote testing of the end devices.  

Result
Promwad's white-label consumer electronics design expertise helped the customer produce and deliver to the market batches of 11,000 fitness bracelets.