Portable home doctor & mobile app
Client
Our client is a large European developer & manufacturer of innovative medical and portable devices. 
Challenge
To design a portable device for independent health analysis and a mobile application to display the monitoring results.
Solution
We've designed a hardware-software system for independent health analysis and monitoring. Besides, we've developed a mobile application where the monitoring test results are displayed. They can be:
Overall health condition. 
Psycho-emotional health.
Functional health and the risk of developing diseases.
The ROFES device in pair with the mobile app for smartphones or tablets determine the activity index and test psychological and emotional state.
With ROFES, users can see how internal and external factors can affect them: physical activity, stress, diet, unhealthy habits, weather fluctuations, environmental conditions, etc. Regular testing allows tracking the process of adaptation to environmental factors.
Note: the operation principle is based on the electropuncture method. It determines the electrical potential in a biologically active point on the left wrist and compares these readings with the standard.
See how it works in the image below.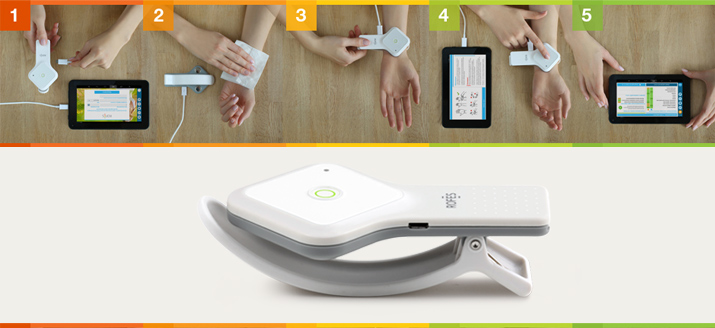 Result
Our client received a portable "home doctor" for independent health analysis and monitoring. The test results are displayed on the screen of your smartphone or tablet. ROFES application works with Windows 10, 8.1, 8, 7, or Android versions 4.2+ that support OTG technology.