CES 2023 Overview: Sustainability, Sensor Fusion, In-Car Streaming & Embedded AI
From 5 to 8 January in Las Vegas, USA, CES 2023 took place in full swing: the annual event dedicated to innovations in the electronics industry. 3,000 exhibitors in an expo area the size of 28 football fields. The show brings together startups and global corporations. Our founder and co-owner Roman Pakholkov visited it and shared his impressions and insights with us.
The show's organisers, the Consumer Technology Association (CTA), said at the opening that "consumer electronics" should be considered as a broader concept. The consumer does not mean a single user but everyone who uses a device. That is, virtually the entire population of our planet. And one of the main tasks of all participants in the electronics manufacturing process is to maintain the balance of our ecosystem to ensure its sustainability. 
Sustainability as a Major Trend
The central theme of this year's CES 2023 is sustainability and the question of "How can technology help people cope with global challenges and create a more sustainable and accessible world?" Sustainability is a synergy of innovations in several areas: automotive electronics, mobility, transportation, widespread electrification, food tech and food production.
Few global tech companies can boast that they are working for our world's sustainability. One of those companies is John Deere, which is working on its technologies for sustainable agriculture. John C. May, CEO of John Deere, was not only the keynote speaker on the first day of the show but was also the first CES speaker to work in the agriculture industry! Mr. May shared his vision of how technology can help us feed our growing world.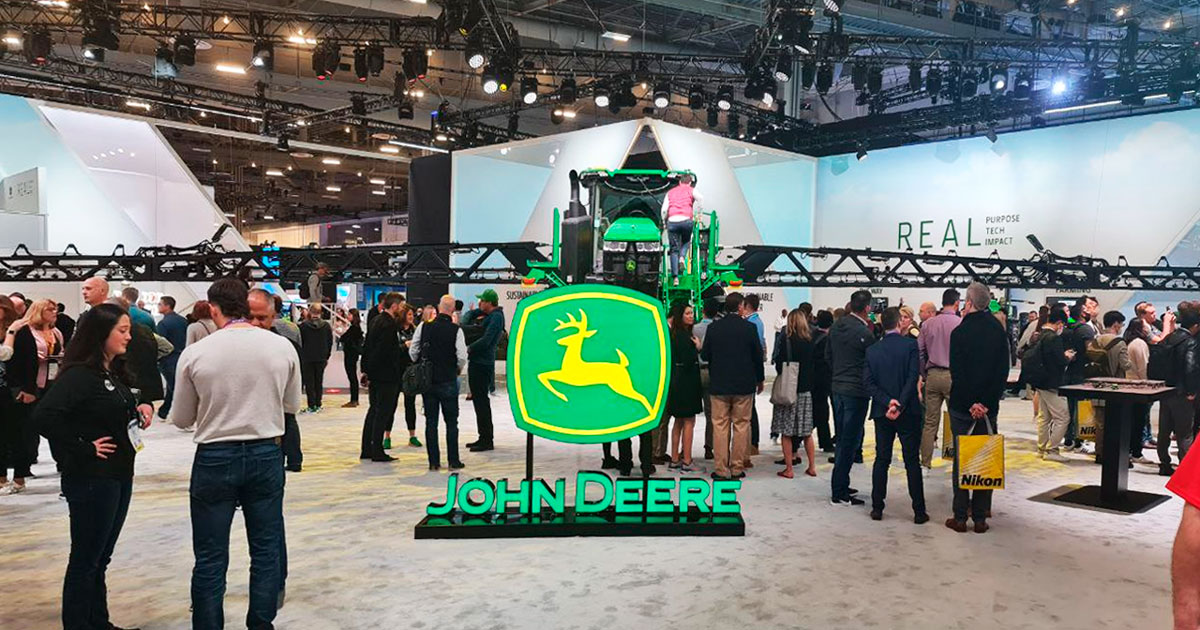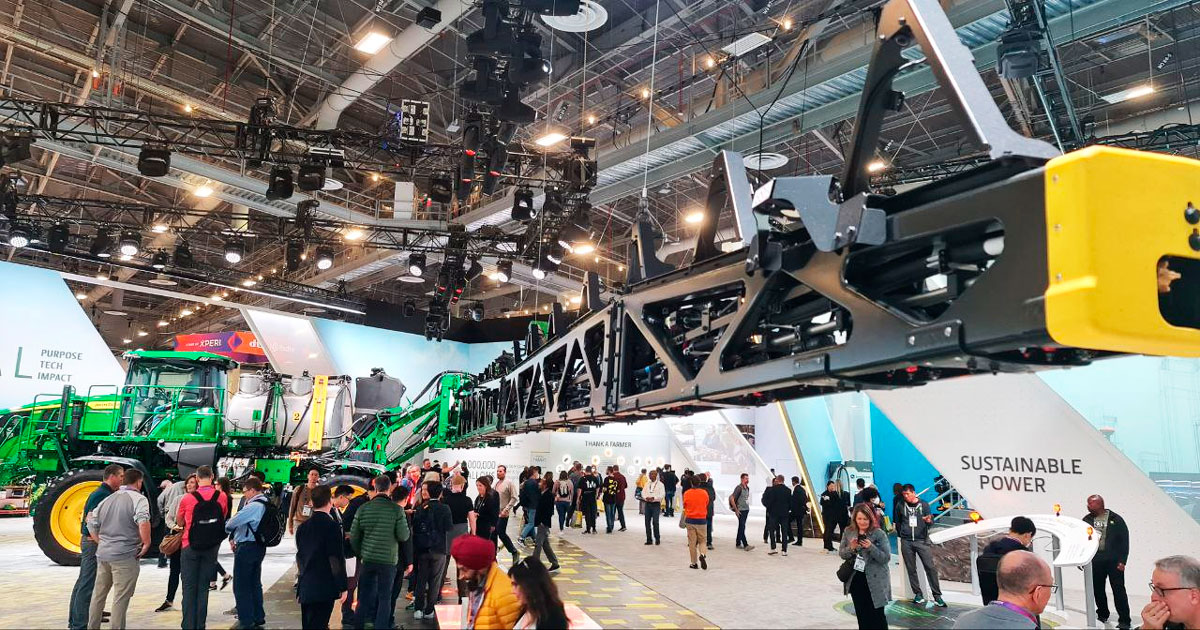 John Deere has presented its technology based on computer vision and artificial intelligence to identify seeds and weeds
Innovations in Automotive
Sensor Fusion
John Deere was part of the largest automotive show in CES history, where 300 companies were represented – not only global giants like BMW, GM, Mercedes Benz, and VW but also many startups in the field of automotive and mobility. One of these startups is Mobileye, the developer of the first self-driving sensors.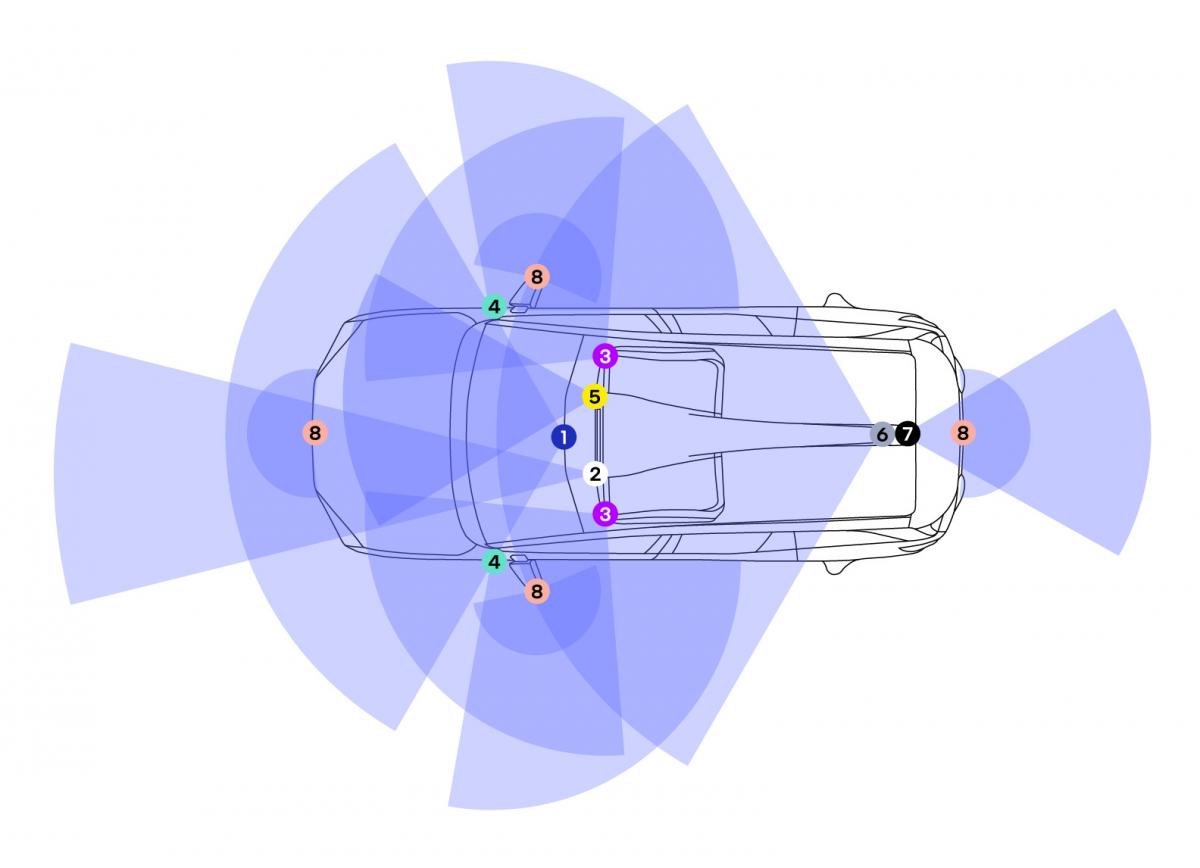 Self-driving sensors. Photo by Mobileye.
It is an off-the-shelf scalable system of 28 sensors: 13 cameras, 6 radars and 9 lidars. The L4/L5 calculations are based on the EyeQ5 SoC. Mobileye shows us sensor fusion in action! We have already talked about such technologies in our article on Edge AI in smart cities. 
Samsung has presented its Ready Care solution, which consists of cameras and sensors. Thanks to AI, it captures changes in the driver's emotional and physical condition through facial expression, gaze and eyelid positioning. If the system classifies them as dangerous, it will change the environment inside the car accordingly to focus the driver's attention on the road: it will beep and adapt the sound, lighting, and air conditioning. Our engineering team has experience in creating a similar solution that analyses the position of the driver's head.
The new solution by Samsung can suggest alternative routes if the wearable device's sensors register the driver's rapid heart rate in a stressful situation: traffic jams, bad weather, or a difficult part of the road.
As for other exciting solutions in this area: Sony and Honda have presented their prototype electric car, the Afeela, which features 45 external and internal sensors (cameras, radar, lidar) to ensure safe driving and monitor driver condition. 
Colour Change, In-Car Gaming and Streaming
CES 2023 has expanded the concept of multimedia for automotive electronics. It is now both the ability to change the car's body colour and the ability to monetise the time people spend in their cars by integrating immersive in-car gaming and streaming.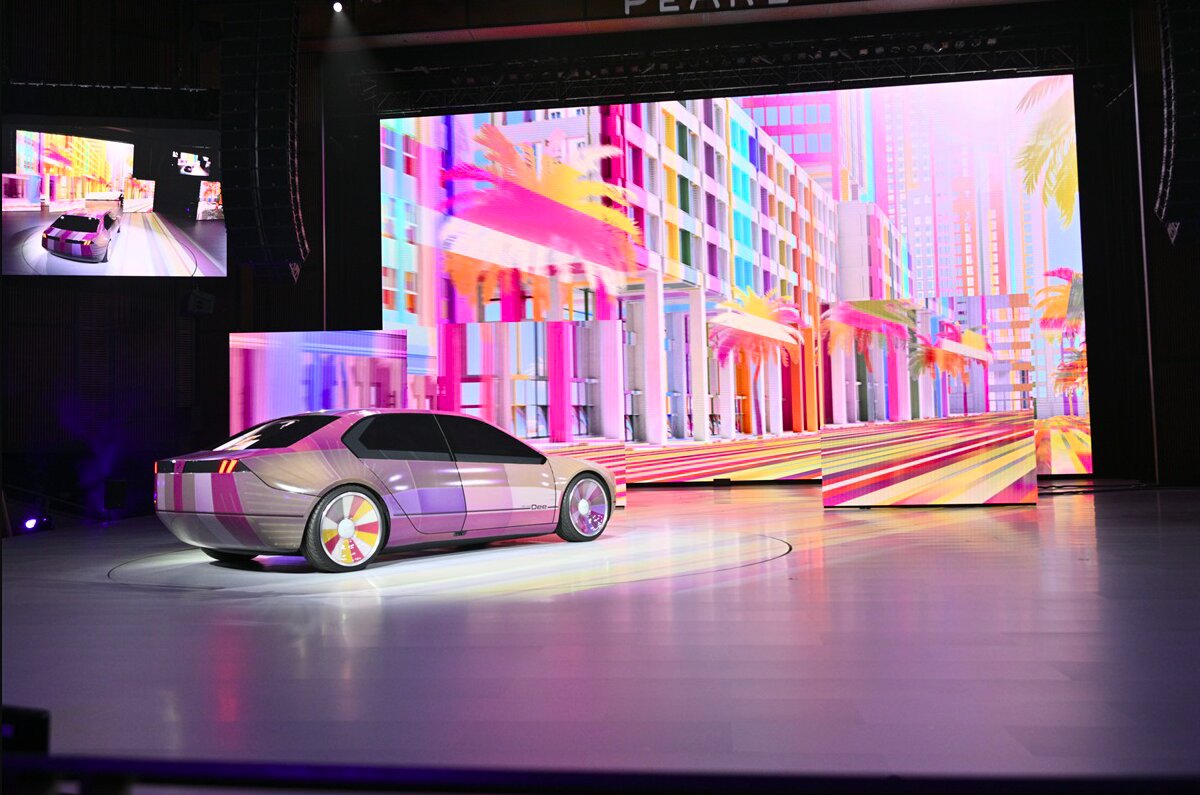 The BMW i Vision Dee, which stands for "Digital Emotional Experience," a futuristic mid-size sedan that can cycle between 32 different colours. Photo by the Consumer Technology Association
BMW has revealed its i Vision Dee, which can change the vehicle's body colour – thanks to E-ink film, – and head-up technology turns the entire windscreen into a huge display. And this technology will be used in series production as early as 2025.
Sony and Honda have presented the design based on augmented reality and artificial intelligence: it projects a multimedia screen across the entire width of the passenger cabin. The car is scheduled to go into mass production in 2025 and will be available for purchase as early as 2026. Now, Sony is not only one of the leaders in the gaming industry with its PlayStation console but also the developer of the Afeela electric car, which will be powered by the same Unreal Engine 3D technology used in video games!
Electric Сars and Сharging Stations
Of course, the list of CES exhibitors included many suppliers and manufacturers of electric cars, EV chargers and charging networks. This year the show was transformed into a smart mobility expo, where one could learn about new developments for self-driving vehicles and assess new perspectives on the application of already familiar technologies, such as LiDAR.
A large part of the exhibition was devoted to e-mobility and hydrogen-powered transport. Some exhibits are innovative, such as Hyundai's fully automated drone boat exploring the world's oceans.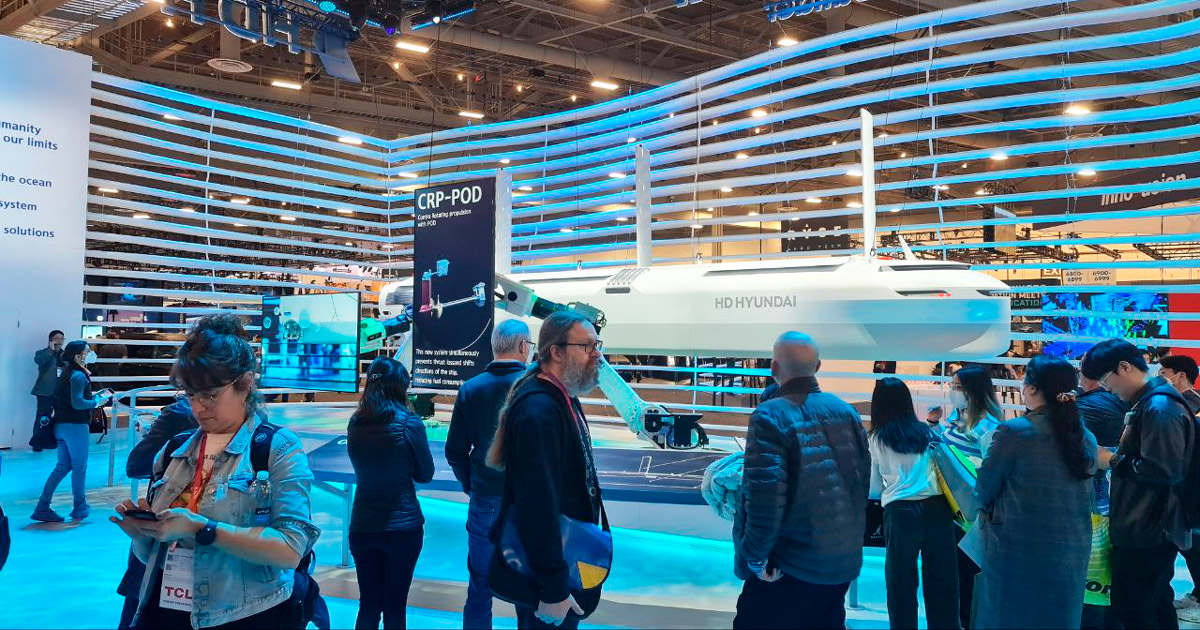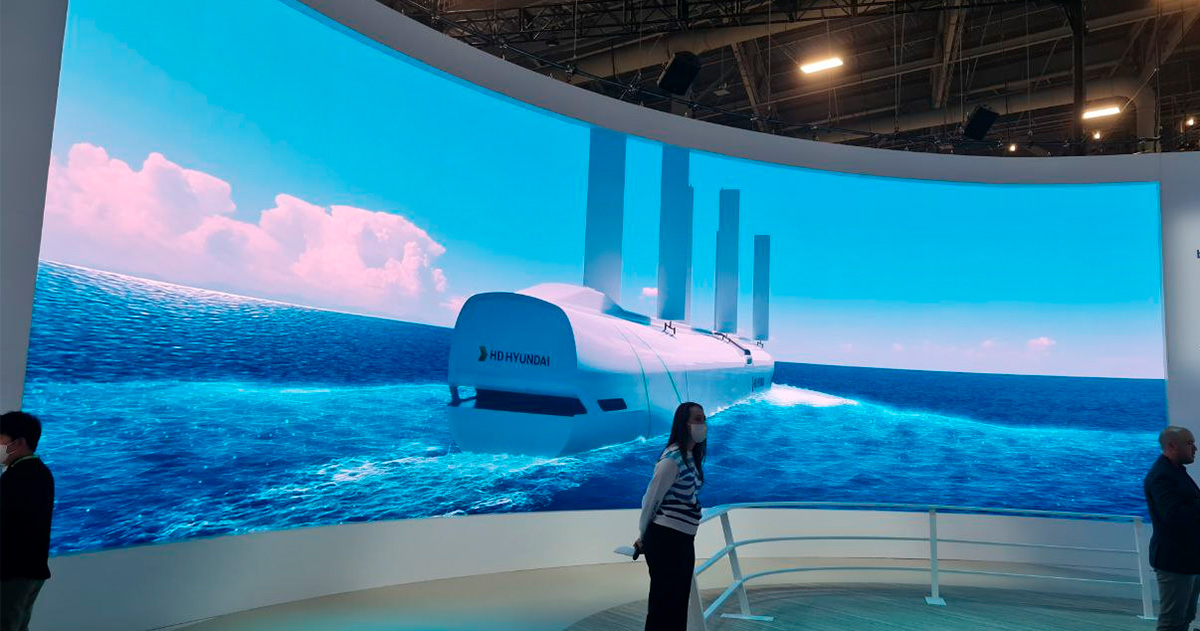 A prototype drone boat from Hyundai
Startups in the Automotive Industry
The meetings with startups and companies creating innovations were memorable. One of those meetings was with representatives of Applied EV, who are developing a software-defined vehicle platform for autonomous, safe and environmentally friendly transport.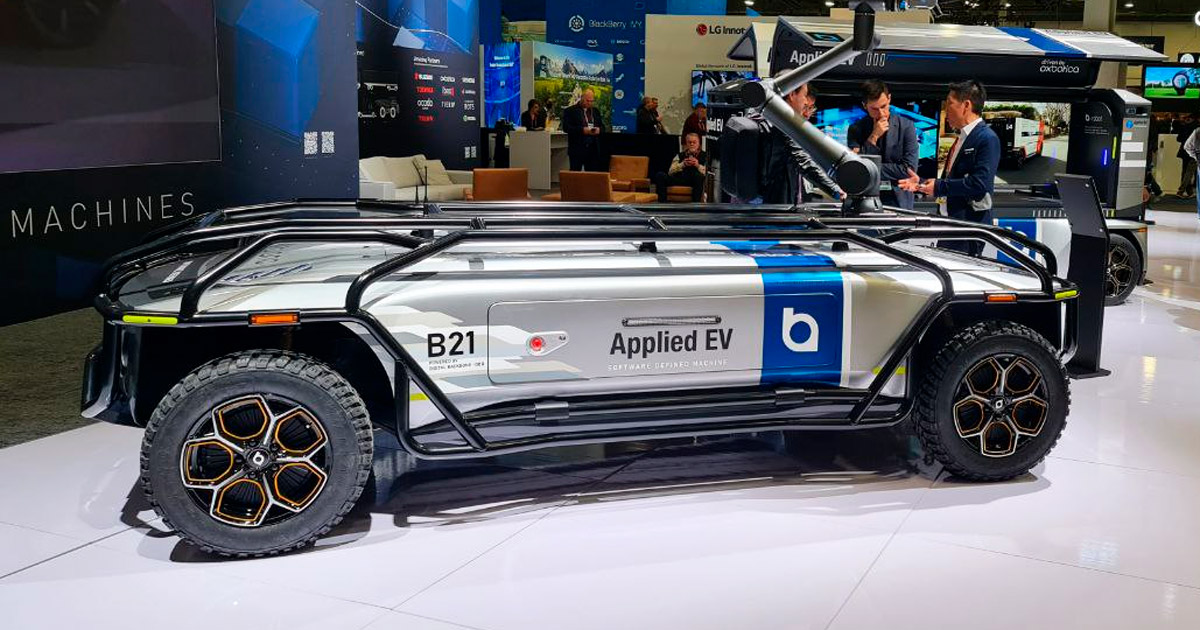 EV stand at CES 2023
 
Startups are the liveliest part of the exhibition. There are hundreds of projects in various fields: autonomous cars, MedTech, VR/XR designs, chips, and new materials.
It was nice to meet our clients and chip vendors that we work with as their official design partner. It is remarkable that chip vendors do not exhibit alone but organise entire ecosystems of market players who create new solutions based on their chips. Without ecosystems, the big players cannot compete with each other, and small and medium-sized businesses get a chance to develop and apply new technologies in business.
Smart Homes and Security
An important part of the exhibition was the smart home and its security. For example, Samsung showed its solutions for monitoring energy consumption and security to keep an eye on the home environment in real-time with a smartphone, microphone, and smart TV camera. Additionally, the solution allows for remote monitoring of lonely older people: their wearable devices connected to the system to record their physical condition. In case of an emergency, family members will be notified.
Electronics Recycling 
Panasonic is launching a Take Back for Tomorrow programme that encourages smart recycling of its electrical appliances: their lithium-ion batteries can be recycled and used in batteries for electric vehicles. As a company that helps its customers launch mass-produced hardware devices, we're delighted that the global giants are taking the first steps in material efficiency and recycling.
***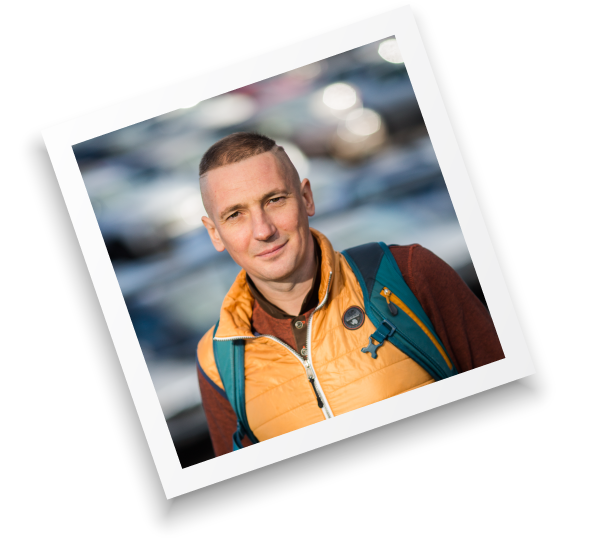 One of the conclusions that 

 Roman Pakholkov, our founder and co-owner, reached after the exhibition:
AI is no longer an innovation for early adopters but an applied technology already finding use in mass-produced devices for wide-ranging applications. All key innovations are at the intersection of technology and application.
A breakthrough happens when, for example, Edge AI finds application in unexpected areas: take a look at John Deere that uses computer vision to recognise seeds and weeds.
Artificial intelligence has long penetrated traditional industries such as automotive, where lidar detects objects and can make decisions for safe driving. And our company can create such advanced algorithms on FPGA, real-time applications on DSP, and systems-on-a-chip.
Do you want to create a breakthrough product for the global electronics market?
 
Our Case Studies in the Automotive Industry